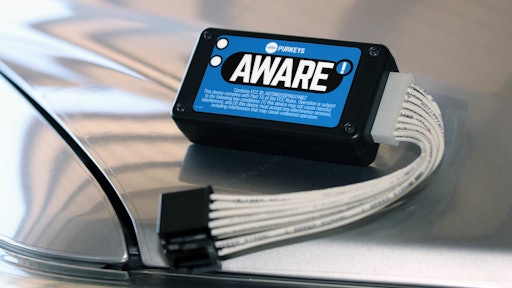 Battery solutions provider Purkeys has introduced a new version of its Aware Audio Interrupter. The system automatically reads text-based messages and converts them to voice communications wirelessly through a vehicle's audio speakers. It is able to read and relay telematics information, as well.
A solid-state amplifier strengthens voice quality and amplitude, helping messages to be heard more clearly even over ambient highway noise.
Purkeys' Aware Audio Interrupter integrates with vehicles' existing speaker system. It automatically silences all competing audio signals and reroutes messages from mobile phones and telematics devices. All of this is done without drivers ever having to take their hands off the wheel.
The technology helps ensure the safety of commercial vehicle operations, both for the driver and others around the vehicle. It also ensures compliance with Federal Motor Carrier Safety Administration (FMCSA) regulations regarding mobile device handling and its no-texting rules governing all commercial vehicle operators in the U.S. The rules forbid reading or sending texts from hand-held mobile devices by truck and bus drivers while operating a commercial motor vehicle (CMV).
"Purkeys' Aware Audio Interrupter assures FMCSA compliance, while promoting driver retention and safety," says Hall Fess, Account Representative for Purkeys. "The system relays clear, crisp audio messages that can be heard over the din of background cab noise – and it operates even when the radio is off."
The system is a plug-and-play technology that is easy to install.