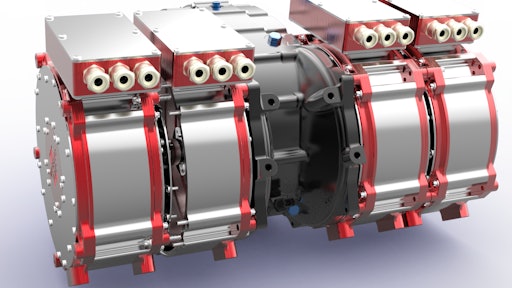 Omni Powertrain Technologies
The push toward electrification and other power alternatives has brought about several new technological developments in recent years. This is due not only to advancements in technology, but also evolving needs and application uses.
Integral to many electric powertrains are the electric motors. While there are a variety of electric motor options currently in the market, the majority of the global market is composed of radial flux motor designs, says Craig Daniel, co-owner and partner of Omni Powertrain Technologies.
Omni, however, has developed an axial flux motor which it believes will provide benefits to a variety of industries, including the heavy-duty on- and off-highway equipment markets. In general, the axial flux design is torque dense whereas a radial flux motor is considered power dense, explains Craig Daniel.
He says Omni believes its axial flux motor design can bring some positive attributes to high-torque applications. "For the off-highway industry, we're working to pair our motors with different types of drivetrains, swing drives or auxiliary drive applications because we can provide high torque at low speed very efficiently with the electric energy available."
Why axial flux versus radial flux?
Radial flux motor designs are comprised of two main elements, a rotor and a stator. The rotor is the rotating portion of the motor and is typically made of several steel laminations; it may also have magnets inside of it and is shaped like a big cylinder, explains Craig Daniel. The stator or armature of the motor is a tube where all of the copper wires are located.
"When you energize that you can make the rotor spin, and then in reverse flow turn it into a generator," he says. "This [has been] the common motor technology of the world for the last 100 years."
Omni's axial flux product line, however, eliminates the cylinder and tube designs of radial motors and instead utilizes a disc shape—like a pancake—for the rotor and two plate-like stators. As the stators are energized, they cause the disc-shaped rotor to spin between them.
"The big advantage compared to a radial motor is that torque is a function of the energy applied or the force applied at distance from the center," says Craig Daniel. "And because we have a larger diameter, but shorter length motor, we actually create a pretty nice torque curve over speed compared to a radial motor."
In addition to spinning faster, which requires more gear reductions, radial motors are longer in length than the Omni axial flux motor, making integration into some machine designs more difficult.
Craig Daniel says there are other axial flux motor designs on the market, and like any technology, each has their own unique attributes. However, no one has yet industrialized this type of motor design. Omni is working on doing so. "Nobody has an automated process for actually pushing the copper into the stater," he says. "That's a technology that we've also been working on developing ourselves."
Developing the industrial IP path and utilizing a vertically integrated manufacturing process is equally as important as the design of the motor, says Craig Daniel. Doing so allows the production process to be more controlled, ensuring manufacture of a product as the company intended.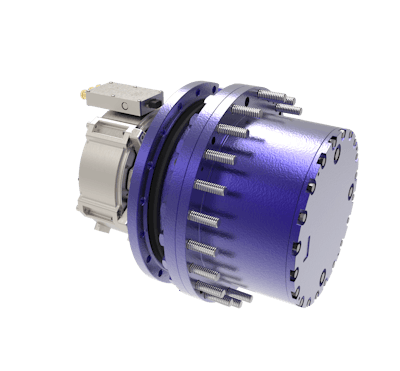 From race cars to off-highway equipment
When Omni first developed its axial flux motor, it did so using a 21 cm (8.3 in.) frame size motor architecture. The company's objective was to learn about and maximize the performance potential of the motor in this frame size in terms of torque, power and thermal capacity. It did so while working with Formula E—a car racing series which utilizes the latest electric vehicle technology.
From there, the company got involved with the Electric Touring Car program—known as PURE ETCR—where it is supplying the powertrain technology for all of the electric race cars being developed by various manufacturers.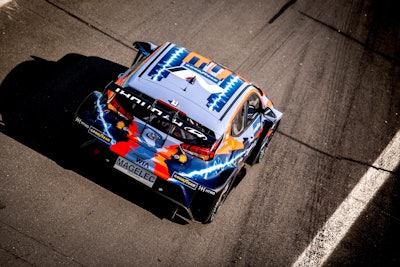 Craig Daniel says that for Formula E, Omni used a dual motor design providing 250 kW power capacity. For ETCR, it used four motors producing over 500 kW.
Over the course of these and other similar motor sport programs the company has been involved with, Omni has boosted the power of its axial flux motor significantly, says Craig Daniel. When first working with the 21 cm frame size motor, peak power capacity was around 120 kW and today it is at 270 kW.
According to Craig Daniel, working in these motorsport programs has allowed the company to develop an engineering mindset of rapid product development. The company has evaluated the pace at which it looks at materials, its manufacturing processes as well as its rapid prototyping processes—all of which are done in house. As such, Omni is able to quickly move through design programs and ensure proper prioritization of the necessary processes.
Craig Daniel says that when you have so many capabilities in house and a more vertically integrated production cycle, "you can bring all of that to bear in putting together a product. You control and define the process." This is not always the case when using a third party, especially when trying to experiment with and evaluate a design. "If we determine we want to do a science experiment with a particular resin or change an oven setting or change tension on a carbon fiber filament, we can conduct that controlled experiment [in a few days]. We don't have to explain [the experiment] and negotiate pricing and timing," he explains.
This in-house design, testing and manufacturing capability will be beneficial as Omni looks to bring its axial flux motor design to other applications.
Jeff Daniel, co-owner and partner of Omni Powertrain Technologies, says the form factor of the company's axial flux motor appears to be a key benefit for many customers in the heavy-duty on- and off-highway equipment industries. There are applications where a radial motor will not fit because of its long axial length, whereas the Omni motor design would be a good candidate due to its shorter length.
The power-to-weight ratio of Omni's axial flux motor is also a benefit for many customers in the heavy equipment industries. "[Our motor] by virtue of its design has the lowest amount in weight of copper magnets and electric steel," explains Jeff Daniel. "Because of its design and torque density, the motor lends itself to a lot of applications."
These applications can include use in excavator tracks or mining equipment which previously had to utilize right angled gearboxes and motors because the motors were too long to fit into the chassis. He says Omni has reimagined the entire chassis setup for manufacturers by making it simpler to integrate an electric motor because the entire axial flux motor package can be installed without taking up extra space claim or requiring extra design work.
Jeff Daniel says the axial flux motor can almost completely fit into a wheel assembly because of its compact package size—which includes the motor, brake and gearbox. This is vital in applications such as a crop sprayer in which use of a radial motor might otherwise extend beyond the wheel assembly and hit crops as the sprayer moves through the field, negatively impacting a farmer's profits.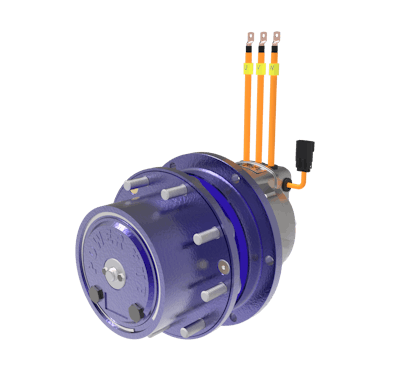 Depending on the application needs, standard off-the-shelf or customized versions of the axial flux motor are available. There are several design choices that can be made to ensure the motor provides the performance requirements of the application in which it will be installed. "Through the engineering development on the motor, [we gained a] very clear understanding electromagnetically of different electric steel alloys and their performance characteristics, different copper forms, different magnet grades, different form factors of the motor shape itself. And then how you wind the copper inside the motor," says Craig Daniel. "So even within the 24 or 27 cm (9.4 or 10.6 in.) frame size, there is literally close to 100 different variations in each frame size that we can evaluate in doing a custom build, if appropriate for a specific application."
The company foresees the motor benefiting a range of applications from small outdoor power equipment to some of the world's largest mining equipment, and everything in between including heavy-duty on-highway trucks.
"People are looking at it as a technology leap forward, not only for the motor itself, but for the form factor that it can achieve in the highest power-to-weight ratio product that's in its class. We see huge demand globally for this type of motor," concludes Jeff Daniel.
Companies in this article