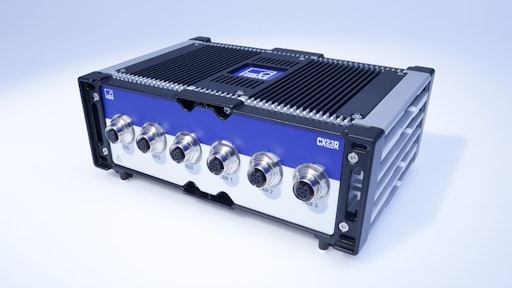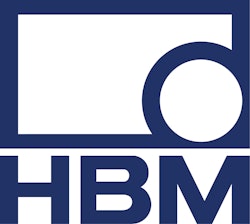 HBM Inc., a leading manufacturer of data acquisition systems, analysis and calibration software, strain gauges, transducers and sensors, has introduced two new modules for its SomatXR Data Acquisition System.
The addition of the CX23-R data recorder and the EX23-R Ethernet switch make the SomatXR data acquisition system more powerful and flexible than other DAQ systems designed for harsh environments.
The CX23-R Data Recorder is the heart of the SomatXR data acquisition system. It synchronizes all connected measurement modules, computes and records values based on measurements, and stores recorded measurement data using smart data compression. It includes the following interfaces:
three digital inputs and two digital outputs,
a GPS interface for connecting a GPS receiver,
three CAN interfaces (ISO 11898, CAN 2.0A and 2.0B),
two Ethernet ports for connection to other SomatXR modules, and
an Ethernet host port for connecting a PC with an up-to-date web browser for system configuration and data analysis.
"The SomatXR can operate for extended periods of time with no interaction required from the user, with absolute certainty that it is safe to do so," says Finn Lange, HBM Product Manager. "This and its built-in web server sets the SomatXR head and shoulders above any other technology available today."
The EX23-R Ethernet Switch has ten gigabit Ethernet ports for connecting SomatXR measurement modules and other accessories. Five of the ports can supply electrical power to external devices with Power-over-Ethernet (PoE). PoE enables accessories, such as an Ethernet camera, to be supplied with up to 15.4 W of power. The EX23-R also supports Precision Time Protocol Version 2'(PTPv2), giving it a time accuracy of less than one microsecond. Standard Ethernet switches cannot guarantee this high level of accuracy.
Both the CX23-R data recorder and the EX23-R Ethernet switch have an IP65/IP67 rating, meaning that they are completely dustproof, protected against low-pressure water jets, and can be immersed in water up to 1 m. In addition, they will operate at temperatures as low as -40 C and as high as 80 C, and meet the vibration test requirements of MIL-STD-202G. Measurement accuracy is not affected by water, vibration, impact or electromagnetic fields.