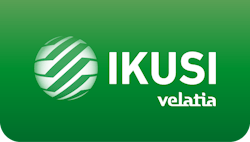 At Intermat 2015, Ikusi will presents its various offerings for the mobile sector
The I-KONTROL range of pushbutton boxes with proportional pushbutton, and the MP20 and MP08 receivers will be the main attractions among Ikusi's exhibit
Ikusi will be attending to customers alongside Asli, its distributor in France, at stand K105 in Hall 5.
The I-KONTROL range combines a meticulous design with an extremely high capacity for configuration and dependability; this turns the three versions of I-KONTROL (IK2, IK3 and IK4) into one of the most comprehensive ranges on the market owing to the large number of features and high degree of customization. And all at a competitive price.
The I-KONTROL range stands out owing to the degree of customization it achieves, one of the highest on the market and, what is more, it is standard to the range. That is why IKUSI provides customization tools like the EEPROMS recorder and the TMConfig, which enable the equipment to be configured even on site, as well as through its external SIM EEPROM Module, which can be removed.
Another of the innovations built into the I-KONTROL range is the MultiKey. A device that offers within the same unit a start button plus a switch with up to five settings. This patented device is fitted with an internal memory with ample storage capacity and a UID (Unique Identification Number) with the potential to improve equipment safety and traceability.
Pushbutton boxes with proportional pushbutton
Type I and II T70 pushbutton boxes with stepless proportional pushbutton constitute another set of equipment that Ikusi will be taking to Intermat. Their main advantage over the traditional two-step ones is that they provide much greater precision mainly in proportional control maneuvers.
The proportional pushbutton Ikusi has developed for its T70 pushbutton boxes is underpinned by hall-effect technology, in other words, by technology based on electromagnetic fields. Their design can increase the service life of the product owing to lack of friction and rubbing.
These pushbutton boxes are also fitted with multiband radio.
The new MP20 and MP08 receivers
The new MP20 and MP08 receivers are geared towards the mobile sector in particular. With a robust, compact design they offer a better error diagnosis and are easy to set up and maintain.
Both receivers are based on TM70 technology so they are fully compatible with all the transmitters in the range. The MP20 includes a screen that can be used to display all the analogue and digital inputs and outputs set up in the receiver, and to provide an excellent diagnosis of errors through graphic icons. What is more, the SIM EEPROM module is externally accessible without the case having to be opened. Two features totally geared towards improving the maintenance of the equipment.