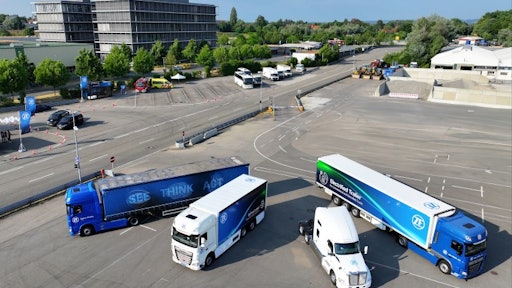 ZF
ZF's Commercial Vehicle Solutions (CVS) division's eMobility kit aims to provide the key technologies commercial vehicle manufacturers need to electrify their vehicles, from last-mile delivery vehicles up to 44-ton trucks. The product range now includes all-electric central drives, axle drives and eComponents. Suitable for light, medium and heavy-duty vehicles and trailers, the integrated, modular e-driveline systems enable quiet and emission-free operation. AxTrax 2, AxTrax 2 dual and the previously launched CeTrax 2 dual electric central drive were recently both demonstrated at ZF's Global Technology Day in Friedrichshafen.
The kit, which consists of scalable axle and central drive systems, which can be combined with different electrification technologies, such as batteries or fuel cells.
Axle-based, Integrated & With Compact Design
AxTrax 2 maximizes the available space for cargo or the passenger cabin as well as for batteries and enhances the manufacturer's design flexibility for future vehicle concepts. The electric drives can be fully synchronized with key vehicle functions, such as braking, ADAS and automated driving systems, to help enhance vehicle safety and efficiency. It also enables advanced digital and telematics systems to exchange information with the e-axle via CAN bus.
AxTrax 2 is offered in two variants. AxTrax 2 for commercial vehicles enables a continuous power of 210 kW. The AxTrax 2 dual variant, with two integrated e-motors, is ideal for heavy-duty applications and offers 380 kW continuous power.
Both models are designed to replace the engine, transmission, drive shaft and conventional axle to electrify a commercial vehicle. This line-up enables opportunities to reimagine commercial vehicle form, function, and architecture, enhancing aerodynamics, enabling automated driving or adding extra battery capacity.
Electric Driveline Solutions for Every Application
By leveraging a unique, scalable and modular platform approach, ZF can help customers to electrify all classes of commercial vehicle platforms, from existing to all-new vehicle platforms.
Used as an electric drive axle in semitrailers, AxTrax 2 can recover electrical energy when braking. The energy is temporarily stored in a battery and can be used by the electric axle to support the truck drive. Recuperating energy in this way also helps to reduce fuel or energy consumption as well as carbon emissions. At the same time, the safety of the truck-trailer combination is improved.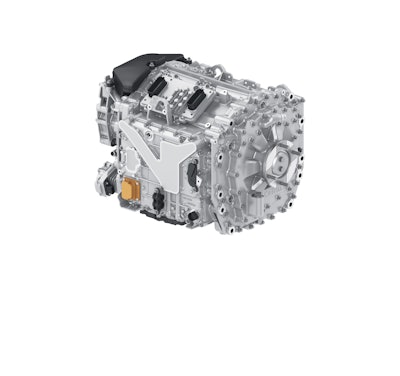 ZF also offers electric components that have been specifically designed to meet the requirements of the commercial vehicle market. The modularity allows manufacturers to use ZF's complete electric drive systems, or alternatively, combine them with their own components while taking advantage of synergies and common interfaces. These include the e-motor (PSM), the silicon carbide (SiC) inverter, the e-drive control unit, the e-actuator and the multi-speed transmission.
Request More Information
Fill out the form below to request more information about
ZF Accelerates Electric Mobility With Advanced Axle Drive Systems for Commercial Vehicles