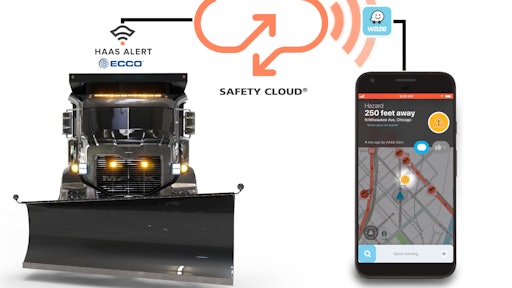 ECCO Safety Group (ESG) announces the official market launch of its Connected Safety Solution powered by the HAAS Alert Safety Cloud. The two companies first announced their partnership in December.
HAAS Alert's collision prevention technology, paired with ECCO's lineup of lighting and safety solutions, sends digital alerts that warn drivers of nearby commercial and public service vehicles operating in the roadway. Drivers are notified through the Waze™ app on their mobile devices, Apple CarPlay, Android Auto, or compatible vehicle infotainment systems.
Digital alerting grabs the attention of distracted drivers giving them additional time to slow down and move over. ECCO and HAAS Alert are committed to reducing roadway collisions and worksite injuries.
Today, warning lights alone are not enough to get the attention of distracted drivers. With innovations in mobile and cloud technology, motorists now have enhanced capabilities to receive advanced alerts and urgent road hazard information. ECCO and HAAS Alert are committed to saving lives and minimizing the risks that drivers face daily.
Doug Phillips, President and CEO of ESG, comments, "Our mission is to protect people with leading innovative safety solutions. ECCO has a long history of providing solutions that help commercial vehicle operators increase safety in and around the vehicle. By bundling HAAS Alert technology with our market-leading vehicle lighting and back-up alarm solutions, ECCO fleet operators can now utilize digital alerting technology to provide advance warning to civilians, providing an extended layer of safety and security."
Co-founder and CEO of HAAS Alert Cory Hohs believes ESG is a vital partner in his mission to improve drivers' situational awareness. He emphasizes, "The number of roadside worker fatalities and injuries in 2019 due to collisions with other vehicles is alarming and shows no signs of slowing down." Hohs added, "As a company committed to making our roads safer for everyone, we are excited to work with an innovator like ECCO to bring HAAS Alert's digital safety service to more work crews operating in or alongside the roadway."
ECCO will exhibit the new technology during The Work Truck Show at booth #4575.