The Federal Motor Carrier Safety Administration (FMCSA) has granted Vision Systems North America a 5-year exemption to allow the use of Smart-Vision, high definition camera monitoring system, as an alternative to the two rear-view mirrors required on commercial motor vehicles. The Agency has determined that the Smart-Vision system is likely to achieve a level of safety equivalent to or greater than the level of safety provided by the regulation.
Read more: Can Cameras Replace Mirrors on Trucks? The Trump Administration Thinks So
The Smart-Vision solution replaces rearview mirrors with compact high-definition cameras mounted high on the exterior of the vehicle, and interior displays fixed on each A-pillar, to offer various advantages including increased field of view, optimized visibility and reduced driver fatigue.
Compared with standard rearview mirrors, Smart-Vision expands the field of view by an estimated 25 percent and eliminates lateral blind spots. The solution proposes additional functions such as the suppression of the A pillar blind spot, parking and maneuvering aid or guidance assistance.
It increases visibility in both day and night environments; the interior displays eliminate glare and the automatic adjustment of the screens' brightness ensures excellent visibility in all lighting conditions: entrance and exit of tunnels, low light, inclement weather… Smart-Vision offers a high-quality image, color night vision and guarantees a stable image in any driving environment (no vibration).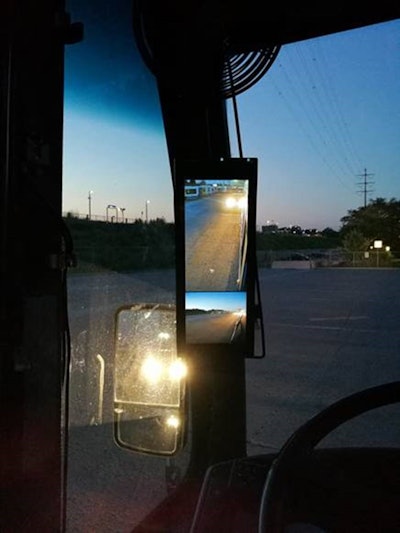 Smart-Vision not only provides greater driving comfort and safety but also diminishes lateral head and eye movements due to the monitor location. All this participates in reducing the driver fatigue.
In addition, the system enables to significantly cut down fuel consumption (by around 5%) and thus carbon emission thanks to the removal of the mirrors, which lowers wind resistance for improved aerodynamics.
The absence of mirrors improves maneuverability and avoids potential collision between the mirror and tree branches or road signs.
The Smart-Vision system is already being used in Europe instead of rear-view mirrors, under the requirements of ISO 16505, where about 300 vehicles are certified with the Smart-Vision system to date.