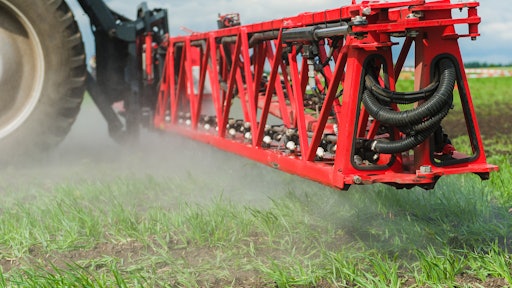 Canfield Connector
It's no secret that technology within the agricultural sector is advancing at a rapid pace. New processes and products are seemingly developed daily that have helped to increase yield, decrease waste, and optimize labor hours. This is especially true for agricultural sprayers. The highest-performing sprayers are able to save operators time and money in large part because of one crucial component: the inclinometer.
Spraying fields requires operating on a terrain that is not perfectly flat and level. Dips and divots can result in chemicals sprayed too close or too far away from the crop canopy. This inconsistency spells trouble for end users looking to get the right amount of coverage on the entire field while optimizing their usage of chemicals.
Inclinometers in Spraying Chemicals
Spraying fields requires working on a surface that features a variety of slopes and contours. This constantly changing distance between the nozzle and the targeted crops provides a necessary platform for inclinometer technology to help each end user prevent overspray and protect the health of their crops.
As the machinery moves over a slope, the inclinometer provides real-time measurements and communicates automatically with the boom of the sprayer. By adjusting boom height, angle or even rate of flow, the inclinometer will constantly provide feedback to bring effective coverage to the crop canopy.
In addition, inclinometers can even turn off chemical spray in situations that would result in a wasted chemical application. This requires establishing a necessary threshold and when that angle is measured, the inclinometer automatically deactivates the nozzles until angle measurement is returned within an acceptable range.
Inclinometer Components
Experts began designing inclinometers as a result of a specific customer request and found that providing advanced features is providing a widely beneficial solution to OEMs in a variety of industries. Agriculture OEMs looking for an inclinometer solution should ensure that the sensor:
Measures angles within the degree of accuracy required
Provides real-time communication while utilizing the necessary output for the system
Is housed in a rugged casing that can provide IP 69K environment rating for vibration, water and dust resistance
Features sufficient temperature drift compensation to maintain temperature drift within an acceptable allowance
Is sized correctly for installation and effective long-term use
And, as is the case for many manufactures, a custom solution may be necessary to provide a tilt-sensing solution that can relay a specific angle range needed for the application. This brings a level of accuracy that a more universal offering may not be designed to measure in its operation.
Benefits of the Right Solution
Choosing the right inclinometer solution for the necessary application can bring a wide range of benefits for sprayer OEMs and the end users that they serve. A precise and reliable inclinometer will save the end user from wasting expensive chemicals through over spray. Accurate tilt sensing will also adjust flow rate and nozzle automatically — resulting in a more productive and healthy crop yield.
Lastly, a thoughtfully engineered inclinometer will provide the level of durability and reliability needed in environments experiencing high temperature variations, dust, vibration and other environmental hazards.
All in all, the right inclinometer for agricultural sprayer applications will not only save money, but also increase crop productivity and reduce downtime from mechanical failure.
___________________________________________________________________________________________
Todd Harmon is vice president at Canfield Industries.