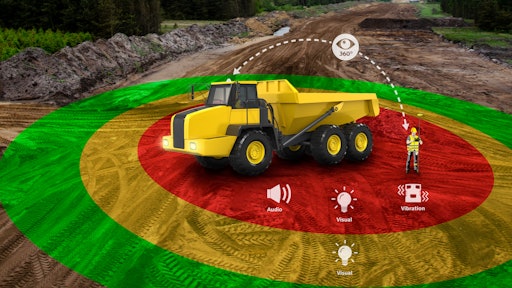 Leica Geosystems, part of Hexagon
Safety is vital for those working on construction sites, mines, farms and other applications in which heavy-duty off-highway equipment is utilized. As machines have gotten larger, and manufacturers move further toward automating systems and machines, the need to detect objects and improve overall safety has increased.
Advancements in sensors and other components used in various types of safety systems are improving the detection capabilities and alerting machine operators when there may be a person, animal or inanimate object in their path. This capability will be particularly important as machines become more automated because they will need to be able to see their surroundings and know they are traveling a safe route.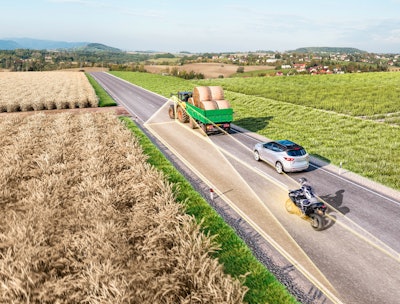 New technologies improve detection capabilities
GPR Inc. has developed ground positioning radar (GPR) technology to aid with assisted driving and autonomous capabilities in a variety of vehicles and equipment. Unlike GPS and lidar which provide information on the sky and surfaces around a machine, GPR's technology captures subsurface data. This data can then be used to enhance a vehicle or machine's capabilities in various ways, says Tarik Bolat, CEO of GPR Inc., which is working with some of the largest automakers in the world.
Data is captured by ground penetrating radar developed by GPR, which is placed underneath the vehicle or piece of equipment. Bolat says it has a completely different design from forward-facing radar technology used today. As the radar is driven over the ground, it captures reflections and gathers information on aspects such as soil type and density, utility infrastructure, concrete and more. "That basically creates a very rich fingerprint we can derive a lot of important information from," says Bolat.
He says the cornerstone application for this technology is vehicle positioning. It can tell a vehicle or machine where it is located at a centimeter level, regardless of anything that might be happening on the surface over which the vehicle is traveling. Things can change on the ground's surface which can cause issues for vehicle positioning but the subsurface stays intact, including in different weather conditions.
The GPR technology could also be used on construction equipment to help verify what might be underground before digging begins, ensuring there are no obstacles in the way.
Bolat says the radar technology GPR utilizes is at a lower frequency than what is used on passenger cars or other applications, which is typically around 77 GHz. This provides a larger wavelength to go deeper under the Earth's surface and see through objects that would otherwise be very reflective to other radar technologies. GPR's sensor is able to see about 10 ft. (3 m) down, depending on the environment.
Visibility around a vehicle is vital to ensuring safety. Attempting to pass an agricultural vehicle can be potentially dangerous, especially when that vehicle is trying to leave the road. As such, Continental developed a left-turn assist technology for agricultural equipment that will help machine operators see any objects that may be on the left side of a tractor or other piece of equipment.
Using knowledge from development of a right-turn assist system for heavy trucks, the system is comprised of software, an in-house developed radar sensor and electronic control unit (ECU) which detect and communicate to the machine when an object may be in its path. The Continental developed radar sensor is mounted on the left-hand mirror of the machine to provide visibility along the left side of the machine and behind it from 200-500 m (656.2-1,640.4 ft.). This enables earlier detection of any other vehicles that may be on the road coming up alongside the equipment than if the mirror alone was used.
The radar sensor is based on a 77 GHz technology and was originally developed for automotive applications which ensures it meets high-quality standards, says Ulrich Roskoni, head of technical product design in the Special Vehicles unit of Continental's Business Area Smart Mobility. For the turn assist system, a far-range radar is used as it provides a wide field of view behind the machine onto which it is integrated. It uses the doppler effect to measure the relative velocity between a machine and an object. Roskoni says it uses frequency shifts to determine the speed and distance of surrounding objects which helps to ensure detection accuracy.
Signals are sent from the radar and reflected when they hit objects within the radar's range. The time it takes the signal to leave the radar receiver, hit an object and return is called the time of light, says Roskoni which provides a measurement for the distance of the object from a machine or vehicle. Distance and velocity of nearby objects are tracked continuously by the system which will also provide increasingly escalated warnings to operators in the machine cab to prevent potential collisions.
Though developed for agricultural equipment, Roskoni says it is possible to use the left-turn assist system on other types of off-highway equipment. The company sees it benefitting large equipment such as excavators and mining trucks.
It is also being utilized in autonomous operations in underground mines and other applications, says Mario Branco, head of business development Off-Highway at Continental.


Technology comes together to improve safety
Leica Geosystems, part of Hexagon recently announced a partnership with Xwatch Safety Solutions to pair the companies' safety awareness technologies to enable safer operation of construction equipment. Xwatch will be bringing its XW Series of safety systems to the partnership which include dual height sensor limitation, and height and rated capacity indication (RCI)—also referred to as safe load indication (SLI).
"Essentially, these technologies prevent an excavator from lifting more than it is allowed according to health and safety requirements or local legislation," explains Dan Leaney, director of sales and operation, Xwatch Safety Solutions Ltd.
Leaney added, "Excavators tipping over because they are being used to lift heavy items is one of the biggest safety issues in the construction industry. In some parts of the world, such as the United Kingdom and Australia, there is a legal requirement dictating that once a chain or strap is put on the front of an excavator it is then considered a crane. The machine is then subject to crane legislation, necessitating the use of a RCI."
The company also offers slew restriction systems and combinations of height, slew and RCI. For the collaboration with Leica Geosystems, Xwatch is integrating its XW4 height and slew system as well as its XW5 height, slew and RCI technology with Leica Geosystems' 2D and 3D machine control and safety awareness solutions. With the integration of these systems, the operator is able to dictate how far right or left a machine swings with proportional hydraulic control.
Leaney says that while other systems do a hard stop, causing discomfort for operators and extra wear and tear on a machine, the Xwatch technology uses proportional control to slow down and gently stop at the predetermined height or swing limit.
He also notes a key feature of Xwatch's technology is ensuring it is easy to use for operators. "One of the key things we found over the years is if it is hard to use a safety system, the operators will not use it because it takes too long for them to set and move and then reset."
Therefore, Xwatch has designed its systems to be very simple with just four button pushes necessary. Leaney says the company's hope is that by combining improved comfort with ease of use will better encourage operators to utilize the safety technology on a regular basis.
Xwatch's height and slew system is being integrated with Leica Geosystems' personal alert solution, the PA10 and PA80. These devices can communicate with anchors situated on heavy construction equipment and offer a range up to 50 m (164 ft.), enabling detection of personnel on a job site. A PA10 tag is worn by ground personnel which communicates with the anchors on the equipment to alert all parties if a person is getting too close to a machine. "We can set various zones around each anchor, which we refer to as close, near and far. Each one of these zones can provide an operator with a different type of warning within the machine," explains Brad Mullis, Product Manager for Personal Alert Systems at Leica Geosystems, part of Hexagon. Ground personnel can also be alerted so they can take the appropriate steps to remove themselves from danger, as well.
Integrating Xwatch's proportional height and slew control into Leica Geosystems' personal alert solution adds an additional layer of safety on top of the audible and visual warnings already provided, says Mullis. "When a tagged person or object is within a pre-configured zone around the machine, the Xwatch technology is able to proportionately slow down and safely stop the machine."
Leaney says that when danger is detected, the Leica PA10 tag will send a signal to the machine's CANbus to essentially alert the Xwatch system to slow down and stop the machine's movement. He says it is a semi-automatic safety system, which uses to controllers, in addition to the CANbus to continuously communicate. Diagnostics are run 250 times a second with all components signalling they are still working. If within a short period of time there are no signals, the machine shuts down making it a fail-safe system.
Telematics can be used with the Xwatch system, as well so site operations and any possible safety issues can be monitored by site managers. They can also see what the safety settings are and if proper procedures are not being followed so appropriate training can be undertaken to correct any wrong or unsafe actions.
"Leica Geosystems sees safety awareness as a massive part of our current and future road maps," says Mullis. "The road to autonomy cannot be completed without a machine knowing its surroundings and being able to work efficiently and safely.
"I think the collaboration and partnership between the companies enables us to fulfil our road map and accelerate our development, bringing safety and awareness on site to a new level."
Camera integration brings additional opportunities
Cameras have become more common on heavy-duty equipment as a means of improving safety, offering improved visibility around a machine. They are also being paired with sensors and other safety solutions to further enhance detection capabilities—a trend which is only expected to increase in the coming years especially as machines become more automated.
"I see in the future artificial intelligence cameras playing a major role in object detection," notes Mullis. "However, with today's technology there are still many limitations to using cameras as a reliable standalone solution."
Commonly used as part of lane keeping systems, cameras offer the benefit of helping detect lane markings on the road and communicate to a vehicle it should not cross over those markings. However, GPR's Bolat says a lane keeping system is most useful when markings are ambiguous and there are times when the camera may get blocked or be unable to see the lane markings. By pairing the GPR technology—which is able to capture and provide consistent data—with the cameras, it can be assured lane markings and other surrounding information are seen and vehicles kept on their correct course.
Roskoni says safety systems are typically either sensor- or camera-based, and there are advantages as well as disadvantages to both. While camera-based systems offer a visual of a machine's surrounding environment, they also require operators to be watching an in-cab monitor. It can also be susceptible to lighting conditions and therefore not able to provide as clear a picture.
Sensor-based systems automatically monitor and alert operators without their involvement, helping ensure evasive maneuvers are taken to prevent an accident. These systems are also able to detect objects in any lighting conditions.
But when camera and sensor systems are combined, the benefits of both can be taken advantage of says Roskoni. The combined system can offer a clear picture of machine surroundings as well as calculate the distance and speed of nearby objects.
Bringing these and other technologies together will aid with further advancement of driver assistance systems as well as making them able to actively engage with applications says Branco, all of which will be necessary as the world works toward increased machine automation.
Roskoni adds there will also be the opportunity to bring virtual and augmented reality to safety systems. Continental is currently working on using augmented reality (AR) for its transparent chassis. A camera is mounted at the front of the vehicle or machine and through AR the image presented on the in-cab monitor is transparent, allowing operators to see through the machine to ensure they are not going to run over any objects.
Initially developed for passenger cars, Branco says Continental is working to bring the technology to off-highway equipment as well. For instance, in agricultural equipment creation of a transparent hood using this technology would help increase visibility at the front of the machine. It could also be applied at the back of a machine so implements could be better monitored or on construction equipment such as an excavator.
This type of system is possible because technologies including Continental's radar sensor as well as its ProViu 360 surround view system and AR were brought together. A system like this provides customers with additional functionality and value, says Branco, and better visibility of their surroundings.
The reliable perception of all objects in a vehicle's surroundings is one of the major tasks in the field of automated driving, says Andree Hohm, Head of Autonomous Driving Program, Continental. Driverless systems in particular need to be able to cope with all situations because the driver is no longer there as a safety fallback.
Artificial intelligence (AI) will play a major role because it will enable to evaluate and react to numerous driving situations just like a person would. "Here we see enormous progress in the area of data management, high-performance computers and algorithms," he says.
Demonstrable security of these systems will be vital, as well. "There are numerous activities for the development of redundant paths, which also make it clear to an approval authority that the development of the driverless system meets all safety requirements and approval can therefore be granted," concludes Hohm.
Companies in this article