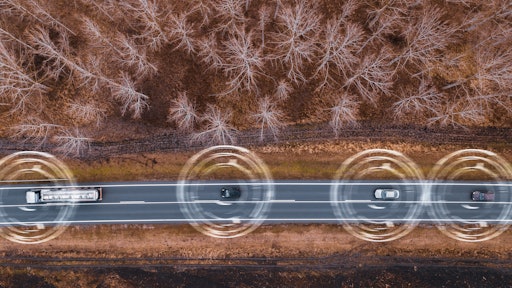 ©Bits and Splits – stock.adobe.com
Market research firm Global Market Insights has introduced a new study which projects the global radar sensor market will surpass a value of U.S. $25 billion by 2027. Growth will be driven by increased use of these sensors in a variety of industries and applications including area monitoring, robotics, collision avoidance and more.
Increasing adoption of advanced technologies like robotics and the Internet of Things (IoT) as well as further digitalization of the industrial sector (i.e. manufacturing) will aid the radar sensor market's growth in the coming years.
READ MORE: Mobile Robot Use Cases Grow as Technology Advances
Growth sectors for radar sensors
According to the study, the industrial application segment accounted for close to 16% of the overall radar sensor market's revenue in 2020. This sector is expected to achieve a compound annual growth rate (CAGR) of 16.5% through 2027. In Global Market Insights' press release announcing the study's findings, it notes the International Federation of Robotics 2020 report noted there were nearly 2.7 million industrial robots operating in factories around the world, a 12% increase from previous years.
Use of these robots is anticipated to continue growing as a means of improving productivity and safety in manufacturing operations, leading to the increased use of radar sensors as well which help to guide the robots' movements.
Global Market Insights also notes the pulse radar segment accounted for a large share of sales for the overall radar sensor market. According to the research firm, it was 25.5% of the market in 2020 and is projected to achieve a CAGR of 18.5% through 2027. Per the firm's press release, this is due to increasing use of pulse radar systems in government and public infrastructure applications. It notes these sensors provide intuitive features and higher reliability and precision compared to non-imaging radar technology which is beneficial in these types of applications.
Industry trends bring increased use
Per Global Market Insights' press release, there are four major trends which will influence growth of the global radar sensors market.
1. Europe to emerge as a leading consumer
Governments in Europe are proposing new initiatives that focus on integrating new safety systems and hi-tech inventions in the military sector. One such instance being in 2020 when the EU's Preparatory Action on Defense Research (PADR) announced a funding of around U.S. $108 million to support R&D activities in laser weapons, drones, and railguns, among others for the Europe defense sector. These initiatives are expected to accelerate the development of advanced radar sensors by regional manufacturers in the years to come. Reports thereby reckon that the Europe radar sensor industry may grow at a CAGR of around 12.5% between 2021 and 2027.
2. Advent of advanced pulse radar sensors
Pulse radar sensors are known best for their multiple features like higher precision and reliability, compared to non-imaging radars. These sensors are extensively incorporated in public and government infrastructure development applications. They are also witnessing robust demand from the oil & gas, petrochemical, and chemical sectors, among others. Speculations are made that the pulse radar sensor market will grow at a CAGR of 18.5% from 2021-2027.
3. Business strategies by emerging manufacturers
Key players functioning in the radar sensor market are Acconeer AB, Ainstein, Inc, AMG Microwave, Banner Engineering Corp, Baumer AG, Continental AG, Denso Corporation, HELLA GmbH & Co. KGaA, Hunan Nanoradar Science and Technology Co., Ltd., Infineon Technologies AG, KaikuTek Inc., MediaTek Inc, Navtech Radar, Novelic Llc Belgrade, OTT HydroMet, Pepperl+Fuchs SE, s.m.s, smart microwave sensors GmbH Sick AG, Socionext Inc, TeraSilIC CO., LTD., Texas Instruments Incorporated, UWT GmbH, Vayyar Imaging Ltd, Veoneer, Inc., Xiamen IMSEMI technology Co., Ltd. These players are focusing on taking strategic initiatives like strategic acquisitions, mergers and new product launches to stay competitive in the market.
4. Impacts of the COVID-19 pandemic
COVID-19 pandemic has impacted the radar sensor market severely over the past year. Strict lockdowns imposed by governments have resulted in restraining international trade, disrupting supply chains of a plethora of businesses including electronic component manufacturers. Although, as the market opens slowly, the radar sensor industry may showcase promising growth and development in the estimated timeframe.