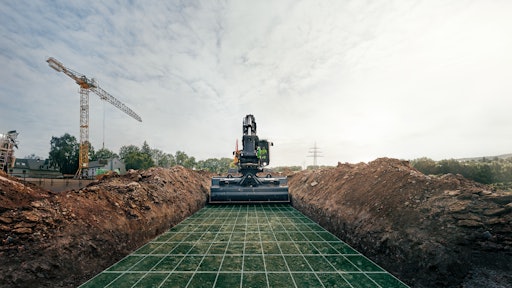 Volvo Construction Equipment
With the continued development of autonomous vehicles and systems has come the further advancement of the components which enable them. This includes sensors, GPS and other technologies designed to allow safe and productive autonomous operation.
TTControl GmbH is currently researching the role of electronic controller and communication technology in semi-autonomous agricultural equipment as part of the IntellIoT project in Europe. The company for its part will be looking at the creation of electronic architectures for these types of vehicles and the human-machine interaction. It will do so by researching how high-end control units can be used for semi-autonomous control and how information can be exchanged in a safe and reliable manner between the machine and the human operator.
"Highly autonomous farming machinery will enable a more efficient and sustainable way of working and contribute to securing the global food supply," says Manfred Prammer, Managing Director of TTControl, in the press release announcing the company's participation in the project. "In the project's vision of smart farming, the machine will take over more and more tasks automatically while significantly increasing efficiency. As an integral part of the system, the machine operator will be able to control several machines at once remotely."
Sensor technology continues to advance
Sensors play a key role in autonomous systems as they are capable of seeing the environment around a vehicle and detecting objects that may be in its path. When objects are detected, alerts are created which signal to the machine's control system the vehicle needs to make evasive maneuvers or stop to prevent a possible accident.
Lidar—Light Detection and Ranging—is one of the more common sensor technologies used in autonomous vehicles. It measures distances and is therefore often used to aid with object detection. The technology has advanced over the years to improve its detection accuracy and optimize the safety of autonomous vehicles.
Purdue University announced in 2020 it was researching frequency modulated continuous wave (FMCW) lidar to help improve detection between moving and inanimate objects. This has long been a challenge for the industry.
FMCW lidar scans a laser light from the top of an autonomous vehicle to detect objects. When this laser light bounces off an object, it then goes to a detector through an optical isolator to ensure all reflected light reaches the system's detector array.
The researchers at Purdue have developed a way of using acoustic waves to enable faster tuning of system components and the creation of higher-resolution detection of nearby fast-moving objects. This helps to ensure better detection accuracy and thus improved safety.
Innoviz Technologies has developed a solid-state lidar technology for use in a variety of applications, including heavy-duty off-highway equipment. Aditya Srinavasan, VP of North America at Innoviz Technologies, says there are many benefits solid-state technology provides compared to early spinner lidar technology introduced to the market several years ago. There have been problems with the spinner versions breaking; this is a particular issue for off-highway applications due to the increased vibrations encountered. In addition, he says Innoviz has been able to create solid-state lidar which is lower in cost.
When developing its lidar technology, Innoviz had an automotive OEM as a lead customer which required the company to pay attention to automotive-grade qualifications of the sensor, says Srinavasan. This means the lidar had to be designed from the ground up to be qualified to the ISO 26262 and AEQC standards.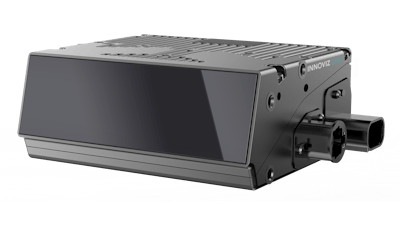 He says that while this creates a difficult, rigorous and time-consuming design and manufacturing process for the hardware and software components, it leads to the development of a product which is suited to the needs of the application in terms of reliability and durability. This also means further rework will not be necessary—which could be even more costly and time consuming.
Meeting these automotive-grade qualifications ensures the sensor is rugged enough to be used in off-highway equipment applications, as well. Srinavasan says it went through extensive vibration testing when first developed and qualified for the original OEM customer.
While the primary use is for object detection and classification, he says the Innoviz lidar can also be beneficial for mapping the route of a vehicle, particularly one that may lose a signal from GPS or other satellites due to obstructions in the work environment like trees. "It's able to get a precise, 3 cm (1.18 in.) accurate measurement from every object the [sensor's] point cloud bounces off." So if the GPS signal is cut off, the machine can continue along its planned route which has been mapped by the lidar sensor.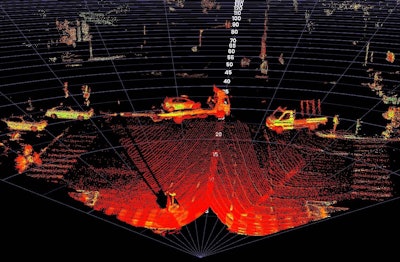 Aiding the development of autonomous systems
How an autonomous system or vehicle is developed is just as integral as the components used. To aid OEMs with the development of autonomous vehicles, Left Hand Robotics introduced its BOLT system in early 2020.
Left Hand Robotics used its own experience in developing robotic machinery to create the BOLT system. It brings together autonomous navigation, connected sensors and real-time robot operations for machines doing repetitive tasks.
"Our team has learned a lot, building, testing, proving how autonomous tractors can work on tedious, dirty jobs in the real world. These are tough problems to solve and we have already invested more than 80 engineering years into the technology behind BOLT," says Terry Olkin, CEO for Left Hand Robotics, in the press release announcing availability of the system. "We'll continue to build our own robots while offering BOLT to a limited number of OEMs in the first year." Read more about Left Hand Robotics' autonomous vehicle development.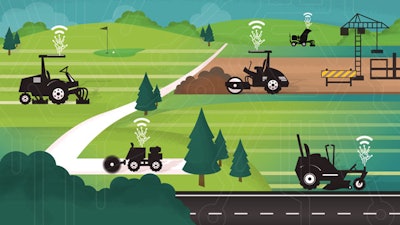 In December, ACEINNA Inc. introduced its OpenRTK330LI EVK, a complete evaluation and development kit for the company's OpenRTK330LI GNSS/INS module. It is designed to help accelerate the development and reduce design time of navigation and guidance systems, including those used for autonomous vehicles and systems.
According to John Newton, Vice President of ACEINNA Inc., there are a wide range of applications in which machine control and autonomous vehicle development is taking place. As such, the company has developed and is continuing to develop technologies which aid with this, such as its RTK (Real Time Kinematics) technology. It is a version of GNSS/GPS which provides more accuracy than standard GNSS/GPS, says Newton.
RTK provides centimeter level accuracy whereas GNSS/GPS offers an accuracy level of several meters. It is able to achieve this higher level of accuracy through the use of fixed base stations which wirelessly send out corrections to a moving receiver to increase the accuracy of GNSS signals. The improved accuracy of the RTK technology helps to improve the reliability of the machine control systems into which it is integrated.
Newton says the main benefit of ACEINNA's new development kit "is just speeding the time to market for people who want to develop one of these [autonomous] systems" which incorporates the company's OpenRTK330LI GNSS/INS module. The kit includes several necessary components for doing so such as a GPS antenna and a built-in GNSS/RTK positioning engine. This positioning engine "is the software that takes the RTK corrections and applies them to the GPS signal to give you that centimeter accuracy," explains Newton.
There is also a built-in calibrated-over-temperature triple redundant IMU (inertial measurement unit). An on-board application processor with software combines IMU data—acceleration and angular rate—with the GPS signals to provide not only general information but also improve accuracy of the position and velocity signals. "This is somewhat unique," says Newton. "We're not aware of another solution of this kind of class and cost point that has the calibrated IMU inside."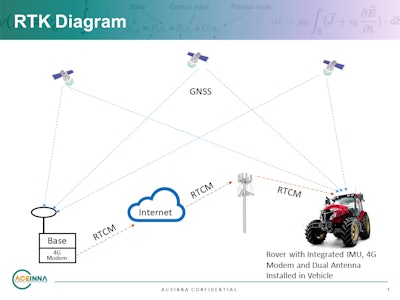 The integrated IMU "provides some level of fault tolerance because of its redundancy," adds Reem Malik, Business Development Manager at ACEINNA Inc. "It also helps during GNSS gaps." If something happens to the GNSS signal, she says the IMU data can be used to help navigate safely for a certain period of time.
In addition, Newton says there is a built-in web server which helps with configuration and set up of the GNSS module. It features an open source architecture and development platform, as well, enabling customization to specific vehicle and application needs.
Having all of these pieces together in one kit can greatly speed up the development process for designers. In the past, they would have to source the GPS receiver and IMU from manufacturers, and then design a PCB board to communicate with those components as well as the algorithms needed to fuse all of the data, says James Fennelly, Product Marketing Manager, Inertial Systems at ACEINNA Inc. "All of that is many years' worth of work just to get to the point where they can start trying to design their control system."
With this new kit, all of that upfront work can be reduced, and the development engineer can within minutes of receiving the kit have all of the data needed to begin developing the final solution right away. "It's a tremendous leg up for people who want to do automated solutions in these markets," says Fennelly.
Future opportunities
Newton says that some of the next steps for ACEINNA will be taking its IMU technology to a higher level of performance, ruggedness and reliability to meet the needs of heavier duty applications. Adding functional safety to meet ISO 13849—a standard targeted more toward off-road vehicles—will be part of that, as well. In addition, he says the company wants to develop turnkey navigation systems that are ready from the box and a customer could bolt directly onto a high-end piece of equipment or other type of vehicle.
He says the company is continuing to see more development of machine control and autonomous systems in various markets, including the off-highway equipment segment because of the cost savings and productivity improvements they can provide end use customers. Being able to provide an out-of-the-box solution will aid OEMs with their continued autonomous vehicle developments.
"I'm absolutely convinced that autonomous solutions are beneficial to society," says Nils Jaeger, President of Volvo Autonomous Solutions, in an article from the company discussing the advancement of autonomous vehicles. "This new industry will provide a lot of value – safety, efficiency, flexibility, sustainability and economic. It is impossible to stop progress – this technology is going to happen – and I firmly believe that it will be a force for good. In fact, if we had been further ahead in our development the impact of COVID-19 would have been less."
Off-highway applications have shown what is possible with autonomous vehicles and is probably the most mature of all applications thus far. Mining in particular has been utilizing autonomy for over a decade, with many work sites running fully autonomous mine trucks and other equipment. The repetitive nature of the work at a mine site and the fact it is a confined area have helped to make autonomy feasible.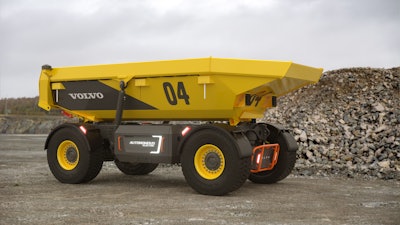 While autonomous vehicle development has progressed a lot, and expanded into a variety of applications, Volvo Autonomous Solutions says in its article there is still a lot of work to be done. Further technology advancements will be necessary to ensure the safety of these vehicles, as well as making people comfortable with being around them.
"To ensure that it is understood as beneficial to society we need to master the componentry by proving that it is truly safe. We also need to reassure legislators and promote the many benefits by being good stewards of this technology," concludes Jaeger.
Companies in this article