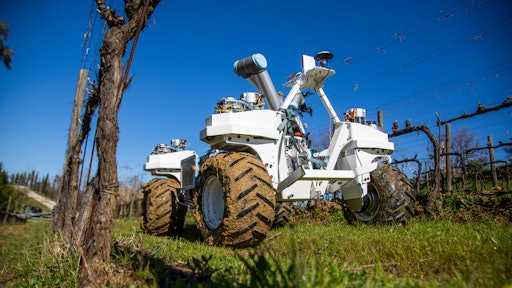 Yanmar
Development and use of robots is increasing in heavy equipment markets including agriculture, construction and mining. The often smaller, autonomously operated machines can help improve safety and productivity on job sites as they are able to maneuver over a variety of terrain and obstacles that might otherwise be difficult for larger machines or humans.
According to IDTechEx Research, robots and artificial intelligence (AI) will drive a deep and transformative change in the agricultural world during the coming decades. This is due to their ability to take over tasks such as weeding, planting and collection of agronomic data.
Fendt's XAVER platform, for instance, uses small robots operating in swarms and a cloud-based solution to plan, monitor and accurately document precise planting of corn. The position and planting time of each seed is accurately recorded which allows subsequent operations in the plant cycle—such as fertilization—to also be performed in a precise manner.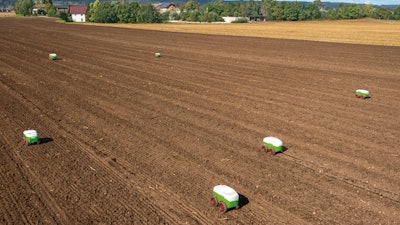 READ MORE: Will Robots Take Over the Farm?
In November, Trimble and Hilti announced they would integrate their construction management software solutions, GNSS technology and reality capture devices with Boston Dynamics' Spot Robot platform. According to the companies, doing so provides consistent output, delivers improved efficiency on repeatable tasks and enables up-to-date as-built data analysis.
"Utilizing robots for routine tasks in hazardous environments to improve safety, efficiency, and data capture consistency is part of our digital transformation vision," said Aviad Almagor, Senior Director for Mixed Reality and Brain-Computer Interface (BCI) at Trimble in the press release announcing the partnership with Hilti and Boston Dynamics. "We are excited for this latest collaboration and looking forward to the potential integration of our hardware and software solutions with the Boston Dynamics Spot Robot to enhance field-oriented workflows, reduce [the] amount of rework and facilitate on-site tasks."
Sandvik Mining and Rock Technology recently announced its partnership with Exyn Technologies Inc. to use aerial robot systems to help improve autonomous mining capabilities. The companies will use the robots to map and visualize underground mines that might otherwise be difficult to survey or inspect. Data collected by the aerial robots will be combined with Sandvik's OptiMine technology to provide an accurate picture of a mine's environment and the processes which take place within it. Eventually, the companies aim to apply and generate 3D views and perceptions of underground spaces autonomously.
"For the first time, customers will be able to map the entirety of their underground operations, even in dangerous GPS denied environments, while making mining safer and improving productivity. Through this partnership, we hope to empower efficient decision-making for customers and drive towards the vision of fully autonomous mining operations," said Nader Elm, CEO and Co-Founder of Exyn Technologies, in the press release announcing the partnership.
Technology enables reliable operation
A variety of technologies are utilized to enable robots to operate, including various sensors and GPS systems. For its agricultural robot concept, Continental is using camera-based, multispectral or thermographic sensors which the company says are particularly important if the robot is being used to monitor plant growth or soil conditions.
Yanmar has also recently developed an agricultural robot concept as part of the SMASH (Smart Machine for Agricultural Solutions Hightech) project in Europe. The organizations involved are working together to develop a modular robotic platform employing the latest information communications technology to examine crops and soils, analyze gathered information and provide clear, actionable information to farmers to support crop management.
The robot consists of electronics, wires, sensors, cameras, GPS receivers, and multiple electric motors—all of which enable its operation in all types of field conditions. Among Yanmar's tasks within the project are development of control systems for the machine's multipurpose robotic arm for mobile manipulation, sensor integration for positioning technologies, and autonomous navigation and software development for the control of the system's mobile base.
"SMASH is not a single machine, but a series of different devices including a robot, base station, drones and field sensors that together provide vital information to help farmers. A farmer could program the task that he wants SMASH to carry out, and while he is involved in other activities, this machine could move autonomously, monitoring crops, detecting and treating diseases, and saving the farmer or his workers significant time out in the fields manually checking crops," explained Manuel Pencelli, Modelling and Control Engineer at Yanmar R&D Europe, in the press release announcing the project.
Septentrio's recently introduced AsteRx-m2 Sx OEM board is a GNSS receiver designed to provide high-accuracy positioning in a variety of applications, including small robots. The receiver includes built-in GNSS corrections, ensuring high accuracy and reliability. Building this technology into the GNSS receiver simplifies use for manufacturers as they do not have to subscribe to a correction service or worry about where they will get the GNSS corrections from, says Gustavo Lopez, Market Access Manager at Septentrio.
Security and signal reliability is an important factor, especially as the construction, agriculture and other industries move toward robotics, says Lopez. While there may already be existing low-cost GPS chipsets available in the market, he says they may not be reliable enough or "offer the resilience or security you might need for autonomous robotics applications, especially when the machines become bigger."
The reliability provided by Septentrio's multi-signal systems can be especially beneficial for robots working in agricultural applications as it ensures there is no loss of GPS signal which might otherwise be caused by crops or other objects as the machine moves through a field. Lopez says the small size, low power draw and reliability of the mosaic GNSS module, AsteRx-m2 Sx and Septentrio's other receiver technologies is also beneficial for robotic and other machine applications. "The seamless integration of GNSS corrections is a game changer in the market as it makes the integration of high accuracy as transparent as possible for newer robotics applications," he says.
With the growing development of robots and other autonomous vehicles, sensor fusion is becoming increasingly more important. "One of the elements of sensor fusion linked to robotics is [related to] positioning," says Lopez, such as through the combination of GPS and inertial measurement units (IMU). Combining GPS and IMU technology creates inertial navigation which allows for more robust positioning information even in difficult operating conditions. "Sometimes due to the environment, you might not be able to track GNSS signals," he explains. "If you have an inertial measurement unit, you can improve reliability and availability of the solution."
Having the IMU technology also enables orientation of the vehicle to be determined in addition to its position. This is particularly beneficial when integrators want the robot to focus on a specific trajectory or on an implementor task requiring a sense of direction, says Lopez. He notes Septentrio's AsteRx-i product line combines high-end GNSS receiver technology with industrial-grade IMU to provide both reliable positioning and vehicle orientation information.
Lopez says Septentrio is working with customers to provide them with robust GNSS/INS sensor fusion for their applications. This enables the manufacturer who is developing the robot or other machine type to focus on the customer application side, creating a piece of equipment that will meet the end customer's use case.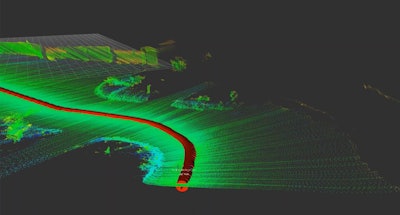 Future market growth
Lopez says it is an explosion right now with different robotic companies entering the market, and there are certain applications in which use of robots will continue to increase. Agriculture, construction, mining, logistics and delivery are all areas where interest and use of robots is increasing.
IDTechEx projects the market value for these machines in the logistics, warehousing and delivery markets alone will reach $290 billion by 2040. Meanwhile in the landscape industry, robotic motors are anticipated to achieve a market value of $2 billion by 2029. Both figures demonstrate the growing appeal of these machines in various applications.
"People are really focused on efficiency," he says. "Also, people are wanting to do things in a cheaper way, so they are looking into robotics."
READ MORE: Robotic Lawn Mower Market to Grow 12.5% Through 2029
The safety benefits of using robots for certain tasks has been particularly brought to light by the COVID-19 pandemic. Use of mobile robots has enabled successful disinfection, monitoring, surveillance, and handling and delivery of materials during the global health crisis. ABI Research says these proven use cases will propel the overall mobile robotics market to a value of $23 billion by 2021.
Because the pandemic caused many people to have to stay at home, or take extra precautions to ensure their health and safety, robots were able to step in and help with the workload and demonstrate the many capabilities they offer.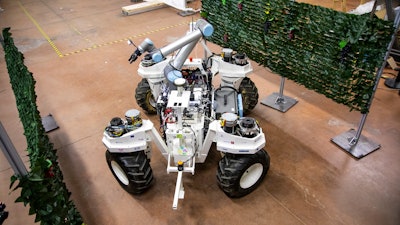 As robotics technology advances, so will GPS and other systems utilized to enable the operation of mobile robots. Lopez says the number of GNSS signals will continue increasing which will make it important for integrators to choose receivers which can track them. He notes that some of those new signals will start transmitting corrections and authentication to help prevent jamming and spoofing—which can hinder security of a system. Receivers themselves will continue to get smaller and smaller, and costs will come down as use of the technology grows. "It will definitely be quite interesting how the technology will be changing," he says.
Manufacturers who partner with navigation technology providers and developers like Septentrio will be better able to create robotic and other autonomous machinery for heavy-duty applications, says a report from ABI Research. The analysis firm notes that advanced mobility enabling autonomous navigation will empower robotics vendors in construction, mining and elsewhere. While in 2018, 28.7% of commercial robots' shipments had some degree of autonomous navigation, in 2027 the percentage will be 79.3%.
"Construction robots may be involved in specific tasks, such as brick-laying, painting, loading, and bulldozing; we expect hundreds of AMRs (Autonomous Mobile Robots) in the next 2 years, mainly doing haulage," said Rian Whitton, research analyst for ABI Research in a release announcing ABI's market research on the topic. "These robots help to protect workers from a hazardous working environment, reduce workplace injuries, and address labor shortages."
As off-road equipment industries like construction and mining "continue to strive for cost efficiency and workplace safety, task-specific autonomous mobile robots hold the key to the future," Whitton concluded.
Companies in this article