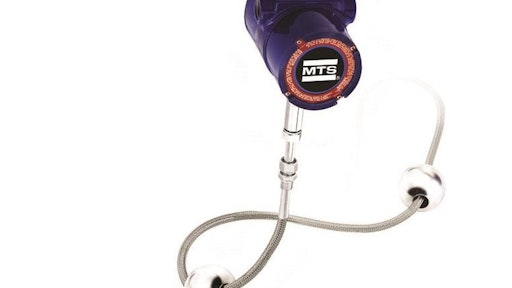 MTS Sensors, a division of MTS Systems Corporation, has announced that the temperature accuracy of the Level Plus M-Series Model MG level transmitter has been enhanced to ±0.1 C.
"Temperature measurement is a critical parameter for Net Standard Volume calculations used by bulk storage terminal operators to monitor inventory levels," explains Lee Aiken, MTS Sensors Product Marketing Manager for Liquid Level Products. "Our improvement to temperature accuracy has followed on the heels of our enhancement to the level measurement accuracy, giving MTS the most accurate 3-in-1 measurement in the world."
The Level Plus Model MG transmitter provides reliable 3-in-1 measurement (product level, interface level and temperature) in applications such as petrochemical, liquid petroleum gas, biotech, pharmaceutical, food, beverage, water, wastewater storage and handling machinery. Output protocols include Modbus, FOUNDATION fieldbus and DDA, a proprietary ASCII protocol.