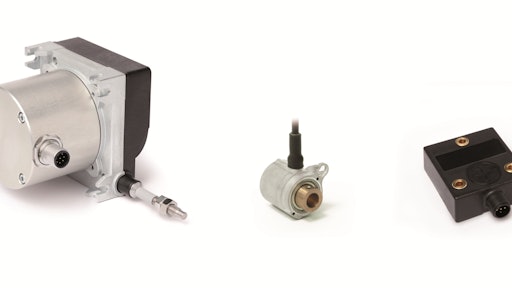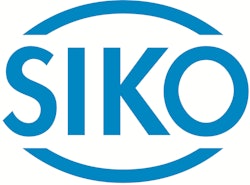 Whether in forklifts, reach stackers or Automated Guided Vehicles (AGV), it is not possible to imagine the industrial truck sector today without the use of intelligent sensors. The absolute measurement of position, angle, tilt, speed and lifting height is becoming more and more an integral part of intelligent industrial trucks.
Sensors are essential in driverless transport systems
In autonomous driving systems, these have always been used for the most important control functions. But for more and more vehicles that do require a driver, sensors are also being used to support them. There are quite clear advantages in using sensor technology: You save time, you reduce human error, you improve productivity and above all you ensure an increased level of safety. Procedures can be automated, or useful information, such as lifting height, fork position or the tilt of the lifting mast, can be displayed to the driver. In order to be able to implement these functions safely and easily, SIKO GmbH has new wire actuated encoders, angle sensors and tilt sensors across the range of products.
Redundant wire actuated encoders for lift mast height detection/cantilever detection
Newly redundant wire actuated encoders were recently introduced, which meet the safety requirements in the whole system in line with SIL 2 and performance level d. The newly redundant wire actuated encoders SG32, SG42 and SG62 have been introduced in the forklifts and AGV systems to make them more reliable in measuring the height of the lift mast.
The SIKO wire actuated encoders SG32, SG42 and SG62 offer this improved safety by means of a special and complete redundant sensor technology, which is employed to measure the absolute position. Two completely separate sensor systems measure the absolute position and give it out separately as analogue signals. With a measuring range between 3 m and 6 m, these wire actuated encoders are best suited for measuring the absolute height of the lift mast on driverless transport systems. For forklifts, versions for up to 15 m are available. All sensors are available with the redundant interface, potentiometer, analogue current or voltage, as well as CANopen.
For vehicles that cannot be installed with a wire actuated encoder for design reasons, SIKO offers the innovative incremental IG-O encoder. The incremental encoder, IG-O, with its outstanding housing design, offers the operator many advantages when measuring the lift mast height. The encoder is integrated in a toothed belt wheel and can as a result be installed within a very small space. The existing gear belt can be used in combination with the IG-O encoder on the lift mast, in order to measure the height of the lift mast in a simple and cost-effective way. Extensive mechanical adaptations are completely eliminated.
Angle sensor to measure the steering angle
With its cost-effective, space-saving and robust angle sensor, SIKO has developed the AH25S specifically for measuring the steering angle on driverless transport systems. An exact miniature angle sensor with a blind-hole hollow shaft was developed in close collaboration with customers. Thus it is very easy to assemble and, with its robust die-cast housing, it offers a real alternative to existing sensors made of plastic. The precision sensing gives absolute measurements over 360 degrees with a resolution of 12 bits and gives the angle position over the analogue interface with no time delay. Different analogue interfaces can be selected, such as 4-20mA, 0-20mA, 0-10V or 0.5-4.5V. Special attention was given to the EMC compatibility of this angle sensor. Thus there is a specific part in the electronics that ensures the system works perfectly under adverse EMC conditions. This offers clear advantages to other sensors without a protection circuit.
Tilt angle sensors for absolute measurement of tilt angles
In order to reliably detect the tilt angle of the lift mast, as well as the whole vehicle, SIKO offers two very robust inclinometers with its tilt angle sensors, IK360 and IK360L. The MEMS-based tilt angle sensors boast a particularly robust design. The fully enclosed tilt angle sensors, with their high IP69K protection rating, are available in two precision variants (0.1 degrees as well as 0.5 degrees). Both sensors are available as a single-axis variant (0-360 degrees) or a two-axis variant (+/- 80 degrees).
SIKO completes its product range for industrial trucks with numerous other redundant and standard sensors, as well as encoders.

Used millions of times over the years, the SIKO angle and distance measuring systems in industrial trucks don't just contribute to make the vehicles smarter. Ultimately it is the users who benefit, as using intelligent sensors saves time, reduces human error, improves productivity and ensures above all an increased level of safety.