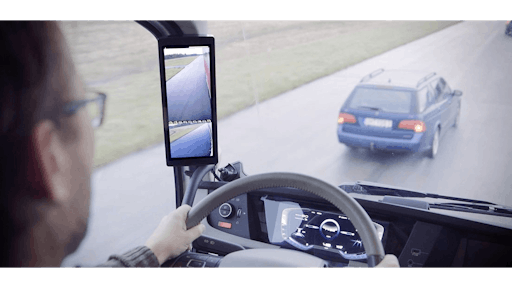 Mirrors have always been an integral part of ensuring optimal visibility for drivers. Camera systems have helped improve this even further, and as those systems have improved in image quality and viewing range, some manufacturers have developed systems which completely eliminate the need for mirrors on the vehicle.
Earlier this year Orlaco announced it will introduce its MirrorEye technology in 2017 to replace side mirrors on trucks. The system consists of two high definition (HD) cameras placed on either side of the vehicle cab. Images are displayed in real time on an HD monitor mounted inside the cab on the window stile. Orlaco consulted vehicle manufacturers' cab-styling and human machine interface experts to determine the best placement for the monitor.
Henrie van Beusekom, Executive Director of Orlaco, says the high degree of safety requirements and legislation associated with camera systems required the company to start with a blank sheet and design all new components. New camera image sensors were developed, as well as new image signal processing (ISP), digital real-time interfaces, optical systems and night vision LEDs.
Extensive work was also required on the software and hardware. Software functions such as cropping, stitching, scaling and image recognition were newly built into the system. Connectivity with the vehicle network enables functions such as diagnosis and panning. The panning feature activates when the vehicle begins turning or reversing, automatically adjusting the cameras to provide better visibility. van Beusekom says sophisticated software algorithms designed by Orlaco determine the angle of the vehicle and send the position information to the camera in order to adjust its field of view. "This is of particular importance for articulated vehicles and those towing materials," he says.
Why go mirrorless?
Being able to rely on cameras for visibility around a vehicle instead of mirrors offers many benefits. van Beusekom notes that cameras are more or less limitless in their range of view, and that Orlaco has optical systems with fields of visibility, including wide angle lenses of up to 270 degrees. He says the company uses 3D CAD simulation environments to realize the legal fields of view its systems need to provide with an added safety zone around the legally prescribed field to ensure optimal visibility.
Nighttime visibility is one of the key advantages MirrorEye and other similar systems offers. The Orlaco system activates LEDs and a special camera filter to allow visibility of the full length of the vehicle and objects next to it. The full safety zone around the vehicle is illuminated and visible to the operator via the system, van Beusekom says. "This is a spectacular advantage compared to traditional glass mirrors which do not allow any vision in the darkness."
MEKRA Lang says its mirror replacement system—integrated onto the CAB Concept Cluster Genius CAB introduced at bauma 2016—is fully functional in all lighting and weather conditions, and provides better visibility in twilight and darkness. The company says pan and zoom functions enable users to focus in on sections of the provided image when necessary. It can also be integrated into a short range warning system to provide a complete safety system solution.
For additional safety, Orlaco's system is able to alert drivers with an audible and visual warning if it detects a vehicle in the adjacent lane when making a lane change. Recording capabilities are included with the system, as well, which van Beusekom says can offer the benefit of continuously recording images for driver training and incident analysis.
The Bosch Mirror Cam system, set to be introduced at this year's IAA Commercial Vehicle Show, changes the range of visibility based on where a vehicle is located. When a truck is driving on the highway, the driver is able to see further behind the vehicle whereas when it's in a city the angle of view is made as large as possible to provide increased safety.
Keeping mirrors clean can often be a challenge for vehicle operators, especially in dirtier, off-road applications. The camera lens in the MirrorEye system, however, is equipped with a nano-coating, heating element and washing system to prevent dirt and ice from building up on the optical surface so that visibility is possible in any type of environment or weather condition.
Shock and vibration can also cause visibility issues with mirrors, whereas camera images will not move no matter what type of terrain a vehicle is driving on.
Improved vehicle aerodynamics is also a benefit Orlaco and Bosch foresee with these mirror-removal systems. Eliminating the side-view mirrors minimizes wind resistance, and can lead to reduced fuel consumption of 1-2%.
Bosch also notes that removal of the mirrors keeps operators facing forward because the camera system's monitor is within their line of sight, improving both safety and comfort.
While the Orlaco system is initially being introduced for heavy-duty trucks, van Beusekom says its use is not limited to on-highway applications. He says the company is testing the system on many types of heavy machine platforms. The system's automatic panning capability is particularly advantageous for articulated dump trucks due to their large size and often restricted visibility. He also notes that mirrors are commonly knocked off of large equipment, making the compact and safely integrated camera system an alternative solution to this issue.
Autonomous vehicles are also a key target application as they rely on cameras to guide their movements, and don't have a need for mirrors since they are often unmanned.
Though side-view mirrors on heavy-duty vehicles will not immediately disappear, the solutions available from Orlaco, Bosch and MEKA Lang show advancements in camera systems will continue to make drivers and work sites even safer.
Companies in this article