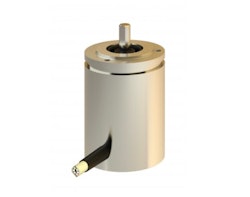 TWK
Whether steering angle, wheel speed, vehicle tilt or vibration, these quantities must be quickly and reliably recorded and transmitted to the control system's safety interface. The following industry standards are available as interfaces: PROFIsafe over PROFINET, Failsafe over EtherCAT (FSoE) and CANopen Safety. CRC checksums and double data transmission — normal and bit inverted — ensure safe communication between the sensor and the control system. The safety level is at least SIL2 (IEC 61508) or PLd (ISO 13849). For some applications, even SIL3.
The TBSN/TRSN series includes encoders for high functional safety requirements. They are certified to according to IEC61508, SIL3 and comply with ISO 26262, ASIL-D. This means that they can be used in applications where safety is particularly critical, such as public road transport. For example, driverless transport systems that can be operated remotely from a working station. The operator uses a monitor, pedals, and a steering wheel to steer a camera-equipped, remote-controlled vehicle to the desired destination. Transmission to the vehicle uses the fast 5G standard.
The position value is recorded redundantly and processed independently by two microprocessors. The output is provided via the CANopen safety protocol. The single-turn version TBSN offers a resolution of max. 65,536 increments per revolution. The TRSN multiturn version offers an additional 4096 revolutions. The encoders have a magnetically shielded stainless steel housing. This allows them to be mounted directly on a motor without affecting the measurement. High EMC/ESD immunity is also guaranteed. With an operating 1/2 temperature range of -40 degrees Celcius to +70 degrees Celcius and an enclosure rating of up to IP69K, the encoders are suitable for use in harsh environments. They are also able to withstand high levels of shock and vibration. With an outside diameter of just 42 mm, they can be used in applications where space is limited.
Other examples of miniature encoders include devices with a very small housing depth of 30 mm and, for example, a CANopen safety interface, or fully redundant devices with CANopen or analogue output. These sensors do not have functional safety certification but can still be used in safety applications due to the redundancy.
These are just a few examples of the wide range of compact, safe sensors that can be used for a wide variety of mobile sensing applications - starting from a diameter of just 38 mm. Safety switching outputs can be added to the sensors' safety functionality on request. These can be found in our backlash-free NOCx cam switch units or the NVx vibration sensors for condition monitoring. Customized solutions and a range of other interfaces are also available.
Request More Information
Fill out the form below to request more information about
TWK Releases CANopen Safety Encoders With SIL3 Certification