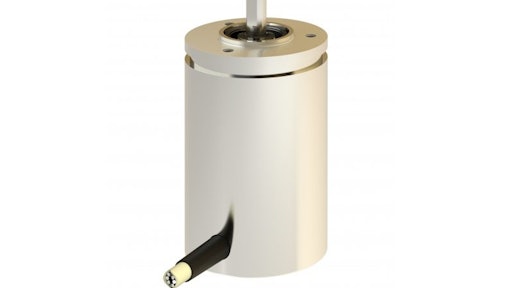 TWK
Safe angle and speed measurement is a key requirement in vehicles, including autonomous industrial trucks. This is possible with functionally safe and certified encoders with a suitable safety interface on rotary axes or drive motors. Autonomous vehicles can quickly approach their target positions with safe position and speed data. Monitoring by compact safety encoders helps to protect the environment, people, and machines.
Particularly in the field of autonomous vehicles there is a need for certified safety sensors in small form factors, especially for automated guided vehicles (AGVs) and autonomous mobile robots (AMRs). In comparison, AMRs are more adaptable to the current work situation. This is due to their more independent navigation without the need for lanes, route specifications or other infrastructure. They can adapt their routes to the situation and often realize more efficient logistics. In those circumstances high-performance sensor technology is key to achieve safe operation. Steering angle, wheel speed and the position of any vehicle must be always reliably available.
Small and lightweight safety sensors are required to save space and weight in agile and compact systems. TWK offers a portfolio of certified sensors in compact design with different safety interfaces: For example, single-turn encoders with a housing diameter and length of only 38 mm and a Fail-Safe-over-EtherCAT (FSoE) interface (TRK38), or devices with a housing depth of only 30 mm and a CANopen safety interface with a diameter of 55 mm (TBN55). Various housing designs are available for these and other safety interfaces such as PROFIsafe via PROFINET. Sensors with TWK's multiturn gearbox are available from 42 mm diameter.
TWK's miniature encoders can be mounted directly at the wheels of an automated guided vehicle to detect the vehicle's speed. Alternatively, they can be mounted on the drive motor of the vehicle. The devices are also available with magnetically shielded stainless steel housings. They can handle speeds up to 15,000 rpm and have a typical position resolution of 16 bits/360 degrees. 
Another application for TWK's compact encoders is the detection of the steering angle of the vehicle. Here measurements can also be taken at the wheels or, after an intermediate transmission stage, at the servo motor. In the latter case, TWK offers devices with SIL2-certified software — the so-called slew-ring functionality — which reliably converts the position of the motor/sensor shaft into the position of the wheels (steering angle). This works for arbitrary rotations over the complete measurement range and for at least 1024 revolutions even when the encoder is not powered. The wheel position is reliably and correctly output when switched on again. During commissioning, the user transfers the gear ratio and the required resolution as parameters via the encoder's interface and the encoder is ready to use.
All devices are certified according to IEC 61508 and/or ISO 13849 - at SIL2 or PLd level. Further devices are available with SIL3 certification. In addition, TWK offers UL, E1, ATEX/IECEx and fully redundant (R2) certified sensors.
Request More Information
Fill out the form below to request more information about
TWK Launches Safe Compact Encoders for Autonomous Vehicles