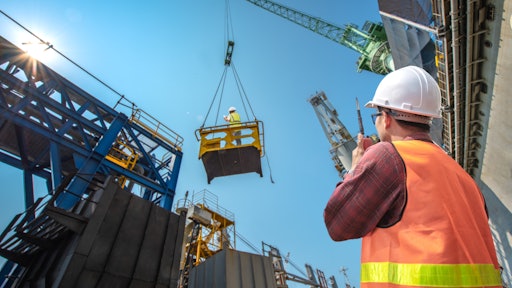 Idanupong, Adobe Stock
Trimble integrates data from its own connected equipment and from other Internet of Things (IoT) devices to suggest an increasingly interoperable construction industry. At Trimble Dimensions+ 2022, connectivity and IoT were centerstage, with ample usage of IoT data from connected equipment round-tripping to the front office and vice versa.
While Trimble's market leadership has probably been carried by the ability to apply geospatial and IoT technologies at an industrial scale, the company has also acquired or has grown back-office construction technology offerings including:
Construction enterprise resource planning (ERP) via Viewpoint
Civil engineering estimating including the recent acquisition of B2W
Specialty and trade contractor estimating through Quickpen and Accubid
Estimating for generals and subs through Viewpoint Estimating
EBuilder, a project lifecycle management solution for owners
Trimble Dimensions+ was the first event that united the Viewpoint users and customers with the rest of the business. The partners exhibiting on site remarked on an increased number of interactions with financial decision makers. But Trimble Dimensions+ was about more than connecting the front and back office on the conference floor.
Bluetooth Low Energy
Announcements made at the event included an integration between Hilti's On!Track tool management software application and Trimble's Viewpoint Vista ERP. On!Track is now part of the overarching Trimble Construction One product line that combines Bluetooth tracking devices on its tools to a cloud application that captures data from the tagged tools every two minutes. The On!Track application monitors tool usage, location and battery condition to support a spectrum of business functions including maintenance; decommissioning of equipment; certification management for various tools; and, for rented equipment, rental return dates. Hilti tools will come standard with the requisite sensors and Bluetooth Low Energy beacons and can install beacons on non-Hilti tools during a brief onboarding process.
ON!Track combines Bluetooth asset tags, cloud-based software and field resource management software to solve problems related to asset and workforce management, including managing assets, consumables, service and repair needs, workers, and safety certifications in using a cloud service available on any device.
"We have a lot of customers with our ERP that have Hilti tools but do not have the On!Track system," Trimble Vice President and General Manager, Construction Management Solutions (Viewpoint and MEP) Lawrence Smith said. "But for Viewpoint customers, this is a way to ensure that an element of project cost information gets matched up to the right phase."
"With this integration, a contractor management team can track which employees are on which job sites, along with utilization and the hourly rate of any equipment," Hilti Executive Vice President and Head of the Business Tool Unit Michael Neidow said, reiterating that the up-front process, subscription and Viewpoint integration add value to the Bluetooth technology on the tools themselves. "One element is the software, the other is an end-to-end service—our people go on site to help customers make the initial inventory and tag equipment. They can buy Hilti tools without On!Track; they can add the On!Track service to start tracking their tools, or they can opt to also integrate with Viewpoint."
Connected Equipment
The front office was covered by the inclusion of the Viewpoint users, but the field was represented by a 15-acre offsite equipment demonstration area where 3D paving; machine control; surveying; and the Trimble Quadri, Trimble Quest, Trimble WorksOS and Trimble WorksManager applications that connect the equipment to each other and the back office.
"Trimble has a footprint that spans different core technologies—we are in the design world with conceptual design and constructible design. We have a lot of technologies deployed on equipment for machine control. And we have a lot of technologies in ERP and construction management," Trimble Senior Vice President for Construction Pete Large said in an interview with IronPros. "Our technology footprint is quite unique, and our stakeholder profile is unique. We do a lot with the asset owners and clients, contractors, subcontractors, the supply chain, and design and consulting engineers."
The B2W acquisition could also have importance for how Trimble routes data from connected equipment to back-office applications.
"We are interested in the operational functionality as well, and we see potential to tie our connected devices into that," Trimble Product Director Johann Potgieter said. "A lot of the field solutions are not flowing into a centralized application—they are more like point solutions. We have never had this potential aggregator for all our field devices. This could acquire data from Siteworks, our surveying applications and capture progress into our operational suite."
Charles Rathman is technology editor for AC Business Media.