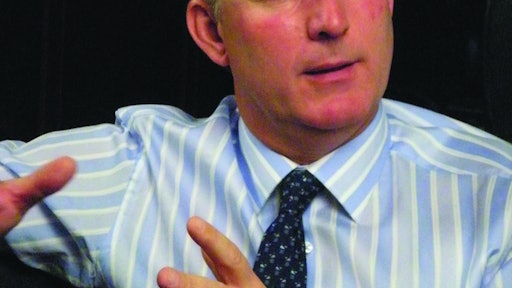 Q and A with Ray O'Connor
In the boom-and-bust economy that has characterized the construction marketplace for the past several years, one thing has remained constant: Companies that invested in around-the-corner technologies when jobs were scarce put themselves in a position to charge full-speed ahead to capture a larger share of the market opportunities today … and in the future.
Ray O'Connor, president and CEO of Topcon Positioning Systems, can clearly define the necessity of companies adopting the digital job site philosophy – tying in all phases of a job site with specialized software and machine automation systems designed to take a project from the planning stage to field to finish.
Even during the deepest trough of the recession, the economic mantra from Topcon's CEO never changed: Invest in digital job site technology! Now!
Dr. C. Jason Smith, Ph.D., co-founder of Discipline and Write, a New York technical writing cooperative, has interviewed O'Connor on several occasions and recently revisited him to see if his belief in what makes a company competitive has been altered by recent economic trends.
Smith: We last visited several years ago at a time when you were very vocal about the state of the economy. You were adamant then that construction firms needed to research technological advances and that it was essential for companies to purchase advanced machine control and asset management tools to remain competitive. Has that message changed?
O'Connor: No, and it won't today … or in the future. Companies not feeling an overwhelming competitive rush and a need to invest in new technology that transforms every project into a digital job site are putting their future in jeopardy. Is that a harsh and non-compromising statement? Absolutely. But, that doesn't make it any less true.
The secret to success in the construction business – from planning and bidding a job, from moving the first blade of dirt to collecting and analyzing data – is how to get the most work done in the least amount of time. That's a business truism that will not change regardless of the economy. Saving time is what is important.
At Topcon, the first design priority of every instrument we design and manufacture is to enable our customers to save time while providing vital and accurate information that's critical on the digital job site.
There are many successful companies in this world that took a chance on machine control technology when it was in its infancy and have been very successful because of that investment.
Smith: Sounds like you're on a mission.
O'Connor: I am certainly passionate about this subject, not just because this is the business we are in, but because I know it's true. To be truly successful, to grow, a company must have a fighting chance to win every single job for which they submit a bid. To effectively compete for every possible job, companies have to invest in the best technology available.
Smith: Competitive. That's a word you use frequently.
O'Connor: It's the difference in winners and losers. I believe if you are not growing, you are in decline or stagnating. A great many companies have been declining or, at best, stagnating over the past several years. But those companies that invested in technology to save time created opportunities to be more productive and many actually saw their bottom line increase.
In any business, dropping more money to the bottom line is a good sign of a progressive, forward-thinking company.
Effective management of time and resources produces optimum results. Manage time by saving it, use technology to your advantage, be more productive, make more money. That is the formula for a successful business regardless of the business you are in.
Smith: What technology is available that can create a competitive advantage for companies today?
O'Connor: Just about anything you can think of is already available. The future of construction applications is here. In the field, you have Topcon's 3D-MC2 for dozers, which uses the industry's best hydraulic control system, inertial sensors and the industry's best GNSS receivers. That integration of technologies provides more than 100 blade corrections per second. This technology shattered the last barrier to better machine control for dozers … speed.
3D-MC2 enables a dozer to run twice as fast as a regular machine control dozer and four times as fast as a dozer without machine control … with finish grade precision that's unattainable any other way.
But that's just the start of the technology revolution. What about data collection and analysis? Topcon's SiteLINK 3D is a powerful remote asset management tool that gives a company control: Control over time, control over the productivity of machines and their operators, and control over data, from first cut to project analysis.
And, with Topcon Tierra you have available real-time data via a web portal allowing you to keep track of every machine on every job site regardless of where it may be. Imagine: From any location in the world, you can keep track of every piece of machinery, know where it is at any given moment and monitor and manage an entire fleet of machines on criteria you set.
This technology is truly amazing, and it is today's reality that can save a company money every single day on every single job.
The technology and information revolution is evident everywhere in the marketplace. Today, with Topcon's IP-S2 3D Mobile Mapping System, which combines multiple technologies in a single system, you can map roadways at 60 mph. It creates maps with GNSS accuracy while capturing images and locations of everything in the mapped area, from buildings to trees to street signs.
Speed, used effectively on job sites worldwide, increases productivity and puts more money to a company's bottom line. For example, the new RTP-300 real time profiler collects attaches to the rear of a vehicle and collects surface data at speeds of up to 65 miles per hour. It creates an exact model of the road surface.
The collected information from both mapping and profiling systems can be easily stored, retrieved, and used by multiple parties in various locations in myriad ways.
Again, it is another example of technology saving time and money and increasing productivity exponentially.
It's important not to forget that advanced technology is driven by software. Topcon has invested millions in development of world-class software, including Topcon SiteMaster, TopSURV, Layout and Layout Master, to provide an integrated data-to-done simplicity.