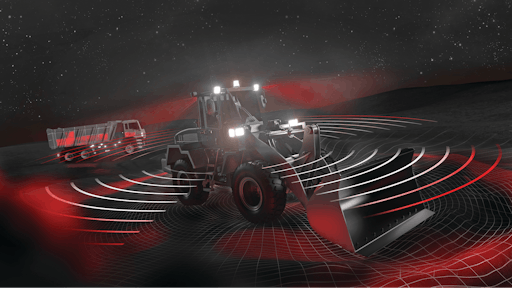 Danfoss Power Solutions
Danfoss Power Solutions is continuing to grow its autonomous technology solutions. The company recently introduced its new PLUS+1 XM100 autonomous machine controller which looks to ease development of autonomous off-highway equipment for OEMs.
The new controller enables integration of level 3 autonomy capabilities. Caleb Van De Stroet, Senior Technical Sales Engineer, Autonomy, Danfoss Power Solutions said during a recent webinar hosted by the company that this is the first autonomous controller Danfoss has released. He said it features a powerful CPU that is up to 10 times more powerful than the next closest controller released to date by Danfoss.
Inertial measurement unit (IMU) and GNSS receivers are integrated into the controller to enable machine location to be identified. An ethernet connection allows the connection of lidar sensors while several CAN ports are included for connection of radar and other sensors.
Built-in technology reduces development time
The new controller can be paired with Danfoss' autonomous control library which can help OEMs speed up the design process and time to market for their autonomous machines. Several blocks of information are included within the autonomous control library which Danfoss has been working on for several years. These include positioning, navigation, perception and partner blocks. The various blocks can be stitched together to develop autonomous vehicle systems, which Van De Stroet said helps OEMs reduce their time to market.
Functions and features an OEM will want to integrate into its autonomous system, such as path following and obstacle avoidance, are built into these blocks. An OEM will have complete control over how they design their system and can make software updates when they choose. Van De Stroet said Danfoss' goal is to reduce the workload for design teams 80% by including most general work functions and use cases of off-highway machines. He said this allows OEMs to focus their attention on what they know best, the specific functions and features of their equipment.
The company has already put several thousand hours of research and development into the autonomous control library and will continue making further investments to advance the software to meet industry needs.
For ease of use, many of the blocks can be dragged and dropped within Danfoss' PLUS+1 software. Each block contains the necessary communication and controls to interact with and control components integrated onto a machine which will then allow autonomous functionalities.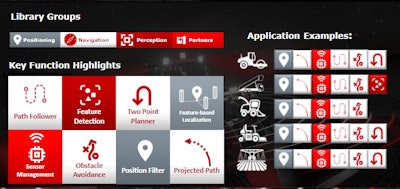 Autonomy is a journey
According to Van De Stroet, autonomy is a journey along which many tasks can be automated. He said during the webinar there are six levels to autonomy:
Level 0 – No autonomy
Level 1 – Reduce load on the operator. The vehicle is still manned but small tasks are automated to help the operator. For example, in a passenger car a person would still be controlling the steering and other functions of the vehicle, but a feature like anti-lock braking helps with an operational task.
Level 2 – Some functions are automated or combined. As an example, in agriculture a sprayer may have a row following feature which keeps the machine moving along the correct path so the operator can focus on other aspects.
Level 3 – Vehicle performs key functions, operator there for safety. Using the sprayer example again, the machine will have row following as well as end-of-the-row turns and be capable of finding the next row it needs to travel down without input from the person inside the machine unless a safety or other issue arises.
Level 4 – Vehicle performs most functions and the operator can take over if needed. The operator in this case is still in the vehicle if a special condition should arise in which he or she needs to intervene because the machine does not know how to respond.
Level 5 – Vehicle performs all functions and the operator is not needed.
Eric Alstrom, President of Danfoss Power Solutions, said autonomy is one of the three key areas the company is focusing its attention and investments.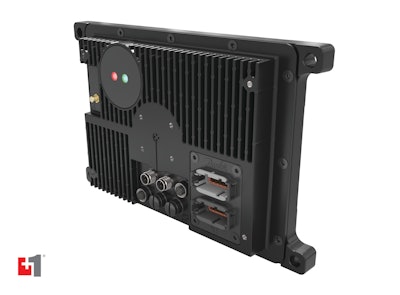 He went on to say there is no more compelling environment for autonomous operation than off-highway. Equipment in this industry is typically utilized in a more controlled environment which is usually a safer environment, as well, compared to those in which on-road vehicles are used. This helps to make the use case for autonomous operation easier to justify for OEMs and their end use customers.
Automotive on-highway autonomous solutions are currently very expensive, he said. They can be anywhere in the range of $40,000-100,000 per vehicle to make it autonomous and very few customers want to pay that. "In off-highway machinery, we have much longer payback cycles which makes it a better business case for the end users when it comes to autonomous solutions," said Alstrom.
Another benefit to autonomy in the off-highway segment is its potential to help overcome the labor shortage much of the industry is currently facing. Finding experienced workers is becoming increasingly difficult; lack of experience can lead to decreased productivity and even cost and safety issues. By automating tasks, customers can be assured a job is being done correctly.
The newly released XM100 autonomous machine controller can handle several operator assist and autonomous subsystems. As such, an OEM can utilize it to automate machine functions and help end use customers create more productive and often safer job sites.
Van De Stroet said the company has also already begun development of its next controller, the XM200. It will be a more advanced controller with machine learning and vision computing capabilities. For the future, he said the company is already starting to scope its perception and vision controller. This hardware unit will enable full autonomy and vision analysis.
Companies in this article