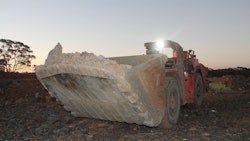 OVERVIEW
Canadian mining company Mandalay Resources owns and operates the Costerfield gold-antimony project southeast of Bendigo in regional Victoria, Australia. Costerfield produces ore via a single portal underground mine with site personnel using a narrow vein method to extract vertical veins of ore. The mine produces up to 80,000 equivalent ounces per annum in gold and antimony in gravity gold and a concentrate compromising approximately 54% antimony and 60g/t gold. The nature of narrow vein mining dictates that ore drives are quite thin to reduce the amount of waste material that is captured. 
Costerfield's drilling and blasting program was designed to maximise ore recovery by throwing the ore towards the draw point, however, historically the site could only recover 75% of the ore. This was due to the remaining ore sitting in the stope void out of reach of the underground loader as manually operated loaders could not exceed the stope brow. Mandalay then investigated implementing a loader that could be managed remotely to extract additional ore and to safeguard equipment operators from hazardous situations at the mine face.
SOLUTION
In 2015, Mandalay Resources engaged RCT to implement its ControlMaster Guidance Automation product on a Sandvik LH203 Loader. The automated loader enabled Mandalay Resources to retrieve significant amounts of ore that were previously unreachable. 
In recent years RCT has increased the autonomous fleet at Costerfield by commissioning ControlMaster Guidance Automation on a second Sandvik LH203 as well as a Sandvik LH151D. The machines are managed from Fibre Optic Control Stations (FOCS) at secure locations in the underground mine protected by Laser Guard Containment Units as well as stations on the mine's surface.