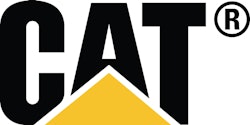 Cat Grade Control 3D offers dozer customers a "built in" tool to enhance track-type tractor productivity and improve the contractor's bottom line. Cat Grade Control 3D is a factory-integrated Cat Connect GRADE technology to help operators improve grading accuracy and efficiency—from production dozing all the way to finish grade.
Integrated Design and Ease of Use
Cat Grade Control 3D is engineered specifically for Cat dozers and fully integrated into the machine at the factory. Deep integration allows the system to work seamlessly with other machine features to optimize for full blade loads.
Dual GNSS antennas are mounted on the cab to eliminate masts and cables traditionally located on the blade. This keeps antennas out of harm's way and saves time by eliminating the need for component installation/removal. Compared with single GNSS systems, the dual antenna design adjusts for steep slope work, heading changes and machine direction changes to yield accurate grades on every pass. The innovative Caterpillar designed system is integrated into all machine systems. It is optimized specifically for Cat machines for productivity-boosting performance and quality results so customers can work with confidence.
Integrated joystick buttons enable operators to make quick grade adjustments while keeping hands on the controls, simplifying operation. With automated blade controls, operators can work more efficiently over long shifts by reducing manual inputs by as much as 80%.
The in-cab display provides an easy-to-follow 3D grade plan with cut/fill data to guide the operator to grade, while automated blade movements help operators of varied experience levels achieve consistent, quality grades faster, and in fewer passes. The system eliminates the need for grade staking, by reducing ground crews for enhanced safety and reduced costs.
Modes and Features
Cat Grade Control 3D works seamlessly with other technology features on Cat dozers to match blade load with ground conditions, helping the operator to achieve full blade loads and produce smooth, quality grades with less effort. (Modes and features vary by tractor model.)
Modes
Grade Control Mode – automates blade lift and tilt to produce consistent grades from first to last pass.
Rough Grade Mode – prevents the blade center from going below grade during rough grade operations.
Grade Protection – prevents entire blade from cutting below desired grade during manual blade operation to reduce overcutting.
Features
AutoCarry – automates blade lift to maintain desired blade load, improve load consistency and reduce track slip.
Auto Blade Assist – automates blade pitch and lift during Load/Carry/Spread cycle based on operator preferences.
Automatic Ripper Control – automates ripper height, limits track slip, and reduces wear during heavy ripping applications.
If additional grade control capability is required, customers can easily add Cat AccuGrade systems like laser or UTS control to extend machine versatility. The machine comes pre-wired from the factory for easy upgrade.
First introduced on D8T and D9T tractors in 2011, Cat Grade Control 3D will expand to the D6T in mid-2015.