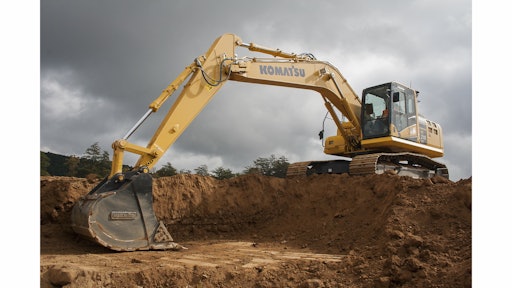 Komatsu America introduces the PC210LCi-10 intelligent Machine Control excavator to the North American market. The PC210LCi-10 features Komatsu's unique machine control and guidance technologies, built upon the successful foundation of the standard Komatsu PC210LC-10 excavator. Thanks to the exclusive control function, the PC210LCi-10 goes beyond simple guidance to semi-automatically limit over-excavation and trace a target surface. From rough digging to finish grading, the PC210LCi-10 excavator offers improved efficiency and accuracy over traditional methods.
"The PC210LCi-10 represents a huge leap forward by bringing automation features to excavators," says Jason Anetsberger, Product Manager of Intelligent Machine Control. "Thanks to the exclusive semi-automatic control function, customers will unearth their productivity and operators can focus on moving material while the machine semi-automatically protects the target surface." Anetsberger adds, "The efficiency improvement, greater value and operation simplicity of the PC210LCi-10 mirror what has been proven with Komatsu's established intelligent Machine Control dozer products: experienced and inexperienced operators alike will realize the benefits."
With an operating weight of 52,036 lbs. (23,603 kg), and a net horsepower of 158 hp (118 kW), the PC210LCi-10 is powered by a Komatsu SAA6D107E-2 engine and is EPA Tier 4 Interim and EU Stage 3B emissions certified.
Innovative: Automatic Real Time Digging Control
The bucket of the world's first intelligent Machine Control excavator is semi-automatically limited from digging beyond the target surface. The control function also semi-automatically follows the design surface allowing for accurate finish grading, with real-time bucket edge positioning in relation to the machine and the job surface.
Integrated: Standard Factory Installed Integrated Machine Control System
Factory installed, Komatsu's fully integrated intelligent Machine Control system includes GNSS antennas, stroke-sensing hydraulic cylinders for the boom, arm and bucket plus an IMU (Inertial Measurement Unit), for precise real time bucket edge positioning. Status is instantly displayed on the full color, multi-function 12.1 in. control box monitor, eliminating the wait time associated with conventional sensors.
Intelligent: Enhancements for Optimized Performance
The Komatsu PC210LCi-10 allows the operator to focus on moving material efficiently, aided by the intelligent Machine Control technologies. The touchscreen control box monitor makes grading easy and accurate with a facing angle compass, a light bar and audio guidance. Information such as real-time "as-built" status, a magnified fine grading view or a 3D view may be displayed simultaneously.
Customer peace-of-mind is standard
Both the base machine and intelligent Machine Control technologies are fully supported by specially trained distributor-based Technology Solutions Experts. Every customer who purchases a PC210LCi-10 has the support of Komatsu intelligent Machine Control certified personnel.
Komatsu remains focused on lowering the customer's ownership costs by engineering machines with increased fuel efficiency and productivity. To further reduce owning and operating costs, Komatsu CARE complimentary scheduled maintenance is standard on all PC210LCi-10 excavators for three years or 2,000 hours (whichever occurs first). Services are performed by factory-certified technicians using only Komatsu genuine parts and fluids.
The PC210LCi-10 is equipped with KOMTRAX remote monitoring technology, which sends machine operating information to a secure website or smart phone application utilizing wireless technology. Data such as fuel level, operating hours, location, cautions and maintenance alerts are relayed to the web application for analysis. The KOMTRAX fleet monitoring system helps increase machine availability, reduces the risk of machine theft, allows for remote diagnosis by the distributor, and provides a wealth of other information to drive business efficiency and productivity.