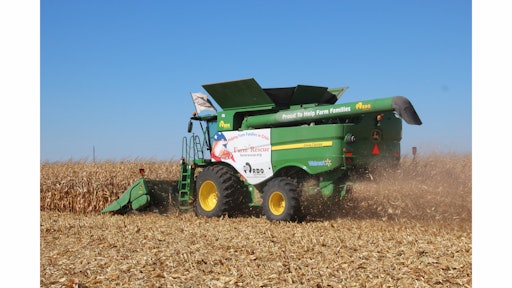 The Big Picture is a new column from OEM Off-Highway magazine that aims to demonstrate the humanitarian and philanthropic endeavors that are made possible through the hard work and innovation of designers, product development teams and equipment manufacturers.
The family farm is disappearing. Families are having fewer children, and it is more difficult than ever for neighbors to spare the time and man power to help each other out. This is what Bill Gross, founder of Farm Rescue, sought to resolve—one farm at a time.
"I left my family farm in the mid-1980s. I wanted to stay and farm, but it wasn't an option. My family already had everything mortgaged and couldn't help me with equipment or land to start my own farm, so they encouraged me to go to college," says Gross.
Gross left the farm, as did his four older siblings. "It was happening all throughout our community and across the region," Gross says. As more people left the rural town, the local businesses and schools began to close down.
After college, Gross became a pilot and worked for PanAm Airways and eventually UPS as a Boeing 747 captain for long haul routes around the world. In the mid-90s, Gross began going on mission trips to Eastern Europe helping to build homes and volunteer at orphanages. "Every time I was on a mission trip, I couldn't help but think there must be something I could do back home to help people," says Gross.
The idea
During a long flight, Gross and his fellow pilots were talking about retirement plans when the first discussions of what was to become Farm Rescue were voiced. "I said I was going to buy myself a big four-wheel drive tractor and go around planting crops to help farm families in need. The other pilots thought I was crazy, but I knew after traveling the world my whole life, I wanted to return to my roots and farm."
Years later, Gross was having dinner with a chaplain friend when the idea again was vocalized, but this time his friend encouraged him to start the cause rather than waiting for retirement. "As I drove home, it all came together," says Gross. "I knew this was my mission. I knew there were people that had to leave the family farm like I had to and that would want to get back to the farm and maybe even help people at the same time. That coupled with retired farmers was my volunteer labor base.
"Then I asked myself, Where would be the finances? I realized that businesses would want to sponsor the effort to keep farm families around to keep their businesses going. And just like that, I knew it could work."
After incorporating Farm Rescue and creating its website in 2005, Gross began promoting his efforts with a $99 banner, himself and a rental car driving around to local farm shows and talking to people about his plans. "At the time, I was still under the impression that I would run a small non-profit with a few volunteers and help a few families, but it turned into something much bigger."
The first year, 2006, Farm Rescue was able to help ten farm families with Gross and four volunteers and equipment sponsored by RDO Equipment Company, "and they still sponsor all of our John Deere equipment for free," says Gross.
Currently, as a 501(C)3 non-profit, Farm Rescue receives all of its funding from public donation, business sponsorships and foundation support. "It is not a federally-funded program and is primarily a volunteer-run organization. I receive no money as the founder and CEO, the board of directors is all volunteers, and the people in the field are all volunteers. A small administrative staff and marketing coordinated with the volunteers is the only staff on the payroll," Gross clarifies.
The benefits
Farm Rescue was, and is, filling the gap of limited man power on family farms; but it's not just helping the family in need, it's also helping the community. "The tangible benefit is that we are helping a family in immediate need due to an injury, illness or natural disaster. We plant, harvest or even hay crops," explains Gross. "The intangible benefit is that it makes it more likely for future generations of family farmers. If a family has a major crisis and they run up more debt dealing with it, plus the loss in revenue the following year, it can make a huge financial difference to a farm. If that happens, the children are less likely to be able to continue farming and the family farm falls to the wayside."
"We help a farm family when there is an immediate crisis, one time. This is not carrying a farm year after year. We also do not give money; it is not a financial bailout. We come in with sponsored equipment and volunteer help to plant, harvest or hay their crop for one season while they are recovering or dealing with the crisis. We don't pay for the operation input either, such as seed, fertilizer or chemicals. The farmer still has to provide everything. What they are getting is volunteer man power and sponsored equipment.
"It's a helping hand to farm families so they may have an opportunity to continue a viable operation so the family farm stays in business."
The needs of the farm families are varied, from injuries like combine fires and people caught in grain augers, to illnesses from cancer to brain tumors. Neighboring farms are already strapped for labor resources, so lending a helping hand is difficult in most cases, and even though the equipment has gotten larger, so too have the farm sizes. "And with the equipment today and the advanced technology on it, you can't just hire anyone to help out anymore," says Gross.
The limitation for Farm Rescue, as with any non-profit, is finances. "We started helping ten families a year, and now we are helping 50 per year consistently." And, while the initial idea was just to have Farm Rescue be based in North Dakota, Gross' home state, it was so well received by the families, the media and the sponsors that the organization started to receive more requests to come to different areas, so eventually it expanded.
The role of advanced technology
Advanced technology has helped Farm Rescue be more productive, efficient and safe with standardized operation. Through GPS and auto-steer technologies, the organization can be more accurate in the services it provides its families, allowing a standard of quality and consistency of service.
"Because of the advanced technologies available on the equipment, we're more productive. We cover more acreage at a faster and more consistent rate," Gross says. "It literally is helping Farm Rescue to help more farm families and helping us to do a good job so they get the best possible crop."
"If the weather is good, we will operate 24 hours a day, which is when technology can really come in handy, especially at night if you can't necessarily see the implement, but you can see it on the cab monitor."
Getting involved
It is a big challenge for Farm Rescue to get its volunteers trained and knowledgeable on advanced equipment and its systems in order to deliver that standard level of quality and service. OEMs can volunteer to help train people to use the equipment and its technology by hosting a class or as an on-call Subject Matter Expert for a week if volunteers have a problem and need help troubleshooting a solution. "It would be a great help to minimize unnecessary downtime," says Gross.
"We can always use help spreading the word about our non-profit, so we can get more people to volunteer. The other reason we want the word spread about Farm Rescue is to help the people that won't ask for help for themselves. About 50% of the cases we end up helping are actually referrals from other people. Farmers are proud people who are used to working hard and independently, not needing to ask for help to get the job done.
"And of course, donations and sponsorships, whether for equipment or volunteer food and lodging, are always welcomed and appreciated," continues Gross. "The goal was, is, and always will be helping to keep family farms in business through times of crisis."
People interested in learning more about how to get involved with Farm Rescue can do so online at www.FarmRescue.org.