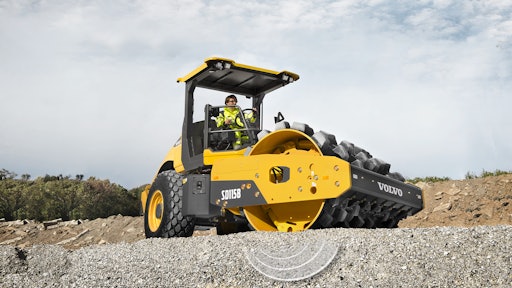 Introducing the SD75B and SD115B — the latest Tier 4 Final soil compactors from Volvo Construction Equipment (Volvo CE). These versatile and intelligent machines help operators achieve the highest level of performance and efficiency possible, whatever the demands of the job. The advanced drum control system, for example, easily allows the operator to adjust the frequency and amplitude, compensating for changing soil types and conditions. Two frequency settings come as standard, but five can be included as an option. High or low amplitude can be selected to adjust the drum's dynamic force based on the job and material depth. Meanwhile, the optimized centrifugal force and auto-vibration feature enhance performance, ease of operation and productivity.
The traction system provides excellent climbing and stability in difficult applications, such as steep inclines or slippery surfaces, preventing wheel or drum spin for excellent gradeability.
The SD75B and SD115B can be set up in three different configurations and are available with a smooth or padfoot drum. The compactor can also be quickly and easily converted from a smooth drum by clamping on a padfoot shell — further improving versatility.
"These new models offer the perfect mid-range size and exceptional versatility to accomplish any compaction job," says Mark Eckert, Compaction Product Manager at Volvo Construction Equipment. "Whether for major highway projects or for general site preparation, the SD75B and SD115B adapt to changes in conditions, ensuring the contractor can use it for any job that arises — no matter the application or the terrain."
Exceptionally efficient
The Tier 4 Final Volvo engine delivers high torque at low rpm for reduced emissions and fuel consumption without compromising on power. ECO mode now comes as standard on the SD75B and SD115B models and can achieve up to a 40% reduction in fuel consumption by matching engine speed to operation mode. Additionally, the intelligent design provides quicker ramp-up speeds at lower pressure, further increasing fuel efficiency.
The passive regeneration automatically cleans the filters during normal operation without any input from the operator or negative impact on performance. The hydraulically driven fan with variable speed draws power only when needed, which reduces noise, improves operator comfort and results in a lower total cost of ownership.
Comfort and control
The B-Series compactors also help to promote high operator efficiency and productivity, thanks to an industry-leading cab with excellent visibility, grouped ergonomic controls and a comfortable environment. The ROPS/FOPS certified cab has floor-to-ceiling glass for a commanding view of the jobsite, with clear sightlines down to the forward drum. The fully adjustable seat rotates and slides to further enhance visibility and comfort. The new high-tech color operator display shows operational information and key diagnostics, and is easily visible at all times — even in bright sunlight.
Robust and reliable
The new SD75B and SD115B are some of the most robust and durable soil compactors on the market, providing superb uptime and a long service life. Both models are backed by the Volvo Lifetime Frame and Structure Warranty, which covers the frames and articulation joints of the compactors. The B-Series models feature the highest quality components, clever routing and a clean design. The heavy-duty drum, center joint and front frame components are engineered and manufactured for longevity and performance. The frames are welded and built from high-quality steel guaranteeing a strong structure. All components and electronics have been moved into the cab and mounted on the rear wall to protect them from harsh environmental factors.
A tilting cab is standard on the B-Series models to provide easy service access to all hydraulic components. The engine hood lifts electrically for extensive ground level access to the engine compartment. Maintenance and inspections can be conducted more efficiently with minimal downtime, increasing overall productivity and reliability.