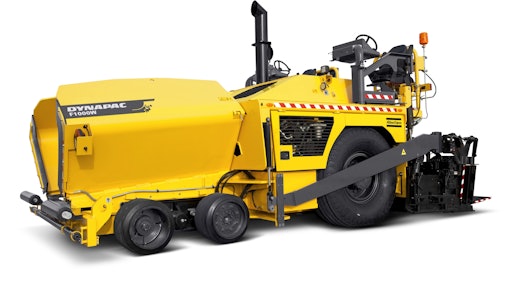 The F1000W wheeled and F1000T tracked pavers allow contractors to equip the units with either a center auger drive system or outboard auger drive system for optimal performance in a variety of applications. The pavers also can be equipped with Atlas Copco's new tunnel extension system for optimal productivity and minimal maintenance.
Atlas Copco showcased the F1000W paver March 22-24 at booth 2828 during World of Asphalt in Nashville, TN.
Contractors can equip the F1000 10-ft. paver with either a center auger drive system or outboard auger drive system for varying job site conditions and materials. Atlas Copco's center drive auger system features a 6-in. wide chain box — the thinnest in the industry — and 17-in. diameter flights to ensure continuous, uniform material flow and minimize centerline segregation. Center drive is suitable in all paving applications and works best for areas where the width of the pavement is frequently changing such as highways, city streets and large parking lots, as well as high speed paving applications.
Atlas Copco's outboard auger drive system is ideal for paving wide roads and for normal speed paving applications. The drive box for the left and right auger are positioned at the outer edges which helps minimize center line segregation and ensure high mat quality and texture.
Dynapac's exclusive auger-conveyor feed-control system ensures a continuous material flow. The system uses four ultrasonic sensors that measure paving material and automatically adjust conveyors and augers to optimize material flow. The system eliminates segregation and delivers a constant head of material and the smooth flow needed to produce high-quality mats.
The 10-ft. pavers can also include a hydraulic tunnel extension system along with the center drive auger system. The 22-in. wide hydraulic tunnel extension will automatically retract when screed extensions begin to retract to prevent collision. The hydraulic tunnel reduces excess head of material in the tunnel area and prevents asphalt from entering into track components, maximizing productivity and minimizing maintenance.
The pavers feature two ergonomic operating stations on each side to reduce operator fatigue. The stations swing out to provide maximum visibility to the front and rear. Controls are grouped based by function for simple operation and the paver features a display for vital paver parameters. The operating station overlooks one of the lowest decks in the industry – 5 1/4 ft. tall, which contributes to maximum visibility.
Mechanics can access all hydraulic system and engine components easily by opening the paver's steel access doors that feature gas springs. The gas springs make it easy for mechanics to open the service doors and securely holds the doors open during repairs. In addition, the engine compartment's configuration allows mechanics to remove internal components independent of others. For example, a mechanic can remove the diesel particulate filter without taking out other components first.
The material flows through the Carlson front- or rear-mounted screed to construct flawless mats. A tractor-mounted 34 kW generator heats the screed's full working width, which is as wide as 28 ft. with the Carlson EZ R-2 screed. The front extension screed is ideal for paving parking lots, county roads and city streets because contractors can change its width quickly to suit to the project's demands. The robust rear extension screed extends to 28 ft. wide for use on large paving projects, including highways, interstates and airports.