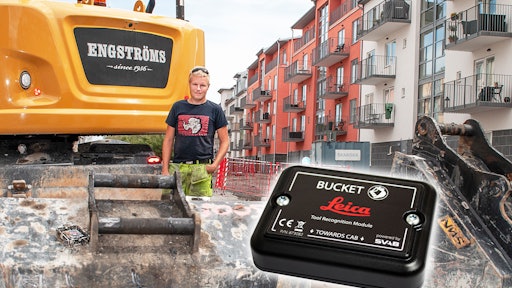 Based on SVAB's Quantum Tool Recognition system, Leica Geosystems and SVAB are releasing a new productivity tool for iXE3 and iGW3 machine control solutions.
Tool Recognition is a wireless system that automatically detects the work tool that is used on a construction equipment machine via BLE (Bluetooth Low Energy). The system can automatically identify which work tools are connected to the machine.
With this system, the machine operator no longer needs to manually change settings in his Leica Geosystems machine control solution when changing work tools, this will now be done automatically. The driver will also get a warning if a work tool without a tool recognition module is selected. This will minimize the risk of using the wrong bucket and the subsequent over or under digging and costly rework. Besides supporting directly the attached tools, the tool recognition system also supports standard tilt buckets and detachable tilt rotators.
"I save a lot of time because I don't have to change the bucket on the panel. The bucket is changed automatically, so I don't forget to change it," says Alexander Knutsson from Engströms Entreprenadmaskiner AB in Sweden.
Marcus Grevelshøj, Product Manager for Excavator and Wheel Loader Solutions at Leica Geosystems explains how the new solution helps the industry to become more efficient by removing the need for manual settings, "Some operators change bucket several times a day, and with the Tool Recognition configuration the risk of human error is eliminated. The integration with the machine control solution means that the operator only needs to focus on one panel. "
The Tool Recognition system (cab module and work tool module) in combination with the Leica Geosystems machine control solutions integrates and automates functions that are important for the operator's work.
"Tool Recognition sets a new standard that takes advantage of the information about which work tool is connected to the machine. We are very proud to announce that Leica Geosystems now is compatible with the system," says Fredrik Eriksson, CEO of SVAB.