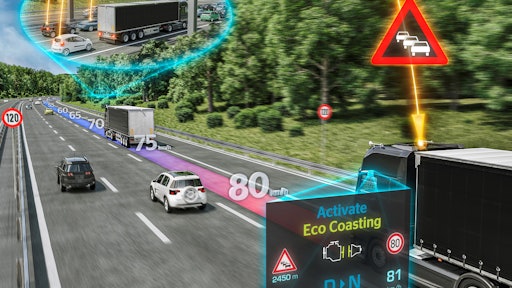 Technology company, automotive supplier and tire company Continental has expanded its eHorizon predictive driving technology with its new Dynamic eHorizon. The latest generation of the electronic horizon optimizes the performance and safety in commercial vehicle applications based on real-time data related to traffic conditions. As a result, drivers will be able to save fuel even in slow-moving traffic – by up to two percent compared with the previous model, the static eHorizon, as shown by comprehensive simulations and tests.
Continental's static eHorizon already uses detailed topographic route data and a GPS signal to send information on the road ahead to control units in the vehicle. The control units then automatically adjust the vehicle's driving style and speed. Trucks with Continental's static eHorizon were able to save an estimated 1.5 billion liters of diesel, the equivalent of nearly two billion euros, since 2012. This totals to more than 4 million metric tons of CO2.
The dynamic eHorizon now provides even more data on the traffic situation thanks to real-time information such as road conditions, traffic restrictions and traffic flow. The enhanced system therefore enables additional potential savings to be made and provides more safety, as the driving behavior can be modified to suit the current traffic situation at the right time. In the future, other data sets such as live events, weather, accidents and construction activities can potentially be included.
In addition to making driving safer and more efficient by letting the driver see what is further up the road or around the next corner, eHorizon forms a basis for several new applications, from a connected powertrain through to automated driving.