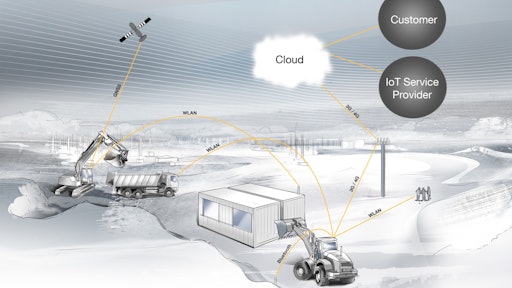 Liebherr
Telematics systems continue to grow in importance for the heavy-duty on- and off-highway equipment markets. More OEMs are now integrating telematics systems as standard on their machines due to the many benefits they can provide.
Today's telematics systems can collect and transmit a variety of data and is often a key component of helping equipment owners reduce downtime. With the data telematics systems collect and transmit, equipment owners can monitor where their machines are located, how they are working and if there are impending maintenance issues.
In the equipment rental industry, telematics can be used to provide a rental house with utilization numbers as well as keep track of maintenance intervals. All of this can be fed automatically to a rental company's maintenance system, enabling it to better monitor its equipment. And because the information is coming directly from the machine, accuracy is assured, says Robert Rauhof, Off-Road Business Development Manager at Geotab.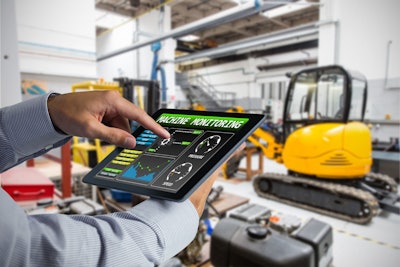 Developing for OEMs
Geotab recently started developing its telematics solutions for the off-road market. Rauhof says the Geotab platform works for everyone from OEMs to end users. The company has several partnerships with OEMs in the heavy-duty on-highway market, and its experience with that vehicle segment aided Geotab's move into the off-road space.
Rauhof says Geotab is already working with a few large OEMs in the off-road market, one of which is interested in having the company build its telematics platform. "We're working with manufacturers in several different ways. We can provide a factory solution for OEMs, as well as a great system for the guys at the end of the line [end users]," he says.
While it's two different applications, he says you can use the same devices in the platform and get the data you need whether it's an OEM or an end user utilizing the system.
The fact Geotab's platform is scalable and easy to use is an attractive aspect for all customers, says Rauhof. "Not to mention, we have the deepest engineering and development bench in the industry, which is also a big factor when you're dealing with OEMs because things can be a little bit more time sensitive."
Because there is so much variation between each company using Geotab's telematics system, Rauhof says it's important to have a wide range of offerings. The company's device is highly adaptable which makes it easy for a customer to add a number of different services to create a customized solution. Geotab also offers a software development kit to enable customers to customize a solution themselves. "[It] allows you to actually add some customizable things onto your database inside MyGeotab [a web-based fleet management system], so you can really customize the solution to fit your needs."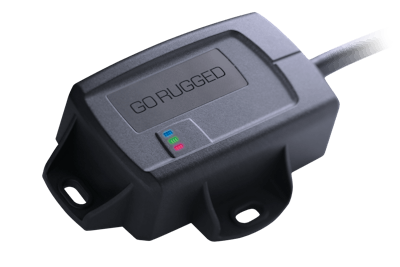 Geotab's GO RUGGED telematics device was developed specifically for the off-road market. It is more ruggedly designed than the one used in on-road applications—as those devices are typically installed in a truck cab which is cleaner than that of a piece of off-road equipment. "The GO RUGGED is sealed against dirt and moisture penetration. It has a larger operating temperature range," explains Rauhof. "You can mount it on the outside of a bulldozer and [begin working]."
The ability of telematics systems to provide machine data in mixed fleets—those with equipment from multiple equipment manufacturers—has been an industry issue for many years. However, associations like AEMP (Association of Equipment Management Professionals) have been working with manufacturers to create a standard which enables OEMs to keep their IP (intellectual property) while also allowing equipment owners to get data on all of the equipment in their fleet.
Rauhof says its telematics solution utilizes the AEMP standard so fleets can use one interface for their whole fleet. He notes information from another third-party telematics supplier can be pulled into the Geotab platform, as well. "It's very open, we play very well in the sandbox with all telematics solutions."
Data at the component level
In addition to equipment manufacturers, Geotab can also provide telematics solutions to component manufacturers. Most recently the company announced its integration with Donaldson Co.'s Filter Minder engine air filtration technology.
Sensors and receivers which can be added to existing equipment wirelessly transfer data to the GO RUGGED device which then sends it to the My Geotab fleet management platform. This enables equipment owners to proactively monitor the performance and status of engine air filtration systems across their entire equipment fleet.
"Essentially, we're making our filters talk," says Nate Zambon, Director of Filter Minder at Donaldson Co.

Most filtration and fluid service is based on time or distance intervals, he says. However, those time intervals may be resulting in unnecessary maintenance. This can cost a fleet a lot of downtime and money. "If you don't need to service it early, that can really lead to a lot of waste from an expense perspective or may result in accelerated engine wear," says Zambon. "That's a big challenge, especially when you get in really harsh, demanding conditions. People [are sometimes removing] air filters almost daily to blow out or bang them against the tire to clean the filters off. And that's really causing a lot of damage to the filters [and] is creating a lot of risk for engines."
On the flip side, he says there are people who want to get the maximum life out of the oil or a filter and run them well past proper service intervals. This can cause damage and even destroy an engine, as well as reduce fuel economy.
With the Filter Minder technology, wireless sensors create a smart product capable of informing customers when a filter actually needs servicing. This helps minimize downtime and cost for fleets, and ensures their equipment is running at optimal levels.
Zambon says the advantage of its wireless technology is that it is ultra-low energy, and that it has a longer life and lower cost than Bluetooth technology.
The technology can be applied across all of Donaldson's filtration and fluid monitoring solutions. The initial application is for air filtration, with oil condition and fuel filtration monitoring currently undergoing testing and planned for release later this year. In the future, hydraulic filtration and hydraulic oil condition will also be added to Donaldson's monitoring portfolio.
As electrification continues to grow, so has the need to monitor the components within a battery-powered system. XALT Energy recently partnered with HED Inc. to develop the XALT Battery Viewer (XBV), a telematics system designed to track the performance of battery-electric vehicles.
Using the two companies' expertise, the system allows fleets to monitor drive cycles, routes and charging times of individual vehicles. Data from the XBV system can also be utilized by XALT to determine the best battery technology for a specific application's needs in order to optimize performance. It will also help the company with future product development.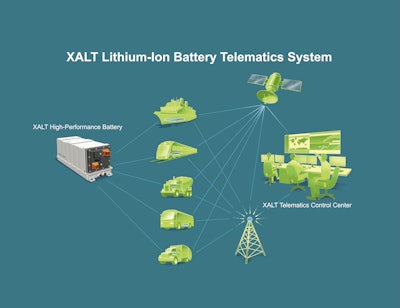 Chad Repp, Business Development Manager – CANect® Telematics at HED Inc., says when working with XALT on the XBV, XALT knew what information it wanted to monitor and share. The challenge, however, was the uniqueness of their battery system for which traditional telematics would not work.
"They needed a solution that would allow them to define what CAN messages to collect, when to collect them, and when to transmit them, as well as how to visualize the data in a way that their customers would gain value," he explains. This is where HED's CANect Telematics solution was beneficial as its configurability and flexibility enabled the two companies to create a system which met XALT's needs.
Further implementation of new power sources in off-highway equipment will increase the deployment of telematics systems in these machines, says Repp. "[It will] provide the market an opportunity to find new and innovative ways to gain value beyond technology validation." Improving asset logistics on- and off-site, streamlining maintenance based on actual vehicle operation versus hours used, and improving operator performance and safety are all ways this will be realized. "These are all achievable with today's technology but having a driving force (like monitoring new technology) helps prove the value and ultimately the adoption rate," he says.
Caterpillar Inc. is one of many engine manufacturers adding more insight into its products. The company is putting technology it uses in other areas of the business into its engines, says Jamaal Crayton, Senior Digital Strategist at Caterpillar Inc. One way it is doing this is bringing all telematics data, no matter the brand, into a single, easy-to-understand dashboard. Doing so enables equipment owners to quickly access engine diagnostics and be more proactive about upkeep and maintenance.
Caterpillar's digital services enable customers to access critical engine data from anywhere, and automated insight allows engine owners to be more proactive with their service and maintenance.
These types of solutions fit into its vision for work sites of the future which include connected machines capable of sharing information and working together to make a more productive and efficient job site. This can also help improve sustainability initiatives which Crayton says more companies are looking at now. Operating in a more efficient manner means less fuel is used and fewer emissions are produced.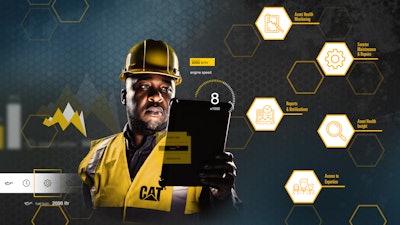 Sharing data
Telematics systems can collect a lot of valuable data for manufacturers, end customers and other stakeholders. What to do with all of the data continues to challenge many in the industry, as does sharing data.
"I see that as the brave new frontier," says Wally Stegall, Technical Fellow and Director at Morey. "How do you do things in a way that protects proprietary information but still shares the legitimate data between all stakeholders that need the data [which] helps move the industry forward and allows everyone to be profitable while still being competitive.
"That's going to be a hard nut to crack, but I think it's easier to do in some ways than people think once people get their head around the idea," he adds.
A combination of changing mindsets and technology will be necessary to achieve data sharing which will be necessary as equipment and vehicles become more connected and automated. It will also better enable the move toward more real-time prognostics and performance information. "We've got to get to the point of true predictive maintenance," says Stegall. Consortiums Standards are being developed which "require telematics at a much greater level and much greater level of sharing information within the vehicle, the fleet operator, the OEM integrator and tier 1 [suppliers]," he says to ensure safety and performance of a vehicle or piece of equipment. Real-time condition-based maintenance is required to reduce unplanned downtime and costs.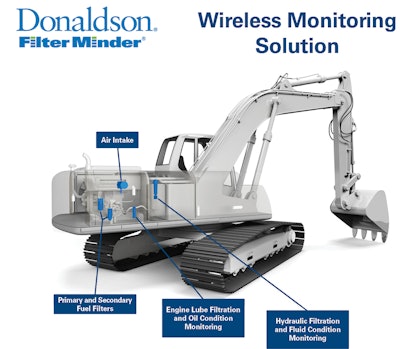 Stegall says one way to address the data sharing concerns is with Integrated Vehicle Health Management (IVHM) enabled by the SAE ITS Health Ready Components Standard JA 6268 and Consortium. "The JA 6268 Standard for health-ready components is a joint aerospace automotive standard to enable condition-based maintenance and provide a common lexicon at the component and data exchange level via the cloud, leveraging each industry's existing standards. [It] allows for an abstraction from proprietary knowledge while providing prognostics and performance data," he explains. "It gives us a way of defining what is truly a health-ready component, system or subsystem and vehicle, a standard lexicon for communicating information that can be reported, and a mechanism for sharing that data back to the OEMs and tier 1 [suppliers] so they can continue the development of the product and provide value-added information."
He says like the five levels of autonomy defined by SAE (Society of Automotive Engineers), there are SAE defined levels (0-5) of health readiness for performance and maintenance detection, with level 5 being the asset is a rolling service bay providing real-time performance data to operations, enterprise, mission of vehicle, and on-vehicle safety-critical systems. A level 5 Health Ready asset is ready to be a level 5 autonomous piece of equipment from the maintenance perspective.
If a consortium isn't used, fleets will never have the common lexicon to evaluate mixed fleets and optimize for specific functions on a job site or across the fleet.
"I think the SAE JA 6268 Health Ready Consortium way is the best way to move the industry forward for all stake holders in the ecosystem that have legitimate needs for information on the job site, safety management, program management, maintenance management, and ultimately information for OEMs and tier 1 [suppliers].
"I see all the enablers happening…technology changes…[and] we need to talk about the mechanism for sharing information during asset operation time and asset design time in an elegant manner as an industry," says Stegall. "I believe we're at that time of change with telematics, IoT (Internet of Things), and mathematical modeling of the components, subsystems, systems and total asset" where the traditional modes of data collection and dissemination are not good enough anymore for all of the stakeholds or advancing the industry.
The MC-4+ telematics device features a rechargeable backup battery and robust mechanical enclosure sealed to IP69K.Morey Corp.
Moving toward the edge
According to Repp, telematics will continue to become more intelligent over the coming years. He says that currently, telematics is focused on data collection at the machine, transmission of data to the cloud, and aggregation of data to user interfaces or third-party systems for analysis. Although this provides a vast amount of data, sending all data to the cloud is not the most efficient method. "Moving forward we will see an increase in edge computing where computations and decisions are made in real time on-module, on-vehicle," says Repp. "This will make the on-vehicle experience more intelligent so that only necessary or valuable information is transmitted to the cloud.
"Taking this approach decreases transmission, storage and cloud processing costs, while still providing key information when needed," he adds.
Edge computing will help the heavy equipment industry evolve in various ways, says Repp. It will provide OEMs and equipment owners with a cost-effective means of truly understanding how their machines are being used in the field which will help define the equipment of the future. Edge computing is also the first step in enabling assisted driving, remote control and eventually fully autonomous operation. "The future of the industry is based on data insights so the right machines can be built, the right actions can be taken based on status of the machine, and ultimately, improving performance and safety for the jobs these machines perform," he concludes.
Companies in this article