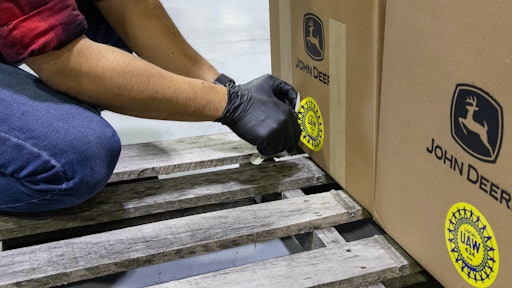 Deere & Co.
COVID-19 has brought about many changes to the world, and the many industries OEM Off-Highway and its sister publications cover. In an effort to highlight the good things happening—in addition to informing readers of the aspects which impact may their business—we have asked the industry to tell us how it is getting through this difficult time.
Read more: Heavy Equipment Manufacturers Alter Operations due to Impacts of COVID-19
The goal is to learn how companies are coping and carrying on as normally as possible, what aspects have changed, and ultimately, to demonstrate the strength and resiliency of the industries and markets we cover.
Here you'll find a collection of the stories we've received and heard about thus far; this article will continue to be updated as we hear more.
If you have a story to share about how your company is showing its strength through this unique period in time, let us know! Submit your story here: oemoh.com/StrengthofIndustries. And follow our social media hashtags #StrengthofIndustries and #OEMHeroes to learn about even more stories of this nature.
Helping those in need
Alliance Rubber Company says it fast-tracked the production of rubber strips to replace elastic in face masks and other personal protective equipment (PPE) when there was an obvious shortage of equipment in the U.S. Teams worked through the weekend to provide these strips to other manufacturers who are also pivoting their capabilities to manufacture PPE. Efforts from just that one weekend resulted in 134,000 face masks to first responders across the nation.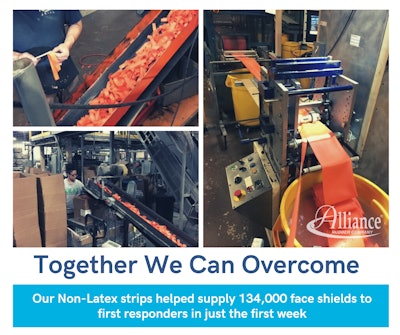 Several other manufacturers have also announced efforts to help produce needed medical supplies.
John Deere recently announced its collaboration with the UAW, the Iowa Department of Homeland Security and the Illinois Manufacturers' Association, to produce protective face shields at John Deere Seeding Group in Moline, IL.
Deere employees will initially produce 25,000 face shields to meet the immediate needs of healthcare workers in several of its U.S. manufacturing communities.
Materials and supplies are on order to produce an additional 200,000 face shields. The company is using an open-source design from the University of Wisconsin-Madison for the project and leveraging expertise, skills and innovation of its employee base.
"Our manufacturing and supply management teams, along with our production and maintenance employees, the UAW and our partners have worked tirelessly to ensure we could lend our support and protect our healthcare workers during this crisis," said John May, Chief Executive Officer, Deere & Company in a company press release. "By working closely with the communities where our employees live and work, we can help support the needs we've identified close to home and, as the project expands, address additional, urgent needs across the country."
John Deere Seeding Group employees are supporting the special project and are utilizing extensive and robust safety measures adopted across the company to safeguard employees.
The production of protective face shields is one of many initiatives the company and its employees have executed in response to the COVID-19 outbreak. Efforts in the U.S. have included the following:
PPE donations to health-care facilities
2:1 employee match program encouraging donations to local food banks and the American Red Cross
Production of approximately 18,000 protective face shields for use by factory employees
Employee volunteerism efforts to sew cloth masks for community members, along with a match from the John Deere Foundation for the time invested in this volunteer activity
Launch of a COVID-19 innovations site to share open-source specifications for related projects, including 3D-printed clips to affix face shields to protective bump caps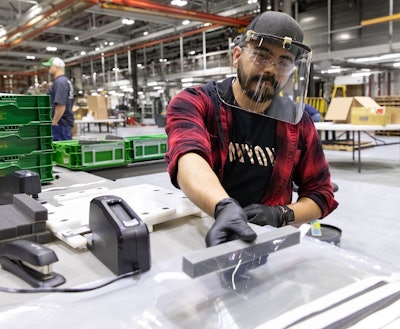 BYD Motors, LLC., announced on April 3 it will pledge a donation of $1 million in medical supplies, including PPE and hand sanitizer to transit agencies and first responders in the United States and Canada. The donated items include FDA-approved Adult Surgical Masks and KN-95 respiratory protective devices as well as hand sanitizer that is 99.999% effective.
"BYD wants to help those who are helping all of us and believe this is how we can do it best," said BYD President for North America Stella Li in the company's announcement about the donation. "We will get through this together."
Terex Utilities recently acted on a request by Lake Area Technical Institute (LATI) to 3D print parts for face shields. The Electronic Systems Technology and Robotics departments at the technical college are leading the effort.
"Because it takes up to 13 hours to print four face shield bands, they sent a request out to local businesses to lend a hand by printing parts needed for a completed shield," said Dan Brenden, Director of Engineering for Terex Utilities in a company press release. Two other companies and more than a dozen individuals are also assisting the effort.
Terex Utilities initially started printing mask parts but switched to printing the bands needed for the face shields, as there was higher demand for that to protect workers from exposure to the coronavirus. With its in-house 3D printer, Terex Utilities can produce eight bands every 20 hours, and is running the printer 24 hours a day, 7 days a week. Terex Utilities usually uses its 3D printer for rapid prototyping of small parts for digger derrick or aerial device product design, explained Brenden.
"During times of crisis, it is especially important to support the needs of our local communities, as well as those of our customers. We are glad we could contribute a small part to the effort to produce the face shield bands needed by health care professionals near and far," said Joe Caywood, Director of Marketing.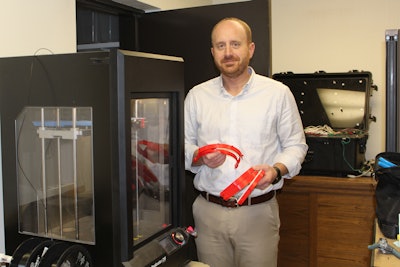 The Cummins Foundation is issuing emergency grants to non-profits addressing the needs of families and children impacted by the COVID-19 crisis. The grants are targeted in cities in which the company is a critical employer with a significant role in the prosperity of the community. It is focusing its emergency COVID-19 funding on childcare, nutrition, basic needs, and remote learning assistance in communities around the world where the company has a significant presence.
"When schools closed, working parents had few childcare options, learning environments were disrupted and students suddenly lacked access to nutritious meals and critical technologies to learn from home," said Mary Chandler, CEO of the Cummins Foundation and Cummins Vice President of Community Relations and Corporate Responsibility in a company press release. "The impact on families in our communities has been swift and devastating. Our community partners are fulfilling vital needs."
TE Connectivity and the TE Connectivity Foundation, a private charitable foundation funded entirely by TE, have donated more than $1 million to organizations supporting the fight against COVID-19. The TE Foundation approved a $1 million emergency grant to Global Impact, a philanthropic partner across the private, nonprofit and public sectors, to fund diagnostics, therapeutics and vaccines vital in managing the global pandemic.
Specifically, the TE Foundation has requested the funds be distributed among the following organizations:
Direct Relief, to supply medical personnel around the world with personal protective equipment (PPE) and other necessities
Americares, to mobilize medical personnel for overwhelmed health facilities around the world
Gates Philanthropy Partners' Therapeutics Accelerator, to speed up the identification and production of treatments for COVID-19.
SINOBOOM recently announced it has donated a first batch of 100,000 masks to global industry customers. Keen to help overseas partners, SINOBOOM General Manager Susan Xu instructed staff to urgently source protective materials to support overseas partners as much as possible in protecting against the epidemic.
On April 2, the first 100,000 masks were sent from SINOBOOM Industrial Park to Italy, France, Poland, Germany, South Korea, Turkey, Japan and a further 27 countries around the world.
Read more about how manufacturers are helping those in need during this time and are altering their manufacturing focus to produce needed medical supplies in the article Manufacturers Shifting Gears to Aid Global Health Crisis.
Technology helps keep business going
Jürgen Schulz, Managing Director of Oil Dynamics GmbH, based in Germany, says the company is continuing to support customers, and that technology is a big part of making that happen.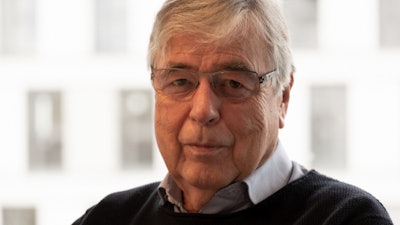 "All of our customers are involved in lifting and moving essential fluids – oil and water. That is so important to not stop our work in the current situation. The production of energy and the supply of water are critical to keep our societies going. That is why Oil Dynamics will continue our support and service throughout the current crisis.
"It has changed quite a few processes in current projects. Since we work with many international recognized suppliers for certain components of our systems, like transformers, cables, castings etc., disruptions in our normal supply chain will have to be expected. As a very recent example, our major cable supplier, Prysmian, have just been instructed by the Italian government to close the ESP cable factory. This can be mitigated by some of our inventory for a while but eventually will create a bottleneck for some of our projects. Some of our employees work in Home Office mode, others have to take care of their children since schools and day care centers are closed etc. hence our response time will be affected here and there and we apologize to our business partners for this inconvenience. We will do our best to maintain a quality dialogue with all our partners.
"Personally, what I miss most these days is the lively and creative exchange of ideas that we normally experience at trade fairs, congresses or business presentations at and with our stakeholders at all levels.
"But modern, state-of-the-art technology in communication, data acquisition and data processing allows us to utilize most of our resources even when they are spread over different geographical locations. We have learned this when we introduced our ElektroMotion series of remote situation monitoring systems. Yet, we still very much value the personal contact to our clients, suppliers and employees and hope that the future will allow us to return to our proven and trusted inter-personal contacts.
"I guess we all understand the critical situation in which we operate, the enormous burden that will have to be carried by our health systems and therefore the importance to respect the ground rules to avoid a rapid spreading of the Corona pandemic. Our primary goal is to protect the health and safety of our employees and assets. The pandemic Corona crisis will stay with us for some time and it will change the way we live and operate in many ways. The most important thing now however, will be to show solidarity, to support each other and to keep the losses to a minimum. Together we will succeed."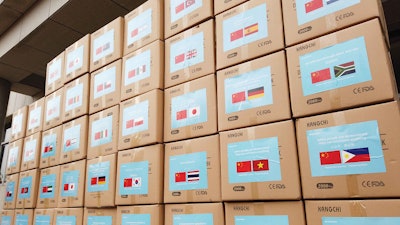 Employee appreciation is vital
LIQUI MOLY, a Germany-based oil and additive specialist, is one of many companies doing what it can to help and protect its employees. Managing Director Ernst Prost has made several announcements over the last several weeks about how the company will continue to support employees during the COVID-19 crisis.
In March, Prost promised employees "Nobody will be laid off. If need be, I'll waive my salary." He said this applies to all employees – in Germany and in the subsidiaries in Spain and Portugal, Italy, France, South Africa and the USA. In addition, there are employees in Denmark, Great Britain, Belgium and the Netherlands, Thailand, China, Japan and India. "Not only is business global, so is responsibility. All around the globe, our colleagues must be able to feed their families."
Prost also announced at that time a bonus payment of 1,000 euro to employees of LIQUI MOLY. "To boost motivation and as a sign of confidence, because in times of crisis this is quickly shaken," he said as his reason for providing the bonus.
Weeks later in an announcement sent April 9, Prost said all employees, including temporary workers, will receive an extra 500 euro as a "hardship allowance." In a letter to colleagues he said loyalty is not a one-way road and if a company wants their employees to be loyal, it needs to be loyal to the employees, too.
Prost said the top priority is to protect the health of his employees and their families. "On the other hand, we are trying to keep operations going for as long as possible. An exhausting but necessary balancing act," he said. This presupposes the proper functioning of the supply chains in procurement as well as in sales. "As long as this is guaranteed, we will keep production going."