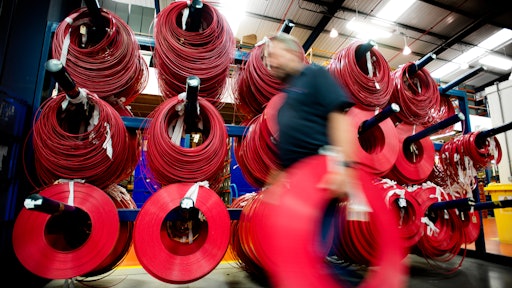 Hallite
The global spread of COVID-19 has brought about many changes to the world, including how companies conduct their business. For many manufacturers, this has meant altering their operations by shifting when and how many people are working at a time and implementing more safety measures. And in some cases, companies have had to temporarily shut down operations.
Below, Hallite—a manufacturer of high performance hydraulic sealing solutions—explains how it is getting through this time and continuing to serve customers while ensuring the safety of its employees.
Hallite operates globally with manufacturing facilities in Australia, Canada, China, Germany, Italy, India, the U.S., and the UK. As an essential business serving the interests of some of the most vital industries during this critical time such as agriculture, aerospace, public utilities, material handling, and hydraulically-powered medical equipment, the coronavirus (COVID-19) pandemic has required that each Hallite location respond a bit differently based on local and government requirements.
However, several actions are consistent. Stepped-up facility disinfection and hand sanitizing, social distancing, and the use of state-of-the-art tools provided by the Michelin Group to perform daily health screening of staff working on and off-site are major drivers in a concerted effort to put everyone's health and safety first.
Technologies like non-contact infrared thermometers and a proprietary smartphone app that enables real-time assessment of each employee's health no matter where they work support the effort. To date, not one employee working in any of Hallite's global sites has tested positive for the virus.
Despite mandatory temporary plant shutdowns in Italy and India due to government restrictions, there have been no sealing product delivery disruptions for customers. Collaboration between Hallite manufacturing teams in the U.S., UK, and China, where production lines are running, mitigate interruptions. Teams are using innovative digital technologies to stay connected and productive.
At the outset of the crisis, Hallite worked with customers to expedite the delivery of products necessary to build the equipment needed to support essential services.
"We want to assure our valued customers and partners that we are currently fully operational across all other global locations, and we are committed to maintaining business continuity during these uncertain times to the best of our abilities; providing critical hydraulic cylinder sealing solutions to the industries that need them the most," said John Curtis, Hallite Global Managing Director, in a recent official statement.
Hallite is developing a series of on-demand webinars for enhanced customer communications. The company is also regularly updating its website with stories about how team members around the world are making sacrifices to support each other, customers, partners, and the community through the pandemic.
Through our Strength of Industries series, we're highlighting the ways manufacturers in the heavy-duty equipment industry are getting through this time. If you have a story to share about how your company is showing its strength through this unique period in time, let us know. Submit your story here: oemoh.com/StrengthofIndustries. And follow our social media hashtags #StrengthofIndustries and #OEMHeroes to learn about even more stories of this nature.