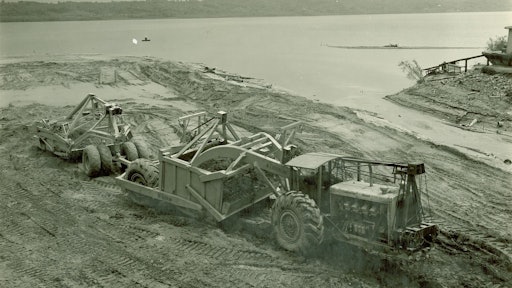 R. G. LeTourneau Inc. image, Meier-Dailey Papers, HCEA Archives
In the January/February 2023 issue, we looked at how R. G. LeTourneau increased scraper productivity with his telescoping bowl design. He ended up being the only manufacturer to use the concept—to massive scale at the end of his scraper production—but another idea along these lines predated him and gained wider acceptance.
In situations where the combination of tractor power, rolling and loading resistance, and material being worked made it practical, multiple scrapers were used behind single tractors as far back as the mid-1920s. Baker Manufacturing and, later, Euclid designed single-axle scrapers of 1- to 1.5-yard capacity to be pulled in trains of up to four to six units. One or two laborers operated the scrapers, loading or unloading each in turn and riding between cut and fill.
Tandem-Bowl Scrapers
LeTourneau adopted this idea for his Carryall pull scrapers. The problem of controlling the rear scraper by cable from the pulling tractor was initially solved by stringing the cables along phone-pole-like structures on the lead scraper. One of LeTourneau's earliest motor scrapers was also rigged up for tandem operation.
Tandem bowl motor scrapers, both custom and manufacturer-designed rigs, saw only limited use over the following years. One of the major uses of custom rigs was on the huge Big Cut section of Interstate 80 just south of the Carquinez Bridge near San Francisco. A dozen Caterpillar DW20 tractors pulled two 22-yard struck scrapers, a lengthened and/or side-boarded factory scraper and a Letourneau telescopic-bowl scraper.
Two manufacturers, LeTourneau-Westinghouse and Euclid, marketed production tandem-bowl scrapers for general earthmoving with reasonable success. Another, Allis-Chalmers, met with far less success with its larger 562 scraper, which it offered in single- or tandem-bowl and single- or tandem-engine configurations. Today, the concept of multiple-bowl, tractor-drawn scrapers has made a comeback as wheeled scrapers similar in design to the early stock-drawn wheeled scrapers are used in tandem behind tractors.
Spectacular Scrapers
The most spectacular multiple-bowl scrapers were LeTourneau's extensive line of pacemakers and electric diggers. None of the many models were built in significant quantities, and in some cases new prototypes were created by breaking up and reassembling older ones. The largest scraper of all time, the 360-ton capacity, three-bowl, 6,000-horsepower (hp) LT360, was in this family. When LeTourneau passed away, he had a 500-ton, three-bowl, 9,600-hp behemoth on the drawing board! Both these giants also incorporated the last application of his telescoping-bowl design.
The Historical Construction Equipment Association (HCEA) is a 501(c )3 nonprofit organization dedicated to preserving the history of the construction, dredging and surface mining equipment industries. With more than 3,500 members in a dozen countries, our activities include operation of National Construction Equipment Museum and archives in Bowling Green, Ohio; publication of a quarterly magazine, Equipment Echoes, from which this text is adapted; and hosting an annual working exhibition of restored construction equipment. Individual memberships are $35 within the U.S. and Canada, and $55 elsewhere. Our next International Convention and Old Equipment Exposition will be September 22-24, 2023, in Bowling Green, Ohio. We seek to develop relationships in the equipment manufacturing industry, and we offer a college scholarship for engineering students. Information is available at www.hcea.net or by calling 419-352-5616 or e-mailing info@hcea.net.