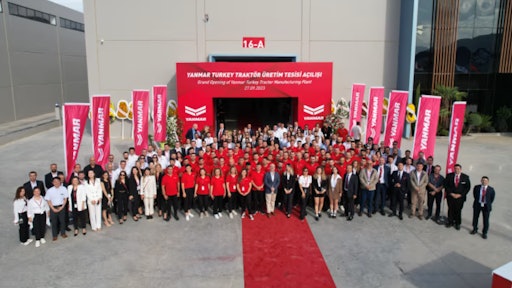 Yanmar
Yanmar Turkey Makina A.Ş opened its new, cutting-edge Tractor Production Plant, in İzmir's Torbalı, Sept. 27, 2023. Initially, the plant will focus on manufacturing YM series tractors and Solis 16-90HP tractors, with plans to introduce Yanmar SA and YT series tractors in future phases.
Company executives unveiled the sprawling 23,000-square-meter production facility which encompasses tractor production and assembly, spare parts storage and logistics, and commended the dedication of Yanmar Turkey's employees, noting the company has grown from humble beginnings to now number more than 200 employees. The facility aims to boost Yanmar Turkey's tractor production capacity by 3.5 times, positioning Yanmar Turkey as a major force in the agricultural sector, not just in Turkey but also in neighboring regions.
With a focus on increased exports, substantial job creation and capturing double-digit market share in Turkey, the company also unveiled plans to produce Yanmar YT series tractors equipped with unmanned autonomous driving features and state-of-the-art technology.