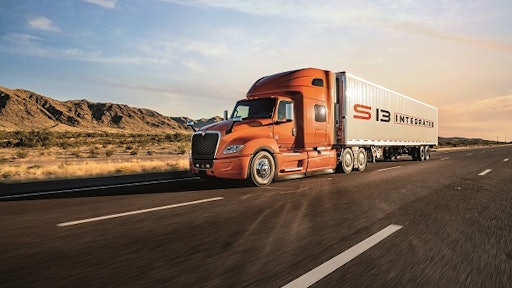 Navistar
Navistar Inc. has announced the start of production on the new International S13 Integrated Powertrain at the company's Huntsville, Alabama, production facility. The International S13 Integrated Powertrain — composed of the S13 Engine, T14 Transmission and Dual Stage Aftertreatment system — marks the final combustion product platform that Navistar will develop as the company transitions toward zero-emissions vehicles.
Navistar recently completed a 110,000-square-foot expansion of the Huntsville Powertrain Plant to support the production of the new S13 Integrated Powertrain components. With the addition, the now 410,000-square-foot facility has transitioned from a single assembly line to two — one for the T14 Transmission and one for the S13 Engine — along with the incorporation of three major machining lines.
Overall, Navistar has invested more than $200 million in the Huntsville plant, which was established in 2008 and employs more than 230 skilled workers in the area.
In addition to the new assembly and machining lines, sustainability improvements were made to the plant. Those improvements include LED lighting, a wastewater evaporator to minimize wastewater discharge, and new augers to separate recyclables from rubbish to significantly reduce the waste to landfill.
The expansion began back in February 2020 and has added roughly 100 jobs to the plant. In addition, many key manufacturing process improvements have been installed like robotic assembly cells, enterprise connected manufacturing devices with advanced error proofing, and automated guided vehicles that allow the plant flexibility when needed, have been made to blend the work of skilled labor and manufacturing technology.
Announced in August 2022, the S13 Integrated Powertrain, developed in collaboration with the TRATON GROUP, significantly increases operating efficiency, reduces operating costs, and provides greater profitability for customers.
The highly efficient 13-liter engine achieves advanced fuel efficiency and performance through combustion efficiency and a reduction of friction and pumping losses. The dual-stage aftertreatment system saves fleets time and enhances fuel economy. Eliminating the exhaust gas recirculation ensures a more complete fuel burn and allows cleaner air to enter the combustion chamber on the intake cycle to mitigate soot buildup.