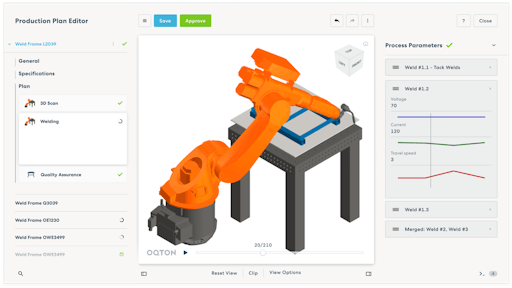 Oqton Inc.
Oqton Inc. has raised over $40M in a Series A financing round from several investors for the further development of its manufacturing software. The company will also continue to expand its commercial partnerships in additive manufacturing, robotic welding, and CNC machining.
In its press release announcing the new financing, Oqton's Co-Founder and CEO, Ben Schrauwen, said, "We are keen to have new investors on board who can help us scale globally, with both a direct and indirect sales approach. We truly think the time has come for the manufacturing space to embrace the cloud and we are working hard to facilitate this."
The Oqton software platform combines various manufacturing software capabilities—such as CAD, PLM, CAM IOT, MES and QMS—into a single, cloud-based platform. This cloud-based capability makes the platform easily accessible from anywhere. According to Oqton, the software platform allows users to automatically capture expert knowledge and eliminate repetitive tasks, access technologies remotely and across multiple sites, and optimize production planning to improve utilization and quality.

The software platform allows integration with traditional manufacturing technologies such as CNC, welding and post-processing machines. This helps to make the entire manufacturing process faster and more cost effective. Several companies are utilizing and finding the benefits of the software platform, such as mining equipment manufacturer Sandvik.
Sandvik is also one of the companies which recently invested in Oqton. Stefan Widing, President and CEO of Sandvik, said in Sandvik's press release on the subject, "This investment is in line with our strategic agenda to broaden our offering in digital manufacturing. We are looking forward to working with Oqton and finding ways to expand our offering for increased customer productivity by creating new products that take advantage of Sandvik's extensive know-how about manufacturing processes and Oqton's AI-powered manufacturing solutions."
"Oqton's solution targets inefficiencies and waste in the manufacturing workflow. We believe that our relationship with Oqton will give us further opportunities to define and reduce waste throughout the entire manufacturing process. We share the same desire to automate workflows and make our customers more efficient", said Mathias Johansson, President of the Design & Planning Automation division in Sandvik Manufacturing Solutions.
Companies in this article