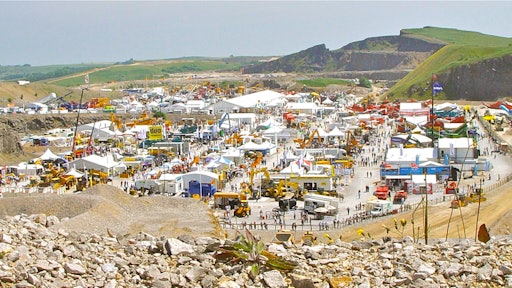 Excitement is building ahead of Hillhead 2012 for what will be the UK's biggest shop window yet for plant, equipment, materials and services for the minerals and construction industries. Visitors arriving at the show will be met by a much larger Registration Pavilion and additional outdoor plots within the showground, where an impressive 461 exhibitors, such as Finning Caterpillar, Sandvik, JCB, Atlas Copco and many others, will be showcasing their latest products and innovations.
A vast array of kit will be on show for the first time including, on the Finning stand, the first new 300-tonne class Cat 6030 mining hydraulic excavator to appear in public in the UK. Among the many other novelties, Metso Minerals will be showing off their LT120 mobile jaw crusher and HP3 high-density static cone crusher; Volvo Construction Equipment's EC250D crawler excavator will be making its debut appearance together with the company's new L220G wheel loader; the Terex Finlay 684 inclined screen will be revealed for the first time in the UK; Bell Equipment's much anticipated E-Series ADT will be unveiled; and Parker Plant will be showing two completely new highly mobile concrete batching plants – the ConStar 750 and the semi-trailer ConStar 1500.
The three main live demonstration areas at Hillhead – Quarry Face, Rock Processing and Recycling – will also be buzzing with activity as a huge range of plant and equipment is put to the test. A Stelex Hercules trommel screen will share the Quarry Face area with plethora of mobile plant, including a 75-tonne Liebherr 954HD in faceshovel configuration; a multitude of mobile crushing and screening equipment, including Terex Finlay's new J1170 jaw crusher and 684 screener, will be hard at work in the Rock Processing area; while in the Recycling section numerous machines, both large and compact, including a Hammel VB950DK shredder, will be dealing with the vagaries of construction and demolition waste.  
The three-day event at Hillhead Quarry, near Buxton, opens on Tuesday June, 19 and visitors to the show are advised to register in advance for a fast-track entry badge.