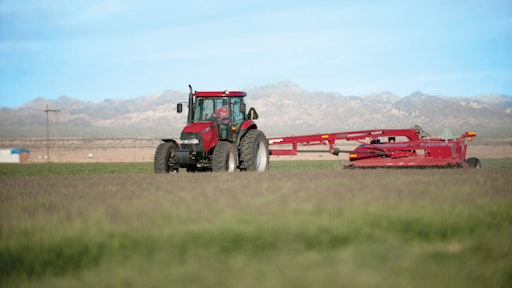 Value and options are two words that best describe the new Case IH Farmall 100A Series tractors. The new line joins the Farmall A, B and C utility tractors as an ultra-value option in the Case IH utility tractor lineup. Available in four models, these tractors offer from 90 to 115 PTO horsepower.
"The Farmall 100A Series tractors are the value solution for price-conscious customers," says Denny Stroo, Case IH Marketing Manager for loaders and mid-range tractors. "These tractors are easy to operate and can be configured to meet customers' needs for even more versatility."
The Case IH Farmall 100A Series tractors come standard with a three-point hitch that has a lift capacity of up to 7,200 lbs. A fixed-displacement pump hydraulic system offers a total hydraulic flow of 31 gpm.
These tractors pack a powerful punch with 4.5-liter engines running the Farmall 110A and 120A and a 6.7-liter engine powering the Farmall 125A and 140A. Mechanical fuel injection triggers both of the turbocharged engines, which have two valves per cylinder and a dual-element air filter.
An 8x8 power shuttle transmission comes standard on the Case IH Farmall 100A Series, making them ideal for loader work. An optional 8x8 synchronized mechanical reverse transmission, or a 16x8 power shuttle transmission with high-low clutch, also are available.
Options Add Even More Value Inside & Out
Customers can choose either two-wheel or mechanical front drive and open ROPS or cab versions of the Case IH Farmall 100A models. The cab is spacious with superior visibility and simple controls. The controls are ergonomically designed in their placement within the cab to make long days more comfortable.
The value doesn't end with the cab. A 40-gallon fuel tank on the Farmall 110A and 120A help you get more done before needing to refuel. The 125A and 140A offer even more value with a 62-gallon fuel tank.
Like all tractors in the Farmall family, the Case IH Farmall 100A Series tractors are available with a wide variety of additional attachments, including material buckets, bale handling and lifting attachments.
"The Case IH Farmall family now can offer customers any combination of power, features and attachments to get the job done," says Stroo. "The value of a Farmall 100A Series tractor will continue to prove itself time and time again."