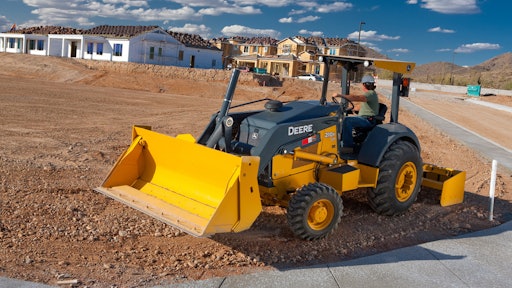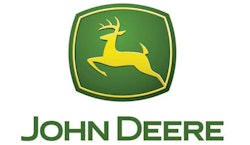 John Deere announces the introduction of its K-Series Backhoe Loaders, eight productive and efficient models (310K EP, 310K, 310SK, 310SK TC, 315SK, 410K, 410K TC, 710K) that build on the success of the popular J-Series. Two economical tractor loader models (210K EP, 210K) round out the K-Series and provide additional jobsite versatility. The new K-Series models deliver productivity, uptime and lower daily operating costs that operators expect from John Deere equipment.
"Our customers are a diverse group that use backhoe loaders and tractor loaders for a variety of applications on the jobsite," says Louann Hausner, product marketing manager for backhoe loaders, John Deere Construction & Forestry. "The new K-Series provides North American contractors a variety of options that are powerful, versatile, productive and economical. John Deere is committed to matching the right machine to the right customer."
The new K-Series meets today's emission regulations. Powered by a certified Interim Tier 4/ Stage IIIB John Deere PowerTech engine, the K-Series comes equipped with a five-speed transmission that allows top speeds of 25 mph when roading. An optional AutoShift transmission enables smooth shifting and improves operator comfort by reducing the number of times the Transmission Control Lever (TCL) needs to be actuated during operation. A single loader lever with integrated electro-hydraulic (EH) auxiliary loader control eliminates the need for a second lever when using a multi-purpose bucket. In addition, a complete redesign of the cab ventilation now circulates cab air from front-to-back, directing airflow where operators need it the most.
Enhancements were also made to John Deere's industry exclusive Total Machine Control (TMC) backhoes. Updates include a joystick redesign that gives operators even easier operation with equal lever efforts in all directions for smooth and productive operation as well as improved swing control that allows for more precise trench work with less backhoe wag.
The K-Series includes many key features that increase machine uptime such as improved engine access and a cooling package design that allows each of the coolers to be separated for easy cleaning. To protect the machine on the jobsite, backhoe loaders with a Sealed Switch Model (SSM) come standard with machine security. Differential Lock Protection can easily be enabled through the monitor and prevents potential damage from the rear differential lock being engaged at too high of speeds.
In an effort to lower daily operating costs, John Deere is providing smart technology with auto idle, auto shutdown and keyless start. These three features come standard on all machines equipped with SSM. In addition, an economy mode setting provides a sweet spot for maximum productivity and optimal fuel savings. An electronically controlled, variable-speed cooling fan, controlled by an electronic clutch will reduce horsepower draw on the engine for quieter operation and improved fuel economy.
The 210K EP and 310K EP are two new models designed specifically for rental and large contractor customers that need reliable, easy to use power. The EP models provide a 70 hp engine with Interim Tier 4 power without needing any aftertreatment technology. This eliminates the need for additional operator training or extra monitoring of machines that have numerous operators focused primarily on quickly getting on and off a machine to get a job done.
In addition to the backhoe loaders, the 210K EP and 210K tractor loaders deliver best-in-class seat rotation, dual-tilt rear cylinders and tilt steering and are ideal for paving and grading applications. With strong visibility, ride control, limited slip front axles and a single lever for controlling a loader with auxiliary hydraulics, this tractor is also ideal for loading.
The new K-Series offers several customer favored features that carried forward from the J-Series. These include a multi-plate clutch engagement that allows for on-the-fly Mechanical Front Wheel Driver (MFWD) engagement; proven PowerShift transmission; best-in-class deluxe lighting package that includes 10 adjustable work lights that enables customers to work longer and safely before sunrise and sunset; exclusive multi-language digital monitor for best-in-class on-board diagnostics, calibrations and machine information; and same side, ground level daily service for easy maintenance checks.
For those fleet managers, owners or operators looking to get the most out of their equipment, a standard three-year subscription of JDLink continuously collects and transmits machine data for machine management. The system enables timely preventive maintenance and remote diagnostics, as well as the coordination of machines working on multiple jobsites to get the right machine to the right place at the right time. John Deere provides its customer with the tools to optimize their entire operation.