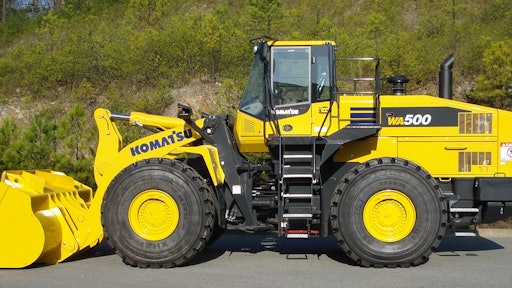 Komatsu America Corp. introduces the WA500-7 wheel loader. The WA500-7 is powered by a Komatsu SAA6D140E-6 engine with a net horsepower of 353 and is EPA Tier 4 Interim and EU Stage IIIB emission certified. Komatsu leveraged its leadership in technology and innovation – building on its proven Tier 3 engine platform – to design a more environmentally friendly engine that increases power while decreasing fuel consumption.
As with every Komatsu Tier 4 Interim machine—whether rented, leased or purchased—the WA500-7 comes standard with the Komatsu CARE Program, which provides complimentary factory scheduled maintenance for 2,000 hours or the first three years (whichever occurs first). Komatsu CARE also includes two complimentary Komatsu Diesel Particulate Filter (KDPF) exchanges within the first five years.
The WA500-7 has an operating weight of 76,611 lbs. (34750 kg) when equipped with a 7.3 yd3 (5.6 m3) general purpose bucket and a maximum speed of 22.1 mph (35.5 kph). Enhanced operating performance, lower fuel consumption, improved operator comfort and easier serviceability are features of the WA500-7 that provide increased productivity and lower operating costs.
The WA500-7 is equipped with the latest KOMTRAX technology, which sends machine operating information to a secure website utilizing wireless technology. Data such as daily fuel consumption, machine utilization, operating hours, location, cautions and maintenance alerts are relayed to the web application for analysis. The KOMTRAX fleet monitoring system increases machine availability, reduces the risk of machine theft, allows for remote diagnosis by the distributor, and provides a wealth of other information to drive business efficiency and productivity.
New features of the WA500-7 include:
EPA

Tier 4 Interim and EU Stage IIIB Emission Certified Engine
Built upon proven Tier 3 technology, the SAA6D140E-6 engine provides increased horsepower while lowering fuel consumption. The Komatsu Tier 4 Interim engine uses an advanced electronic control system to manage airflow rate, fuel injection, combustion parameters and after-treatment functions to enhance performance, reduce emissions and provide advanced diagnostic capability.
As a leader in hydraulic technology, Komatsu has also developed a hydraulically actuated Komatsu Variable Geometry Turbocharger (KVGT) and Exhaust Gas Recirculation (EGR) valve, resulting in better precision and air management as well as longer component life. The KDPF and regeneration system are integrated to keep the operator aware of its status, yet not interfere with daily operation.
Komatsu Smart Loader Logic
The WA500-7 features Komatsu Smart Loader Logic, which provides optimal engine torque when the job requires. Komatsu Smart Loader Logic can save fuel by adjusting the engine torque to match the machine application, such as when traveling with an empty bucket high engine torque is not required. Komatsu Smart Loader Logic functions automatically and doesn't interfere with operation, which results in saving fuel without decreasing production.
Large Capacity Torque Converter with Lock-Up
The WA500-7 has a Komatsu Large Capacity Torque Converter with Lock-Up as a standard feature. This provides improved acceleration, improved hill climb ability, a higher top speed and lower fuel consumption. The Lock-Up function activates in second, third and fourth gears and gives the machine a maximum ground speed of 23.2 mph (37.3 kph).
Because of the increased tractive effort, the wheel loader has greater productivity in V-cycle applications. Improved hill climbing ability allows the WA500-7 to up-shift gears faster due to improved acceleration. The wheel loader can also achieve higher gear ranges and maintain higher ground speeds when working in load-and-carry applications. In most applications, production is increased and fuel consumption reduced, resulting in improved fuel efficiency (tons/gal).
Enhanced Operator Environment
The new cab design provides a more comfortable and quieter work environment for the operator. The ROPS/FOPS Level 2 certified cab features lowered front glass and a newly designed rounded front dash panel with easy-to-reach switches. The dashboard has been redesigned and the high back, heated air ride seat with three-point seat belt has been relocated to improve visibility. Electronic Pilot Control (EPC) levers and an F-N-R switch are part of a redesigned seat-mounted right hand console. An auxiliary input has also been added to connect an MP3 player or other device along with two 12V ports.
A new high resolution 7 in. LCD monitor features enhanced capabilities and displays information in 25 languages for global support. Using the monitor, the operator can easily modify settings for items such as the Auto Idle Shutdown or the auto-reversing fan. Operators can also check operational records, such as working hours or fuel consumption; monitor the KDPF; or check how much time is required before the next maintenance interval. The monitor also offers the operator the option of using the ECO Guidance function, which provides operational tips to reduce fuel consumption. A separate high-resolution back-up camera is standard with every machine and is mounted on the right-hand side of the console for operator convenience.
Convenient Maintenance and Serviceability
To reduce costly downtime, the WA500-7 provides easy service access. The new model has increased cooling capacity, wider cooling fin spacing and a standard auto-reversing fan to help keep the radiator clean.
The machine is equipped with the exclusive Komatsu Equipment Management Monitoring System (EMMS), which has enhanced diagnostic features that give the operator and technicians greater monitoring and troubleshooting capabilities. EMMS continually monitors all critical systems, as well as the planned preventative maintenance schedule. In addition, EMSS provides troubleshooting assistance to minimize diagnostic and repair time.