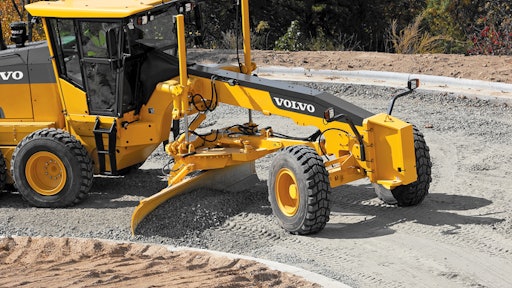 When it comes to grader productivity, what really matters is blade down pressure and blade pull force. The new G900B-Series generation of motor graders from Volvo Construction Equipment (Volvo CE) has the highest blade down pressure in each weight class, thanks to optimal overall machine balance and the distribution of the main grader components. Featuring new engines, rugged frames and sophisticated transmissions the four model range – first launched to North American customers in 2011 – is now available in Europe and selected international markets.
The range consists of the 15,800 kg (34,830 lbs.) G930B, the 16,400 kg (36,150 lbs.) G940B, the 17,300 kg (38,140 lbs.) G946B and the 17,550 kg (38,690 lbs.) G960B.
All models feature new, larger displacement engines with increased power and torque than the models they replace. Meeting the emission requirements of Stage IIIB/Tier 4 Interim legislation, these new units feature cooled exhaust gas recirculation (EGR) technology. This lowers the temperature in the combustion chamber and reduces the formation of nitrogen oxides by up to half.
Matched performance
The increased and reshaped power and torque curves of the engines have been carefully matched to meet the needs of the transmission. Volvo's eight forward gear/four reverse gear HTE840 or (optional) 11 forward/six reverse gear HTE1160 transmissions feature 'shuttle shift,' a system that enables easy shifting between forward and reverse without the need to stop or use the inching pedal. Shift quality is computer controlled and transmissions provide a choice of auto shift modes and programmable target gears, allowing for optimal productivity and low fuel consumption. Auto shifting (optional on the HTE 840) changes the gear in response to varying blade loads, resulting in less rework and longer transmission life. Smart Shift and Shuttle Shift are fitted as standard, with Smart Shift recalling the last forward or reverse gear used. Shuttle Shift allows quick direction changes, thereby reducing grader cycle times. Heavy-duty inching clutches have been extensively tested. The optional HTE1160 transmission has more gears in a typical working range more slower gears for fine grading and more gears for fast travel, such as is needed in snow removal.
Traction reaction
Traction is dependent upon the weight over the drive wheels and the ground surface. Too much power to the back wheels when there is a lack of traction results in wheel spin, tyre wear and excess fuel usage. The engines fitted to the G900B-Series feature eight power curves that are based on transmission gear, to vary the power to match the level of traction available, and also optimizing the hydraulics and drive train. To improve traction, the transmission is sited ahead of the rear axle pivot point beneath the cab. This provides optimum weight distribution, assisting in blade down pressure at the front while at the same time weighing down the rear wheels and aiding drawbar pull values. Traction is further improved by an operator-controlled hydraulic differential lock system that reduces rear axle strain and tyre wear.
All-wheel drive model G946B features two variable displacement pumps and direct drive wheel motors.
The system is capable of providing 3,855 kg (8,500 lbs.) of extra drawbar pull at the front wheels, especially useful when working in reduced traction conditions or in snow removal applications (where drive at the front wheels can offset the sideways effect of working on slippery conditions). The AWD system also allows for a 'Creep Mode,' which allows the operator to grade using the hydrostatically-powered front wheel drive only. This can be desirable when performing fine grade work where the rear tandem wheels might damage the surface.
Twin cylinder circle turn mechanism
The latest generation of Volvo's exclusive circle turn system features two pinions driven by twin direct acting hydraulic cylinders, which provide instant, high output torque. This enables moldboard rotation at any load, without the need to stop, reverse or change moldboard angle. The load is shared over more teeth for high strength, allowing long life and reliability of circle and drive pinion teeth.
The new generation of G900B-Series motor graders from Volvo is an impressively pleasant place to work. The operators have unobstructed lines of view to the moldboard, over the front frame, to the side and rear, allowing them to work more easily and safely. The spacious cab also features easy-to-use ergonomically designed controls, high performance climate control, a comfortable seat and familiar steering wheel.
These graders are fitted with industry-standard pattern controls, which feature low effort, low stroke levers and an adjustable pedestal, sited in front of the operator. Optional joystick controls are available, which have buttons or rollers for the control of all main attachments. Joysticks offer predictable and proportional response for hydraulic functions, articulation, (low speed) steering and transmission settings. A dual steering system allows steering via joystick (up to 15.5 mph or 25 km/h) or for speeds above 25 km/h via traditional steering wheel, for safer and more precise steering control. Operators also have clear access to the onboard Contronics monitoring system, which has been expanded to include more grader functions.
The optional lifetime warranty-protected rugged frame on the G900B-Series is designed to accommodate attachments that are supported entirely on the frame, and not braced or supported by power train components. Rear attachments, such as ripper, windrow eliminator or snow wings all bolt easily to the frame, which is rugged enough to withstand high shock loads.
Centered on service
Ease of servicing has been a major consideration of the new generation machines.
Easy lift rear hood and side panels open wide for clear access to the engine and cooling module service points. Combined with extended oil change intervals and a need for only weekly greasing and the G900B-Series is ready for action. Swing-out radiator grille and (optional) automatically reversing cooling fan also makes cleaning cooling cores easy, as well as providing lower fan speeds, improving productivity and lowering fuel consumption.
Volvo is on hand to support these machines throughout their working lives. Providing an extensive network of trained specialist technicians, the Volvo team has all the genuine Volvo parts, manuals, diagnostics and support packages to keep these graders in optimum condition. The G900B-Series is also fitted as standard with CareTrack, Volvo's exclusive telematics remote monitoring system. Caretrack provides information for better planning and smarter working; including fuel consumption, location and service reminders. When it comes to the long haul – or even the long grade – Volvo is there at your side.