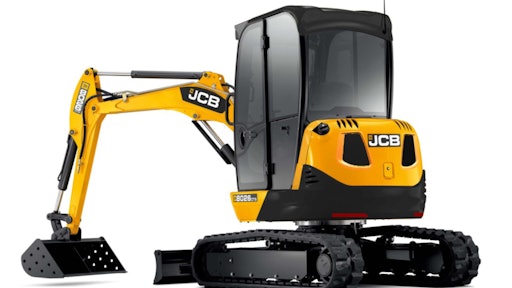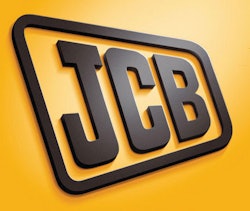 JCB expanded its market-leading range of mini excavators with the launch of the brand new 8026CTS mini excavator at INTERMAT 2012 – a machine offering strength, performance and durability in a compact package.
The 8026CTS is a 2.7 ton conventional tail swing excavator, which now sits alongside the JCB 8025 zero tail swing excavator.
The new 8026 features:
Short pitch tracks and auto kick-down, with 11% increase in travel speed
New valve block with 17% longer spool stroke offers increased precision control
Easy-clean undercarriage
The 8026 is even more efficient than the 8025, due to the lower power rating of the three cylinder 18 kW, 24 hp Perkins engine and it delivers an 8% efficiency gain, driving a 'Nachi' variable displacement hydraulic pump.
The 8026 has a lower center of gravity and the 1.22 m tail swing around the new black counterweight means it has outstanding lift capacity and excellent stability, offering better productivity, versatility and operator confidence.
DURABLE UNDERCARRIAGE
A redesigned undercarriage offers greater stability and durability. Better stability is achieved through a slew turret that is now 35 mm lower. A new top roller replaces a metal skid plate, increasing the durability of the new short pitch tracks, which have been introduced to reduce: noise, vibration and to improve ride quality.
The open turret design and angled track legs allow the spoil to fall more easily from the undercarriage and help prevent the build-up of material within the track frame. This makes the 8026 far easier to clean and maintain.
SUPERIOR PERFORMANCE
Auto kick down track motors improve on-site travel speed by 11% to 5 kph, making it far more productive and tractive effort is 25 kN -  12% better than the 8026's main competitor. 
A dedicated boom and longer dipper arm means that digging, loading and grading performance is far superior, with a maximum digging depth of just under 2.8 meters. Tearout forces are more balanced for higher productivity and a longer stroke dipper ram and revised dig end geometry, enables the bucket to clean right up to the dozer blade.
Bucket rotation on the 8026 is also best-in-class, minimizing material spillage from the bucket during loading, while controllability is greatly enhanced with a new hydraulic valve block that delivers a 17% longer spool stroke.
The low-effort servo controls are intelligently laid out, simple and easy to use and the new valve block technology allows for true straight line tracking while multifunctioning.
To improve on-site safety, the hydraulic system now features full control isolation when the left hand armrest is in the raised position. This includes isolation of the dozer and tracks. O-Ring face seal technology optimizes hydraulic system integrity.
VERSATILE PEFORMER
Electro-proportional auxiliaries make this machine even more versatile when combined with JCB's wide range of attachments. A new hand held tool circuit on the 8026 will power a range of hydraulic hand tools, including breakers, drills, pumps and cutters. This reduces the amount of equipment an operator needs to bring to site, such as compressors.
A bucket-to-grab changeover, similar to what is currently available on JCB's 4.5 and 8.0 ton excavators, allows the operator to switch the oil flow from the bucket ram via a ball valve to the quick release connectors. This means the main auxiliary line can operate the grab circuit, while the bucket service can operate the rotate action – a useful option which increases the overall versatility of the 8026.
The automotive grade cab interior includes a seat that slides further back for 50 mm more leg room, for better access and improved comfort. With new rubber cab mounts, and a more refined cooling system, the in-cab noise level is now 77 db.
Serviceability is excellent with daily check points grouped together for easier regular maintenance. In addition, there is an extra 100 mm space in the ear engine compartment. The side-mounted valve block features color coded hoses, aiding hose replacement in the event of accidental damage. Service access to the slew motor is also greatly improved through an easily removable floor panel. Access to the battery is also far more straightforward, now that it's located under a new hinged cast tread plate on the cab step.
Visibility from the cab to the working area is excellent and JCB's gull shaped bonnet at the rear helps to eliminate blind spots.