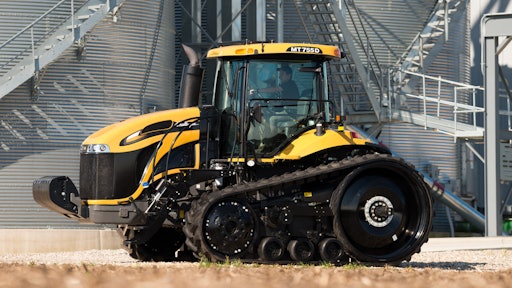 AGCO, Your Agriculture Company, a worldwide manufacturer of agricultural equipment, will showcase the company's newest products at the Farm Progress Show in Boone, IA, August 28 to 30. Featured in the introduction are the long-awaited Challenger MT700D Series track tractors that effectively pair with any of the three new high-acre Sunflower tillage tools that also will be on display at the show.
"At AGCO, we are all about helping farmers produce food as efficiently as possible, which for us means not just bigger equipment, but more innovative equipment that delivers efficiency and versatility for the many different production approaches that are used today," says Bob Crain, senior vice president and general manager, AGCO North America. "Those are the types of products we brought to the market with our extensive 2011 introduction, and the lineup being showcased this fall at farm shows across the country continues this trend."
AGCO's new products are results of the company's global research and development efforts, and they offer solutions to help growers overcome today's production challenges. As the only manufacturer in the industry dedicated strictly to agriculture, AGCO is committed to delivering farmer-focused innovations that will help producers be more productive, efficient and profitable. This year's new model line-up is no exception and includes:
Challenger MT700D track tractor (Tier 4 Interim compliant) – Now powered by the clean, AGCO Power 8.4L diesel engine for smoother operation and a longer tractor life. Built in Jackson, MN, two new Challenger MT700D tractors feature the industry-leading Mobil-trac system for more power to the ground, to handle today's most demanding jobs. They are an ideal pairing with Sunflower high-acre tillage tools. (260 to 285 PTO HP)
Sunflower 6631 vertical tillage system – Designed primarily for spring-tillage, the SF6631 vertical tillage system shreds crop residue and mixes the very top layer of soil to produce a consistent seedbed that results in more uniform emergence for better yields. The latest vertical tillage tool from Sunflower is available in 35- and 40-foot widths.
Sunflower 4700 in-line ripper – Built for farmers in search of a rugged machine that can break through tough, compacted soil and flow through heavy residue conditions. The 4700 Series is available in three models and five widths to match any farm size.
Sunflower 5056 Series field cultivator – Introducing five new sizes for this industry-leading field cultivator. Ranging from 45- to 63-feet wide, the new Sunflower 5056 has the capacity to cover acres fast during critical seedbed prep time, producing a smooth, consistent finish to fields prior to planting.
Challenger 500C Series combine – Available in Class 7 and Class 8, the 500C Series sets a higher standard for harvesting capacity and fuel efficiency compared to previous models. The productivity boosts are the result of a redesigned multi-zone crop inlet and threshing system plus new in-line positioning of the industry-leading AGCO Power 9.8-liter seven-cylinder engine.
Fendt 700 Series tractor – Built for row crop, transport and loader-tractor performance, each of the six new models offers more horsepower and 10% better fuel economy than previous models. The new 700 Series also features an all-new five-post cab with a vertically panoramic front windshield and full-length right-hand window. (110 to 195 PTO HP)
Massey Ferguson GC1700 Series sub-compact tractors – The new GC1700 Series tractors are the third generation of a classic, hardworking Massey Ferguson sub-compact tractor. Rugged and reliable, with sharp styling and performance, four new models offer features that make them even easier to own and operate. (22.5 and 24.5 engine HP)
Challenger MT500D Series row crop tractors (four new models; 110 to 125 PTO HP)
Massey Ferguson 7600 Series row crop tractors (four new models; 110 to 125 PTO HP)
These new products will be on display at the Farm Progress Show in Boone, IA, at Lot 1002 – North Avenue, between 10th and 11th Streets.