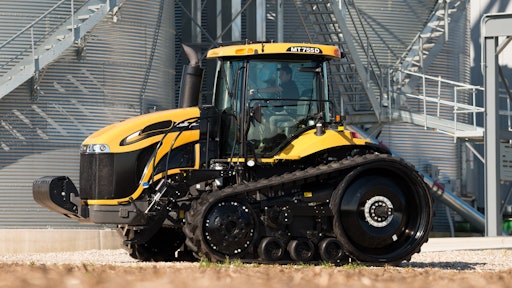 Challenger, a global brand of AGCO, introduces the Challenger MT700D Series. Available in two models, the tractors are powered by AGCO POWER 8.4L diesel engines, which are built to exacting standards for smoother operation and longer life. Challenger is the original track tractor, and with the MT700D Series, the tractor created for the most demanding ag environments just got tougher.
"AGCO POWER engines are not just an ordinary power plant for a tractor. The manufacturing process for these diesel engines relies on industry-exclusive assembly process which allows us to work to exacting standards," says Carlton Self, product marketing specialist for high-horsepower tractors. "The process includes precision balancing of the cam shaft, connecting rods and bearings to the nearest gram, which reduces vibration, optimizes engine performance and extends service life."
With the new, more powerful engine and Challenger's industry-exclusive Mobil-trac system, the MT700D Series tractors put even more power to the ground. A new, more comfortable cab and refined controls make operating a Challenger easier than ever.
AGCO POWER Diesel Engines for Top Performance, Reliability
The AGCO POWER 8.4L diesel in the MT765D is rated at 285 PTO/350 engine hp, while the MT755D engine is rated at 260 PTO/327 engine hp. Both AGCO POWER 8.4L diesel engines provide low operating input costs, low noise levels, long life and uncompromised power and torque.
The engine features a single-piece cast iron block with wet cylinder liners. This enables the engine to handle high-horsepower loads without overheating, and extends its service life. Four valves per cylinder, improved fuel regulation and combustion from a new pump and injectors, along with increased common rail pressure and SISU electronic controls, help maximize engine efficiency.
The power plant achieves Tier 4 Interim emissions standards with industry-leading AGCO e3 clean-air technology. This approach maximizes power output while minimizing exhaust treatment costs by varying the diesel exhaust fluid (DEF) rate based on real-time emission measurements.
Challenger Mobil-trac for More Power to the Ground
The Challenger-exclusive Mobil-trac five-axle undercarriage system with oscillating mid-wheels minimizes compaction while maximizing traction and pulling power to work efficiently in the most demanding environments.
Standard polyurethane mid-wheels provide longer life in abrasive environments and where long transport distances are required. Gauge settings, ranging from 72 to 160 inches, plus a wide selection of track widths, allow Challenger track tractors to fit the needs of a wide range of farming operations.
Improved Comfort, Enhanced Controls
With 110 cubic feet of space, the new cab provides unparalleled visibility and comfort, and enhances the smooth, industry-leading Mobil-trac ride. Other features include a 59 gpm hydraulic pump option and 37 gpm flow per hydraulic remote to provide the hydraulic capacity needed for large planters and tillage equipment.
All Challenger track tractors, including the new MT700D Series, are built by the experienced manufacturing team in Jackson, MN. In addition, these tractors are supported by a dealer network that provides unparalleled support and parts availability to ensure maximum uptime.
The Challenger MT700D Series track tractors will be on display at the Farm Progress Show in Boone, IA, and at Husker Harvest Days in Grand Island, NE.