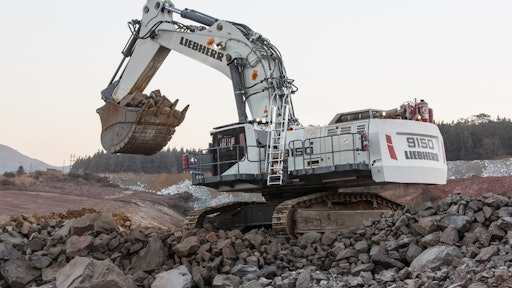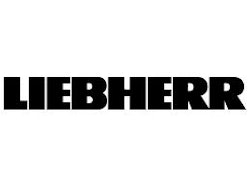 At MINExpo International 2012 in Las Vegas, Liebherr introduced the new R 9150 mining excavator with an operating weight of 286,600 lbs./130,000 kg equipped with shovel attachment. The advanced R 9150 is the worthy successor of the esteemed Liebherr R 984 C. Built to outperform all competitors in the small class mining market, the brand new R 9150 offers a wide array of uses.
With the Litronic Plus electronic control system, Liebherr-made cylinders, and an 8 m3 bucket, the R 9150 ensures high digging forces, easy material penetration and excellent bucket fill factors to perform even in the most demanding conditions. The R 9150's powerful 757 hp/565 kW Liebherr V12 diesel engine works in perfect harmony with the state-of-the-art engine management system. Thus, the R 9150 delivers fast cycle times resulting in higher productivity.
Engineered for optimum serviceability, the R 9150 ensures first class service arrangements. The grease tank and fuel tanks are sized to considerably extend the time between service intervals and with its one side service access, the R 9150 allows easy access to the major service points for quick and safe maintenance. The modern large cabin with its large panoramic windows, the electro-hydraulic controls, the new machine monitoring system and the adjustable air suspended seat creates an ideal and efficient working environment for the operator.
With a heavy-duty fatigue resistant undercarriage, innovative technologies, stress concentrations elimination and the integration of Liebherr components, the R 9150 offers high reliability and constant performance throughout the life of the equipment.
The Liebherr R 9150 provides uncompromising safety for operators and maintenance crew. Equipped with a robust sliding ladder, a large catwalk and walkway, the R 9150 allows effortless access facilities to the major service points for easy and safe maintenance. In addition to its ergonomic design, the R 9150's cabin with its armored front and attachment side windows provides maximum protection for the operator. The Falling Object Protection System (FOPS) and the front guard are available as an option for even more safety.
Liebherr provides solutions that allow customers to balance high performance with environmental consciousness. Integrating the latest engine management system, the R 9150 is built for intense mining while complying with EPA Tier 2 emission limits. When less power is required, the ''Eco-Mode'' can be selected via the machine monitor panel to reduce engine load, improving fuel efficiency and reducing carbon emissions.