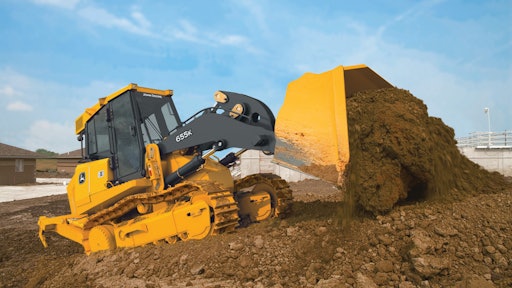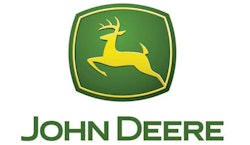 The new 655K Crawler Loader from John Deere was designed and built using significant customer input, to provide contractors a machine that helps increase productivity and uptime and lower daily operating costs. The latest addition to the K-Series line builds on the highly successful 755K crawler loader. Both of these models are assembled in Dubuque, IA.
"On today's jobsite, crawler loaders continue to be the most versatile tool for moving materials, digging, backfilling, and loading trucks. The 655K provides the right balance of horsepower, bucket capacity, and breakout force for maximum productivity while lowering contractor input costs per yards of material moved," says Jon Gilbeck, global product marketing manager for crawler loaders, John Deere Construction & Forestry. "Although operational uptime was the number one project initiative for the new 655K, productivity-enhancing features such as automated loader functions and the ultimate in cab comfort were not overlooked."
The 655K features a John Deere PowerTech 6.8-L Tier 4 Interim/Stage IIIB diesel engine that delivers a productive combination of power and torque. The new model boasts a net horsepower of 145 at 1,800 rpm.
A key feature of the 655K is the hydrostatic transmission, a feature John Deere first pioneered in crawler dozers in North America in 1976. These transmissions provide customers infinite speed control, power management, live power turns, counter rotation while staying in gear, and dynamic braking. Designed with customer input, the transmission controls allow operators to pick between the V-pattern or joystick transmission control option to get work done. In addition, Total Machine Control allows customized machine response that can be tailored to meet the needs of individual operators.
Customers can choose between two-bucket options: a general-purpose bucket or a 4-in-1 multipurpose bucket with lifetime lubricated bucket pivot pins to increase uptime by eliminating periodic service. In addition, a rear ripper design helps turn materials on the jobsite.
John Deere's exclusive Quad-Cool system isolates coolers from engine heat for increased efficiency and durability. A standard hydraulic-driven variable-speed suction fan runs only as needed, reducing noise, fuel consumption and cooling component wear.
"Ground-level maintenance access and the Quad-Cool system provide ease of service that is imperative for operators in the field," says Gilbeck. "If the crawler loader is easier to service on a daily basis, that makes it more likely that service will get done, ultimately extending the life of the equipment and increasing productivity for our customers."
Inside the cab, operators will find increased comfort thanks to quieter operation, larger access doors, and a standard air suspension seat. A viscous cab mounting reduces noise from vibration while double-laminated rear window glass and complete interior sound-dampening treatment significantly reduce noise levels. The 655K also features a sealed switch model (SSM) with keyless start and the ability to enable exclusive features such as turbocharger cool-down and auto shutdown. A touchpad security system requires a numeric pass code to prevent unauthorized operation.
Onboard diagnostics include a standard display monitor that provides real time values for every temperature, pressure, and speed sensor on the machine. The crawler loader constantly monitors transmission temperature to avoid damage to the hydrostat system. If the transmission temperature is too cold or too hot, the associated light on the monitor will illuminate.
Fleet managers, owners or operators looking to get the most out of their 655K can rely on the standard JDLink Ultimate system that continuously collects and transmits machine data for machine management via mobile phone technology. The system provides 24/7 online access to the machine's location, health, utilization, fuel consumption and other information to help contractors better understand costs and jobsite performance.