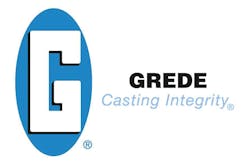 Grede Holdings LLC, a leading producer of cast iron components for the trucking industry, is developing lightweight chassis, powertrain and drivetrain components – including safety-critical systems – for several major truckmakers using a patented ductile iron alloy called SiboDur. Grede showcased SiboDur castings at the Mid-America Trucking Show (MATS – Louisville, KY, March 21 to 23, 2013).
SiboDur is an ultra-high-strength ductile iron with a unique chemistry and process, which is providing customers strong value for achieving light weight, cost competitive solutions. As a result, parts made from the innovative alloy compete favorably with aluminum in terms of weight reduction, and offer exceptional value in durability, performance, as well as integration for complexity reduction.
"SiboDur enables us to provide our heavy-duty truck customers with cost-effective lightweight solutions, while maintaining high structural performance and durability," says Jeff Nichols, Director of Business Development. "It also enables excellent product design optimization capabilities given the higher mechanical properties versus competing materials that are cost inhibitive."
Five different SiboDur alloys are available, each offering select chemistries that can improve fatigue strength and functional design optimizations to match the requirements of specific applications. For example, SiboDur's Ultimate Tensile Strength ranges from 450 to 800 MPa, with elongation percentage ratios of 6 to 23%. "This range of mechanical properties allows us to be very creative with our design solutions and ultimately offer our customers a strong value proposition," notes Nichols.
To further maximize SiboDur's capabilities, Grede is utilizing sophisticated topography and finite element analysis to create precise casting geometry to match the individual load case and stress strain vectors exactly where it is needed, to then effectively reduce mass and improve fatigue strength to our customers.  
Truckmakers worldwide are using, developing and testing SiboDur in a variety of components for current and future vehicle programs. These include safety-critical parts with high stress and torque requirements, such as steering knuckles, axles, control arms, hubs, brake rotors, engine mounts, crankshafts and suspension links.
SiboDur was developed by Swiss-based Georg Fischer Automotive AG. Grede has an exclusive license to use the alloy in North America. In addition to the commercial truck industry, Grede also plans to supply SiboDur-based castings for cars, light-duty trucks and industrial applications. Grede will have the capability to produce SiboDur components at its Reedsburg, WI, and St. Cloud, MN, facilities.
"We're very excited about the benefits we can offer our customers," Nichols says. "SiboDur is a highly competitive alternative to aluminum with significant cost and design advantages."