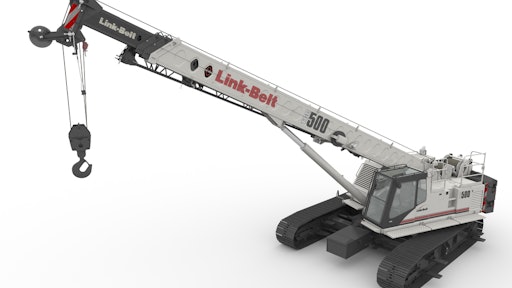 Link-Belt unveiled its all-new 50-ton (51-mt) TCC-500 telescopic crawler crane at CONEXPO, March 4 to 8, 2014 in Las Vegas, NV.
Boom Up
The TCC-500 offers an impressive capacity chart that rivals even lattice crawler cranes with a similar base rating. Four-section, full-power boom on the TCC-500 is 35 ft. 6 in. to 110 ft. (10.8 to 33.8m) in length with box type construction of high tensile steel consisting of one base section and three telescoping sections. The vertical side plates of the boom have diamond-shaped steel impressions for strength to weight ratio.  Fly options include a 28.5 to 51 ft. (8.7 to 15.6 m) two piece bi-fold lattice fly, stowable, offsettable to 2, 20 and 40 degrees; maximum tip height is 165.5 ft. (50.44 m).
Smooth Move
Of course, being a Link-Belt, the TCC-500 moves quickly and easily on or off the job site. With a standard counterweight package of 25,000 lbs. (11 339.8 kg), the TCC-500 transports in just one load while staying under 100,000 lbs (45 359.2 kg) in most cases. On the trailer, the TCC-500 travels at a height of 9 ft. 10.55 in. (3.01 m) and a width of 11 ft. 5.24 in. (3.49 m).
For flexibility on the jobsite, a hydraulic cylinder mounted in the lower frame can hydraulically extend and retract all welded, precision machined, steel frames.  The TCC-500 can work at three different track widths: 15 ft. 2.37 in. (4.63m) fully extended, 13 ft. 6.11 in. (4.12 m) intermediate, and 11 ft. 5.24 in. (3.49 m) retracted. It has two travel speeds and can travel up to 2 miles per hour (3.2 kph) to spend less time traveling and more time lifting.
Power to perform
A Tier 4 Final Cummins QSL engine powers the TCC-500, producing 215 hp (160.3 kW) and driving a variable displacement piston pump package. Simple and dependable hydraulic pilot-operated control valves distribute flow to all functions. The pump arrangement is designed to provide positive, precise control with independent or simultaneous operation of all crane functions. Tried and tested Link-Belt hoist packages using piston motors and 5/8 inch (16 mm) rope handle the flow of the crane. The winches have 17,084 lbs (7 749.2 kg) of line pull and a maximum line speed of 549 feet (167.3m) per minute. Owners will find the same winch-view and rearview cameras that come standard on the TCC-750 and TCC-1100 on the new TCC-500.
With the TCC-500 being an excellent general contractor crane or a solid addition to a rental fleet, its future moneymaking potential is huge. The TCC-500 has pole claw, earth auger and man basket attachments available and the export version of the TCC-500 comes with a Tier 3 Cummins engine package. Smooth, powerful and easy to move, this crane will see work in tough environments as well as general lift duties. Given a telescopic crawler's uncanny ability to perform where no other crane can, the potential for the TCC-500 is unlimited.
Other standout features of the TCC-500:
Available boom mounted 360 degree LED floodlight
Swing audible & visual alert alarm with swing stop system
Wind speed indicator
Drum rotational and directional indicators
Upper guard rails
Supported 24/7 by Link-Belt Preferred including online manuals, literature, a ground bearing calculator and a 3D Lift Plan.