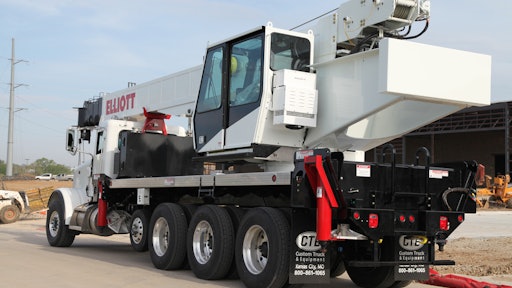 Elliott Equipment Company unveiled a new 45-ton BoomTruck model at CONEXPO that features a 142 ft. five-section telescopic main boom on a permit-free 50-state federal bridge legal truck chassis.
The new 45142 BoomTruck model is designed to mount on a five-axle chassis with a total overall weight of approximately 65,800 lbs. including a 32 to 55 ft. two-section telescopic jib and a detachable two-man work platform. The configuration is designed for a wide range of applications including electrical transmission construction and oil/gas service that require a combination of exceptionally long main boom lengths and powerful lifting capabilities in configurations that maximize permit-free mobility on federal highways.
In addition to the 45142's strong lifting chart, the machine can be used for personnel lifting using Elliott's new OSHA-compliant hydraulic yoke two-man work platform and jib for a maximum working height of over 215 ft. (65 m). The new work platform features a yoke system that elevates hydraulically for attachment to the boom or jib tip, reducing attachment time and the potential for strain injuries. For aerial work, the 45142 includes one of the smoothest and precise remote control systems in the industry, with a LMI display integrated in the remote controller. 
Other features on the 45142 BoomTruck include Elliott's steel crane cab with easily replaceable flat glass windshield, full color LMI system, frictionless jib extension, and a 360 degree chart without a front stabilizer. The new design also includes Elliott's reduced-tail swing fixed turret counterweight and a wide range of customized options and accessories for unique applications.