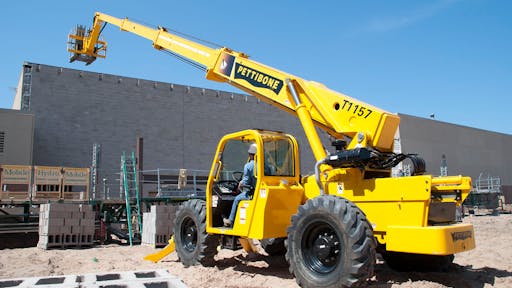 The Pettibone Traverse Series is the industry's only line of telescopic handlers with an extendable boom that traverses horizontally. Durably designed and equipped with industry-leading hydraulics, the Traverse offers exceptional reach and lift capacity in a wide range of construction and material handling applications.
The Traverse Series consists of five models with lift capacities ranging from 7,000 to 11,000 lbs. The largest model is the T1157, which offers a maximum lift height of 57 ft., 6 in. and forward reach up to 48 ft., 9 in. Featuring industry-exclusive traversing capability, all Traverse telehandlers deliver 70 in. of horizontal boom transfer. This allows users to precisely place loads through windows and other openings without having to reposition the machine, thereby maximizing productivity and increasing worksite safety.
Each Traverse model includes a fully modulated Carraro powershift transmission and is powered by a 110 hp Cummins Tier 3 turbo diesel engine with electronic control and protection. Offering 4-wheel drive with 2-wheel, 4-wheel and crab steering modes, the Traverse is highly maneuverable. For effective operation in tight areas, turning radius ranges from 12 ft., 6 in. to 13 ft., and each model can fit under an 8-foot doorway.
The robust design of the Traverse features two wide-stance, heavy-duty cylinders with innovative automatic fork and load leveling that eliminates the need for slave cylinders. To further improve load stability, the units offer 24 degrees of frame sway (12 degrees left and right of center) and are equipped with a rear axle stabilization system.
The Traverse is built to provide outstanding visibility from the cab in any boom position. Operating efficiency is also enhanced with a rapid-response hydraulic system, single joystick control for all boom functions, and a full set of gauges for instant machine status. Engineered with comfort in mind, the Traverse also comes with an adjustable suspension seat and fully adjustable right-side armrest.
The T1157 comes with 14.00 x 24, 16-ply tires, while the rest of the line has 13.00 x 24, 14-ply tires. Each unit comes with a standard 48-inch fork carriage, and several optional attachments are available – including utility buckets and pallet, lumber and block forks. Other optional equipment includes foam-filled tires and an enclosed cab.