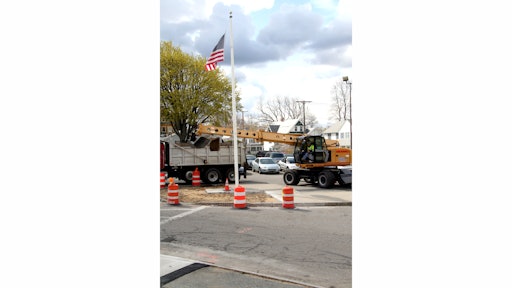 The XL 4300 III Gradall excavator is exceptionally stable, allowing operators to lift and carry materials efficiently around job sites. The exclusive Gradall design also allows the XL 4300 III excavators to work at the front, rear or either side of the machine without the need to use outriggers, which are an option on these Gradall models.
This is a huge advantage over wheeled conventional excavators that cannot lift and carry big loads. Also, conventional excavators must stop working to lower outriggers while working in stationary positions.

The stability of the XL 4300 III, which weighs about 43,580 lbs., complements the excavator's exceptional performance and versatility capabilities with the telescoping, tilting boom and a host of attachments. Because the entire boom tilts rather than only a boom-end accessory, the XL 4300 III does not lose any boom-end power on high productivity jobs requiring mass excavation, trenching, spreading rip-rap, demolition and pavement removal. The tilting boom is able to place buckets, grapples, hammers and other attachments in the exact position required and from any direction.
The XL 4300 III also has a short tail swing allowing it to work on highway jobs without unnecessary traffic disruption. The smooth telescoping boom movement is also ideal for placing jersey barriers with less barrier swing.
A host of standard advantages include air conditioning, removable front window, a large adjustable seating module and a switch to select Gradall, SAE or Deere joystick patterns.
The maximum digging depth of the XL 4300 III is increased to 21 ft., 3 in. while the boom reach at ground line is extended to 30 ft., 4 in.

The four-wheel-drive undercarriage has rubber tires designed for mobility on rough terrain as well as on highways where they won't damage the paved surface. Even while the machine is moving, the operator can change between standard and creeper travel mode to efficiently position the machine. Axles are equipped with internal wet-disc type service and parking brakes.

All Gradall Series III excavators have almost 70% parts commonality, simplifying the task of maintaining inventories to complete common service functions. Series III machines also have longer routine service intervals, and most service locations can be reached from ground level. A network of authorized distributors supports all Gradall excavators, supplying service advice and authorized Gradall parts.